Grading the performance of Chargers' Joey Bosa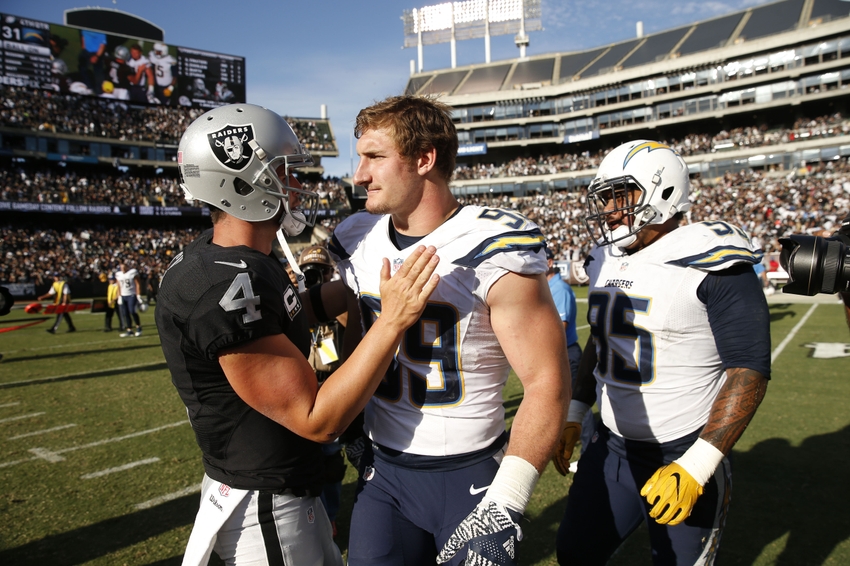 For Joey Bosa, it seemed like an eternity since the last time he stepped foot onto the football field. For Chargers fans, doubt started entering their minds. Can you blame them? Most fans were rooting for management to select Jalen Ramsey. San Diego fans were confused with the Bosa selection. He did not fit the Chargers' defensive scheme and had a polarizing combine. Add in a rookie holdout, and a hamstring injury, and it is to see why fans and experts alike doubted Bosa's impact on San Diego's defense.
They were wrong. First, lets look at the numbers against the Oakland Raiders for Joey Bosa. The former Buckeye only played 27 snaps in his first game against the Raiders. What he did in those snaps were nothing short of amazing. Bosa rushed the passer 20 times which resulted in 7 quarterback pressures. The breakdown of those pressures were: 2 sacks, a quarterback hit, and 4
hurries. But Bosa also showed that he is no one trick pony. Along with pressuring the quarterback, Bosa was able to notch 5 combined tackles, including 3 tackles for losses. Now a cynical person would say Bosa did all his damage against the Raiders third string right tackle. However, Bosa was utilized on both the left and right side of the defensive line. Almost half of Joey Bosa's quarterback hurries came against Donald Penn, who ProFootball Focus ranked as the 11th best tackle in the NFL. Bosa's 3 pressures against Oakland's left tackle represent almost a third of the total pressures Penn has yielded on the season. Translation, Bosa did some very good things against some very good competition.
Everyone knows you can make stats say anything you want to get your point across. So lets give Bosa's play against Oakland the eye ball test. And when you re watch the game, you come away even more impressed than his box score. Defensive coordinator John Pagano, moved Bosa all around, and up and down the line. Bosa played outside linebacker, and defensive end, depending on the down and distance. His position versatility is proof that Bosa has an extremely high football IQ. When watching the film again it is easy to see why San Diego was enamored by the former Big Ten Defensive Player of the Year. During his 27 snaps, he displayed:
A powerful 1 arm bull rush to collapse the pocket
The ability to set the edge
Excellent hand usage and a good rip technique to beat the tackle and force the quarterback to step up into the pocket
Good athleticism to bend and dip his hips to get around the tackle
Fantastic motor- he rushed the quarterback and then chased down Amari Cooper to make a tackle from behind
A great nose for the ball- he crossed the face of the tight end to tackle the running back for a loss
Pro Football Focus noticed all of this and ranked Joey Bosa as the NFL's 7th best player of week 5. I will admit, when the Chargers selected Bosa I was one of those skeptical fans. When I heard his name all that went through my mind was well at least it wasn't Ronnie Stanley. I was content San Diego got a player that would be able to help their dreadful defense. And then when Urban Meyer declared that Bosa was the best player he ever coached, I became hopeful and intrigued. But I also was concerned. I was scared that management just drafted this kid because he would be a marketable player, something they desperately needed after the Weddle fiasco. Clearly like everyone else, I was wrong. Joey Bosa is a tough, hard working, smart, football player, that will make his teammates around him better. Sounds like another number 99 in this league, no? To soon?
GRADE: A
More from Bolt Beat
This article originally appeared on