Grading the Bills' Defense Through 9 Games This Season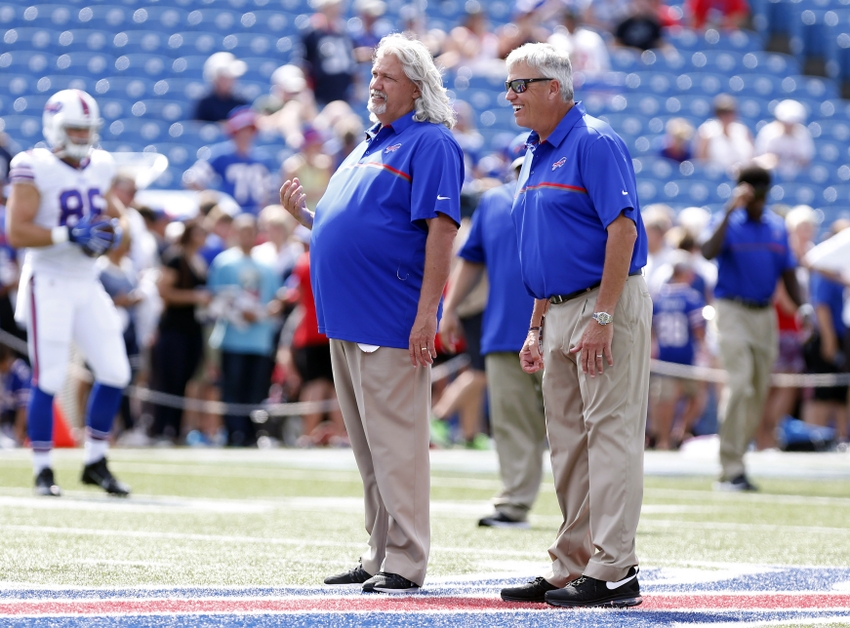 We took on the tall task of grading the Bills' defense through 9 games this season player by player.
In the offseason, the Bills hired Rob Ryan, the twin brother of their head coach, Rex Ryan. The move excited some Bills fans while others screamed nepotism. One thing was certain though, the Bills defense was fully committing to the Ryan scheme and Rex was doubling down on his families defensive football philosophy. Rex might have called the defense "half-pregnant" last year but it was clear this year they were going to be "fully pregnant".
The Ryan's followed up on their promise in the offseason and they have "birthed" a pretty good defense so far this season. For the most part, the defense has been good but they have been bad in divisional games against the Jets, Dolphins and Patriots. They also had a tough first half against Seattle but the unit settled down only allowing the Seahawks to gain 41 yards and a field goal in the second half.
So what's the reason for the up and down performance? Big Plays.
The Bills have given up 32 rushing plays this season of over 10 yards which is the fourth highest amount in the league. They have also given up the fourth highest total of passing plays over 25 yards with 21. Both of these stats are according to SportingCharts.com.
Buffalo has had communication issues in the secondary that have caused the corners to be left one on one and they have been getting burned on those plays giving up big touchdowns.
Overall this season, the Bills defense has earned a "B" grade for their performance. They need to be more consistent but they are 10th in the league in takeaways, they have held opponents under 20 points in five of their nine games, and through the first nine weeks, they have the individual NFL leaders in tackles and sacks.
In this slide show, we are going to dedicate a slide to each player on the defensive unit and give them a grade while talking about what they have done well and what they can improve on. We'll also discuss our outlook for that player over the remainder of the season.
So without further ado, let's start going through the Bills' defensive player grades so far this season.
We will be grading the performance of the following players on defense: Marcell Dareus, Kyle Williams, Corbin Bryant, Adolphus Washington, Shaq Lawson, Lorenzo Alexander, Leger Douzable, Jerry Hughes, Zach Brown, Preston Brown,  Stephon Gilmore, Ronald Darby, Nickell-Robey-Coleman, Robert Blanton, Corey Graham and finally Aaron Williams.
As for the grades, here's how they will work:
A – Couldn't be performing better.
B – Play is outstanding, but could still improve.
C – Average performance.
D – Play needs improvement.
F – Doesn't know how to play football.
We'll start with the biggest man on the defense both in weight and contract size. So click below to move on to the next slide to begin our individual defensive grades starting with Marcell Dareus.
Marcell Dareus Defensive Grade Through Nine Games:
Marcell Dareus deserves a "C+" for his play on the field so far this year. In our system, that means he has been playing just above average with a "C" being completely average.
It's tough to grade out a player who has only played in one game this season but in that game, he had a sack and four tackles. Those stats came against the New England Patriots, the hardest opponent the Bills will play this season.
In that game, there was a play that never ended up in the stat book which shows you how much he can hustle. The Patriots had completed a pass to James White which was called back for pass interference. It was Dareus who hustled downfield to tackle White on that play. To be able to have a guy who is 331 pounds come back and make a play downfield shows you his athleticism.
When Dareus is in the lineup the center of the Bills defense is different. He is their anchor and no doubt one of the most talented players in the league. The problem for Dareus this season is having him available in the lineup. After being suspended for the first four games this season, he tweaked his hamstring while pushing himself too hard to make it back. He played one game against New England before injuring his groin which kept him out of the Monday Night Football game in Seattle.
With the Bye week upon us, Dareus should have ample time to get healthy and his limited wear and tear this season is an advantage to him over other players who have been grinding it out in the trenches all year. Once Dareus does return to the lineup you can expect him to become the dominating force in the middle that he's been for his entire career.
On the next slide, we'll grade the captain of the defense who has played for the Bills for all eleven of his NFL seasons. We are talking about Kyle Williams of course.
Kyle Williams Defensive Grade Through Nine Games:
Kyle Williams season was shortened last year when he suffered a knee injury against the Bengals in Week 6. At the time, he was 32 years old and no one was sure how much longer he could play or how productive he would be if he could make it back. We were not those people.
For anyone who has paid attention to Williams career, they know that he is a grinder, a leader and someone who will never give up. He's been on the Bills for eleven straight years and wants nothing more than to see the team he has worked so hard for end their playoff drought.
His desire to see that goal come to fruition can be seen with his play on the field this year. We gave Kyle Williams an "A" grade because at 33 years old he couldn't be playing any better. So far this season he has 23 tackles, 10 assists, 3.5 sacks and 5 stuffs which amounted to eight stuff yards.
His 3.5 sacks have him on pace to have over six sacks this year which would be the second-highest total of his eleven-year career. He's playing so well this season that Pro Football Focus has him ranked as the seventh-best interior defensive lineman in the league with a grade of 84.6.
So far this season Williams has done everything that has been asked of him and done it well. You can expect that to continue for the remainder of the year, and the remainder of his career for that matter.
It's hard to imagine that he has many more years left as a productive player in the league but he puts in the work, he takes care of his body and he's a natural leader. If there is anyone who has a chance to continue to be productive as he moves into his mid to late thirties, it's Kyle Williams.
On the next slide let's take a look at how Corbin Bryant has done for the Bills so far this year.
Corbin Bryant Defensive Grade Through Nine Games:
Corbin Bryant was tasked with the enormous duty of filling in for Marcell Dareus while he was suspended and injured. There were other players who rotated in as well like Leger Douzable, Adolphus Washington and Jerel Worthy, but only Worthy and Bryant are true defensive tackles like Marcell Dareus.
Bryant has performed below expectations and that's why we gave him a "D+" grade. This season he has just five tackles and six assists. Unlike Dareus, he doesn't command double teams and so this is not a situation where his stats aren't showing up because of attention he commands from the offensive line.
Pro Football Focus ranks him as the 90th best interior defensive lineman with an overall grade of 43.8. He hasn't shown to be particularly effective against the run (50.8 rating) or pass rushing (47.4 rating). In the notes that I take on each game, I could not find his name referenced once for making an outstanding play.
He has been invisible for most of the season and that trend should continue. He missed Monday's game against the Seahawks with a shoulder injury and once Dareus is back, Bryant is the defensive lineman who will lose the most snaps. Bryant played well last season when Kyle Williams went down but this season filling in for Dareus he just hasn't cut it.
On the next slide, we'll grade out Bills rookie 3rd round draft pick Adolphus Washington.
Adolphus Washington Defensive Grade Through Nine Games:
No one was expecting Adolphus Washington to be the Bills top contributing draft pick after they selected Shaq Lawson and Reggie Ragland in the first two rounds but that is exactly what he has become after Lawson missed six games due to shoulder surgery and Ragland injured his ACL and was lost for the season.
These injuries caused Washington to be the top draft pick who was able to play from the beginning of the season. He's played in all nine games and has done pretty well considering he was a third round pick who has seen a meaningful amount of snaps.
Washington has proven to be better against the run than he is at getting pressure on the quarterback. This season so far he has 9 tackles, 4 assists, 2 sacks, a pass deflection and one run stuff for negative two yards. His sacks came in back to back weeks in Week 5 and Week 6.
Pro Football Focus ranks him as the 38th best interior defensive lineman in the league with a grade of 73.6. We gave the third round draft pick a "C+" because he is doing better than most expected but he still has plenty of room for improvement.
Expect his output to increase slightly over the remainder of the season as he gets more snaps alongside Marcell Dareus and Kyle Williams who will command double teams freeing up Washington to make some plays.
Next let's take a look at the Bills first round draft pick, Shaq Lawson, and grade him on his performance so far this year.
Shaq Lawson Defensive Grade Through Nine Games:
Buffalo Bills first round draft pick Shaq Lawson slipped down to them at number 19 in the draft. Fans were ecstatic that they were able to get such a good value with the pick. Shortly after the draft, the team insisted that Lawson get shoulder surgery despite the fact that he was playing through the injury for several years.
The surgery cost Lawson the first six games of this year but he's been back for the past three and has sacks in two out of the three NFL games he has played in. So why did we give him such a low grade with just a "C+" despite his sack production over two games?
The reason is that Lawson was expected to be one of the best defensive players available in the draft and while he has had some good plays this year, his overall play has been inconsistent. Just take a look at this take on Shaq Lawson from NFL Mocks a fellow FanSided site.
"Nearly unblockable at times, Lawson really doesn't seem to have a limit as a rusher. He uses his hands really well, he changes directions well, he can bend the edge, and he can play with speed, agility, power, or a combination. He is stout against the run, though this is one area of his game where, in reacting to running plays, he may have room for improvement there."
After watching him play for three weeks, we can't say that he has come even close to living up to these expectations. In the three games he has played so far he has managed just 63 total snaps. If he were playing anywhere near a high level he'd be on the field for many more snaps than that no matter what defensive scheme the Bills were playing.
The rookie has been outplayed by 33-year-old Lorenzo Alexander who is having the best season of his long career and who will grade on the next slide. The fact that the first round pick hasn't been as productive as a 33-year-old has got to be concerning for the Bills. It's still early in Lawson's career so there is no need to panic but he needs to do better than he is right now.
Let's move on to grading Lorenzo Alexander on the next slide who has been one of the best stories in the NFL this year.
Lorenzo Alexander Defensive Grade Through Nine Games:
Lorenzo Alexander is having a season for the ages. Not just because of his age (33), but because of how long he has been in this league and how well he is playing this season. Alexander is the current NFL leader in sacks with 10 total on the year. Coming into this season, he only amassed nine sacks over 10 seasons. That's right, he has more sacks this year than he had in his 10 years in the league prior.
His stats don't just end with his impressive sack total. He has 29 tackles, 10 assists, 3 forced fumbles, 2 pass deflections and four runs stuffed for negative nine yards. His three forced fumbles are tied for second in the league with a handful of players and he's just five tackles short of a career high with plenty of games left to play.
Pro Football Focus currently ranks him as the 19th best edge rusher in the league with a rating of 81.6. On top of his play on defense, he has been one of the Bills top special teams players which is not surprising as his contributions on that unit was the primary reason why they signed the wily vet.
After college, Alexander was 6'1″ and over 300 pounds. He was projected to be a mid-round draft pick but he went undrafted. He bounced around on a few practice squads before finally getting some time with Washington in 2007. They used him as a fullback, an offensive lineman, a defensive lineman and tight end.
In 2010, he was about 285 pounds and made the switch to outside linebacker. He continued to lose weight and would eventually make it down to the 241 pounds that he is currently listed at. That's an incredible weight loss of over 60 pounds since college while trying out five different positions in the NFL in addition to special teams.
His ability to transform his body and to adapt to whatever position a coach has asked him to play is part of the reason for his longevity in the league. He deserves every last bit of the success he is having this season and has been quite possibly the best story in the NFL this year.
"Zo" has been an absolute beast this season and his twitter moniker "OneManGang" couldn't describe his play this season any better. If we could give out a grade higher than an "A+" we would but since that's our top grade, that's all we can give Alexander.
On the next slide, we'll grade Leger Douzable who was another under the radar signing for the Buffalo Bills this offseason.
Leger Douzable Defensive Grade Through Nine Games:
Leger Douzable was one of the hardest players to come up with a grade for. He falls somewhere between a "C++" and a "B–". Since we aren't giving out double pluses or minuses, we had to settle on a "C+".
Rex Ryan was familiar with Douzable when the Bills signed him this offseason. He played under Rex when they were both with the Jets. Douzable has stepped up this game this year and that's why we are giving him a "C+" because he is playing above average for certain.
He's earned the second-most snaps on the Bills defensive line this year and we use the word "earned" deliberately. Coming into the season, Corbin Bryant was the favorite to get the second most snaps once Marcell Dareus' suspension was announced. Third round draft pick Adolphus Washington would have also been considered a favorite to earn more time then Douzable because the team has more invested in his future.
Douzable didn't let any of that bother him and he competed his way onto the roster and has played 280 snaps this year compared to Bryant's 233 and Washington's 196. He's getting playing time because he has shown that he can be an effective pass rusher. His run stopping ability hasn't been as good but overall he is doing better than most expected.
At 30 years old, he's likely reached his peak in the league but as we have seen with Lorenzo Alexander anything is possible. So far this season Douzable has 10 tackles, 10 assists, 1.5 sacks and one run stuff for negative one yards. In the remaining seven games of the season, you can expect him to replicate similar stats.
On the next slide, we'll grade the Bills star pass rusher Jerry Hughes on his performance so far this season.
Jerry Hughes Defensive Grade Through Nine Games:
Jerry Hughes is as aggressive of a player as they come. It's part of the reason why he has been so successful racking up sacks in his time with the Bills. It's also part of the reason why he gets so many penalties. The guy is laser focused on one thing and one thing only. Getting to the quarterback no matter what it takes.
Pro Football Focus ranks him as the 9th best player at rushing the passer so far this season with a grade of 83.2. The Bills don't ask Hughes to help against the run too often so his grade against the run of 41.4 is not that surprising. Part of that poor rating is because of how aggressively he pursues the quarterback which sometimes opens up rushing lanes for opposing running backs.
His aggressiveness can lead to a few offsides and an unnecessary roughness or roughing the passer penalty but on the whole, his aggression benefits the team. In his first two years with the team, he had 10 sacks and 9.5 sacks. Last season he trailed off a bit only managing five sacks although the team as a whole struggled in that department last year.
This season he is back on track with 5 sacks, 21 tackles, 8 assists, 3 pass deflections, 1 forced fumble and a blocked kick. He's on pace to get around 9 or 10 sacks again. He has matched his total last year of five already and that is despite being double teamed consistently.
The extra attention that Jerry get's on his side of the line is part of what has freed up Lorenzo Alexander to have a league leading 10 sacks. This is why he has earned an "A" grade in our book because he does many things on a play by play basis that don't necessarily show up on the stat sheet, including beating double teams.
As teams shift their focus over to Lorenzo Alexander a bit more and as Shaq Lawson develops his game you can expect Hughes to become more a more productive as the season goes on.
On the next slide let's see how middle linebacker Zach Brown has graded so far this season.
Zach Brown Defensive Grade Through Nine Games:
Zach Brown has been a revelation for the Buffalo Bills. He was originally signed in the offseason to start for the team but when Reggie Ragland fell to the Bills in the second round, his chances of starting seemed bleak. He was given a second chance when Ragland injured his ACL and was lost for the year.
Brown has not taken that second chance for granted and he has been the Bills best defensive player. The only other player we gave an "A+" to on the defense was Lorenzo Alexander but Brown is playing at an even higher level than him.
Brown is an athletic freak. At about 250 pounds he recorded a 40 time of under 4.3 while at North Carolina. His speeds allows him to get from sideline to sideline and that is why after nine weeks he was leading the NFL in tackles with 89 total (59 solo, 30 assists). He has 3 sacks, 2 forced fumbles, and 7 run stuffs for negative 10 yards.
Pro Football Focus has him ranked as the sixth-best linebacker in the league and he excels in all areas. He's ranked 6th against the run, 13th in coverage and 11th in pass rush. He has made several key plays for the Bills.
You can expect more of the same from Brown throughout the rest of the season and if he continues to play at this high level he might be in the running for the Defensive Player of the Year award.
Brown is going to get a big contract at the end of the season since he is only on a one-year deal and hopefully it's from Buffalo. The Bills may choose to let him walk considering Ragland is due to return next season but they would be smart to retain Brown who is more well rounded than Ragland. Ragland isn't as fast as Zach Brown and is more of a thumper like Preston Brown.
Speaking of Preston Brown, we'll grade him out on the next slide.
Preston Brown Defensive Grade Through Nine Games:
Preston Brown followed up his first season of 109 tackles with 120 last year. You would think that means that he improved but that was not the case. He was supposed to be the "quarterback" of the Bills defense last season. He was responsible for taking in the plays from the sidelines and translating them to the rest of the defense. He had issues doing so and eventually the team took away those duties from him and gave them to Manny Lawson.
According to New York Upstate, Rex Ryan challenged him this offseason when he said:
"He has the physical attributes you look for in a Mike linebacker, an inside 'backer. He really does. And he's a good football player. But that spot, in particular, it's like a quarterback of the defense. You're in the middle of it, you need to step up and communicate that way. I know it's not his personality off the field, he's a very quiet individual. But you've got to be a leader on it. That's the challenge to Preston, and he understands that. We'll see how he does in that role."
Brown accepted Ryan's challenge and has stepped up to the plate. So far this year he has racked up 43 tackles, 29 assists, 1 sack, 1 forced fumble, 2 fumble recoveries and 3 run stuffs for negative two yards. His combined 72 tackles and assists have him on pace for 128 which would be a career high.
He's a bit more a "thumper" than Zach Brown and struggles in coverage. His strengths are in his run stopping ability and his ability to rush the passer. Pro Football Focus ranks him as the eighth best pass rushing linebacker in the league this year. Brown seems to have regained his footing and understands his role in Rex's defense so you can expect his play to just as good down the stretch this season.
Between him and Zach Brown, they have earned the nickname the "Browns Brothers" and trust us, they are not people you would want to run into in a dark alley. They help make up one of the best linebacking units in the league which was an area of weakness for Buffalo last year.
The Bills linebackers were one of their weakest units last year and their cornerbacks were their strongest. My oh my how the times have changed. Let's start by grading Bills cornerback Stephon Gilmore on the next slide.
Stephon Gilmore Defensive Grade Through Nine Games:
Stephon Gilmore was one of the top corners in the league last year. Heading into this season he was hoping to cash in on his play and score a mega contract just like Josh Norman got. His plan has not worked out as he is having his worst year since entering the league. We gave him an "F" because he doesn't seem to have any clue how to play the sport this year.
Maybe he thinks he is playing Futbol and not Football because in that sport you can't use your hands and that is something he has struggled with this season. Good cover corners are able to jam up receivers at the line and instead this season it seems Gilmore has lost confidence and is playing off them a bit.
He has been beaten on many big plays and seeing him look around confused after a touchdown catch against him seems to happen on a weekly basis at this point. He still has some moments where he covers well but on the whole, he has been extremely disappointing. There is no way Buffalo or any team for that matter, are going to give him the contract that he wants after this year.
The Bills would be smart to let him walk after this season because he is not worth the money he is going to want and that some team will most likely be willing to pay him still despite a down year. He is currently ranked the 90th best cornerback by Pro Football Focus which basically makes him the equivalent of one of the worst nickel corners in the league, not a number one lockdown cornerback.
His play is likely to improve over the remainder of the season because there isn't much further down to go and because he is too talented not to play better. Just a few short months ago the Bills were working towards a long-term deal with Gilmore, but as of now, it seems like this will be his last season with the team.
Part of the reason the Bills can feel comfortable letting him go is because of their other cornerback Ronald Darby who we will grade on the next slide.
Ronald Darby Defensive Grade Through Nine Games:
Ronald Darby entered the league like a bat out of hell. In his rookie campaign, he played lights out for the Bills earning a ranking from Pro Football Focus as the fourth best cornerback in the league. He was robbed of the Defensive Rookie of the Year Award when Marcus Peters won it. Peters had a fine season and led the NFL in interceptions but he also gave up more touchdowns than Darby did.
In his sophomore year, Darby has had a bit of slump. This season he has been great against the run but has struggled in coverage at times dropping his ranking down to 68th so far this season by PFF.
He has yet to record an interception this year and only had two in his rookie campaign. He needs to improve his hands. In Week 1 against the Ravens, he dropped an easy interception which would have been a pick six.
Darby has made some big plays this year like when he stopped the Rams fake punt which helped seal the victory Week 5 or when he made a big play against the Patriots on 3rd and 6 wth under three minutes left in the game in Week 4.
Just like the rest of the Bills he has made sloppy mistakes too. Both Gilmore and Darby covered the same receiver on one play which allowed Torrey Smith to go one on one with the safety for what would be 53-yard touchdown pass Week 6. He's got to smooth out his ups and downs if he wants to be a top corner in this league. He needs to improve his coverage and work on his hands.
Darby hasn't had an awful year like Gilmore but he hasn't lived up to his rookie year either which is why we are giving him a "C" for average play.
Part of the reason for Darby's struggles can also be blamed on the poor play out of Bills safeties this year but a true "lockdown" corner can't use that as an excuse. Before we get to the safeties let's grade out the Bills nickel corner Nickell Robey-Coleman.
Nickell Robey-Coleman Defensive Grade Through Nine Games:
Buffalo's smallest player at 5'8″ and 165 pounds has been their biggest shining star in the secondary. We're talking about Nickell Robey-Coleman of course. He's made countless big plays this season and has been their most reliable corner even though he is their nickel cornerback.
In Week 2 against the New York Jets, he recovered a fumble and returned it 36 yards for a touchdown. Week 5 against the Rams he intercepted a pass from Case Keenum and returned it 41 yards for a touchdown. It was his second interception that afternoon. The next week against the 49ers, Robey-Coleman forced a fumble on a kickoff which was recovered by the Bills and allowed them to pull away for good against the 49ers.
Out of Buffalo's top three cornerbacks he has been the best in coverage which isn't necessarily a fair comparison since he generally is not covering a team's best passing target. He has performed like one of the best nickel corners in the league despite his size but his small stature prevents him from coming away with tackles.
He has just 16 tackles and 2 assists this season but has 4 passes deflected, 2 forced fumbles, two interceptions and two defensive touchdowns. Pro Football Focus ranks him as the 53rd best cornerback in the league which means he could start on a lot of teams but again, he's not covering most teams number one receiving threat and he probably couldn't considering his size. Evidence of that was when he was beat Week 8 on a 53-yard touchdown pass to Rob Gronkowski although, in fairness, almost no one in the NFL can cover Gronk.
Now that we've graded the cornerbacks let's move to the safeties on the next slide starting with Robert Blanton.
Robert Blanton Defensive Grade Through Nine Games:
When the Buffalo Bills signed safety Robert Blanton it was as an insurance policy in case Aaron Williams was not healthy enough to continue his football career. Williams beat the odds and was able to play this year but he was injured on a dirty hit from Jarvis Landry against Miami and his career is again in doubt. Blanton became the Bills number two safety after Williams went down and overall on the season he has been the Bills most disappointing player except for Stephon Gilmore.
That is why we gave Blanton a "D+" as his grade. He's played well below what an average safety should in this league and in the notes I take each week he has only been mentioned once. That was when on a 1st and 20 play against the Patriots he was called for a holding penalty thus giving them an automatic first down. Plays like that can't be made against a team as good as New England especially in that down and distance.
Blanton has been slightly better against the run than the pass this season but he has been disappointing in both aspects for Buffalo. He has 26 tackles with 8 assists but has no pass deflections or interceptions for the team. Pro Football Focus ranks him as the 76th best safety in the league which is another way of saying he is not a starting caliber safety.
Safety was one of the Bills thinnest positions coming into the year and probably was the reason why they originally carried six players at the position on the roster. They are now down to just four safeties and it wouldn't be shocking to see Jonathan Meeks steal time away from Blanton as the season goes on. Expect this to be the primary area the Bills look to upgrade in the offseason in both free agency and in the draft.
On the next slide, we'll grade Corey Graham who is the Bills best remaining safety who is healthy.
Corey Graham Defensive Grade Through Nine Games:
Corey Graham is a converted cornerback playing safety for the Buffalo Bills. So it should be no surprise that he is much better in coverage than he is against the run. He is ranked by Pro Football Focus as the 15th best safety in the league this year, the 9th best in coverage but he drops to 43rd best in their rankings against the run.
He was the Bills second best safety to Aaron Williams but when Williams season was ended on a dirty hit he became their best player at the position. He's getting up there in age at 31 years old which is part of the reason that the Bills converted him from cornerback last year. Once you start to lose your speed, your time is very short in the NFL. Just look what's happening to Darrelle Revis this year who is going to need to convert to safety soon if he wants to prolong his career.
This season, Graham has 30 tackles, 9 assists 1 sack, 6 pass deflections, 1 interception, and a run stuff for negative 1 yards. He is having a pretty good year compared to what was expected which is why he earned a "B" grade from us. Still, his best years are behind him and he wasn't meant to be the team's top safety. His play will likely regress in the second half of the season as the Bills secondary struggles without Aaron Williams and with their starting cornerbacks playing below expectations.
Graham might not be the one to blame but the secondary generally struggles as a unit and so due to the other players not carrying their load Graham's stats and play is likely to suffer along with them.
Aaron Williams Defensive Grade Through Nine Games:
We saved Aaron Williams for last in this exercise because he is the most brutal of all the players to write about. He was playing well again after coming off a horrifying neck injury last season that not only put his football career in jeopardy but also threatened his ability to lead a normal healthy life outside of football.
He decided he wanted to continue his career and battled his way back. He was ready for training camp but was unsure how his neck would react to contact until the made that first big hit. He passed that test with flying colors and all seemed well in this inspirational comeback story.
He had a scare in practice when covering wide receiver Dez Lewis. They collided and both came away injured. Normally a concussion would be terrible news for a player but in Williams' case, this was the best case scenario considering it could have been his neck.
Once again Williams battled his way back and was ready for opening day. The 26-year-old was having a decent season for Buffalo and had been involved in several violent collisions leading many to feel that everything would be ok with him and he could have a long and productive career.
That all changed in Week 7 against the Miami Dolphins when Jarvis Landry made a cheap hit on Williams who could not see Landry. Williams instantly went down and Bills fans feared the worst. Those fears were realized when Aaron Williams was eventually put on IR ending his 2016 season.
Now I am not one to tell someone what to do with their life, but it pains me to see Williams get hurt like this. I've admired his play since he entered the league. I care more about his ability to lead a normal and healthy life than I do about him contributing to the Bills on the field. I hope he makes whatever decision is best for him and his family but my instinct is that he should walk away from the game.
We gave him a "B" for his efforts during the year but he deserves an "A" for dedication and for never giving up no matter how much the odds are stacked against him.
So those are the Bills grades on defense through their Bye week. The team has seven games ahead of them on the schedule all against AFC opponents. They have very little wiggle room for losses if they have any hopes of ending their 16-year playoff drought. Let's hope they defy the odds just like Aaron Williams did with his comeback this season.
This article originally appeared on