GMEN HQ Visits With Still Curtain To Preview Giants – Steelers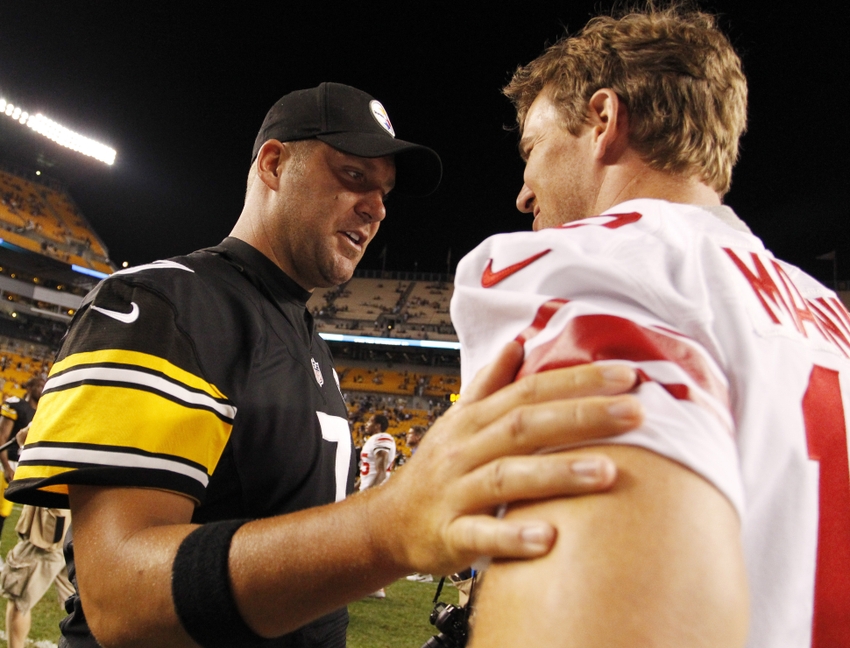 December NFL football has arrived, and two long tenured franchises are set to meet on Sunday. The Pittsburgh Steelers and the New York Giants clash at Heinz Field with the playoffs on everyone's minds. GMEN HQ caught up with Kim Myers of the "Still Curtain" to discuss this week's important match-up.
GMEN HQ: We see talk around the Steelers is that the team is disappointed with its 6-5 record, but satisfied that they are at the top of the AFC North division. What did everyone expect the record to be at this point? And is there a reason why that is not the case?
Kim Myers: There is a lot of frustration about the record at this point. I think both the team and the fans would've expected a much more dominant showing given how hyped the team was prior to the start of the season. There has been some injuries, but nothing drastic like other teams have gone through. I know Steeler Nation would love to have that game back from the Baltimore Ravens to be able to have sole possession of the driver's seat in the division. The main problem has been inconsistency. The defense started strong and then got flattened by the Eagles and the offense hasn't lit up the scoreboard more consistently than expected. They control their own destiny though so there isn't too much to worry about but there's also no room for error. 
GMEN HQ: You guys have your own diva receiver to worry about, but some articles we read clearly defend Antonio Brown's end zone antics, rather than acknowledging that these are penalties (i.e. –Ben Roethlisberger). Where do stand on the Brown end zone celebrations? 
KM: I love the end zone celebrations personally. If that's the dominant topic of conversation each week that means the team is doing well. There haven't been any costly penalties assessed and the funniest part of the latest instance was that it wasn't even Antonio Brown's fault. His only flag for excessive celebration (the dumbest penalty on record) was when Le'Veon Bell ran to congratulate him, and they got flagged for the "group celebration". Brown scored three touchdowns in that game and was only flagged that time. That led to giving up bad field position to the Colts and they, in turn, went to a fake punt to avoid a three and out so if special teams makes the stop there it's a moot point. 
That being said Brown should know that he's being heavily targeted by officials so unfortunately while he plays a game he's going to have to try not to show that he's enjoying himself too much to it doesn't end up costing the team. 
GMEN HQ:
Most NFL fans know about Le'Veon Bell, Ryan Shazier, James Harrison, Big Ben and Antonio Brown. Tell us one player on offense and one player on defense that we don't know much about, and could be a factor in the game.
KM: The player on offense would be tight end Ladarius Green. He's just joined the lineup after being on the PUP list for what feels like an eternity. He caught two passes from Roethlisberger for a total of 67 yards in the 28-7 Thanksgiving win over Indy and I think that's just the tip of the iceberg for him in the offense. 
On the defensive side of the ball defensive end Stephon Tuitt is growing into a force in the pass rush and is bowling guys over on a regular basis. With the injury to Cam Heyward he has stepped up and then some on a line that desperately needs some depth. Rookie defensive tackle Javon Hargrave is leaping over third-year tackle Dan McCullers as far as production. Hopefully they can all do some damage and get after Eli on Sunday. 
GMEN HQ: Has Lawrence Timmons been able to keep his lunch down recently?
I'm sure he has. He's a serial vomitter as far as what I hear. Just has a tendency to toss his cookies on the field, unfortunately. The other guys have talked about how he's done it before and how it grosses them out and they try not to step in it and all that. Sure makes for a fun Vimeo though. Gotta love the internet. 
GMEN HQ: 
Give us a prediction for the game.
I think December football is all about momentum, and I think the Steelers have the momentum going into this match. They're coming off of some solid victories and an extended period of rest. This is also a more important game to win for them. This is the time of the year for Dallas to start crashing and burning, so the Giants should be able to snatch the division without having to beat Pittsburgh. That's my homer logic at work. I'm going with a shootout and 38-33 Steelers. 
This article originally appeared on