Giovani Bernard tore ACL in Cincinnati Bengals loss to Buffalo Bills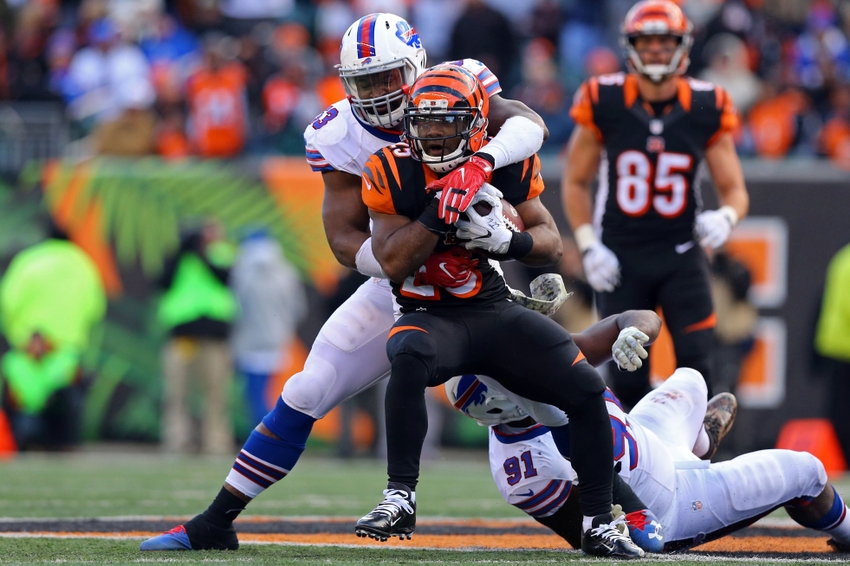 Cincinnati Bengals running back Giovani Bernard tore the ACL in his knee in Sunday's Week 11 home loss to the Buffalo Bills, 16-12.
The Cincinnati Bengals had themselves a no good, very bad day on Sunday, Nov. 20. Not only did the Bengals stumble to 3-6-1 on the season by falling at home to the Buffalo Bills, 16-12, but they lost two key offensive playmakers to season-ending injuries.
Cincinnati saw its best player in wide receiver A.J. Green tear his right hamstring early in the first quarter. The NFL Network's Ian Rapoport is reporting that Bengals running back Giovani Bernard has torn the ACL in his knee.
#Bengals RB Gio Bernard tore his ACL, source said.

— Ian Rapoport (@RapSheet) November 21, 2016
It seems that the injury bug that once plagued the San Diego Chargers earlier in the season has found its way to the banks of the Ohio River to wreck the Bengals' 2016 season. Cincinnati might be one of the 10 worst teams in football. That is what a 3-6-1 record indicates through 10 regular season games.
If there is anything that gives Bengals fans a glimmer of hope on Monday morning, it is that the AFC North is collectively terrible. The 5-5 Baltimore Ravens lead the 5-5 Pittsburgh Steelers in the AFC North race by virtue of a head-to-head tiebreaker. Let's not forget that the atrocious Cleveland Browns are an abysmal 0-11 on the season.
So who does Bengals starting quarterback Andy Dalton have to sling the pigskin to the rest of the way? Exactly. He may be totally cool with new offensive coordinator Ken Zampese in 2016, but this Bengals team is going nowhere fast.
Cincinnati had qualified for the AFC Playoffs the previous five NFL seasons. That seems to be coming to an end this holiday season. Will it have been injuries and attrition that ended the Marvin Lewis era in Cincinnati? Nobody in the NFL had a worse Week 11 than did the Bengals.
This article originally appeared on