Giants vs Vikings Week 4: Highlights, score and recap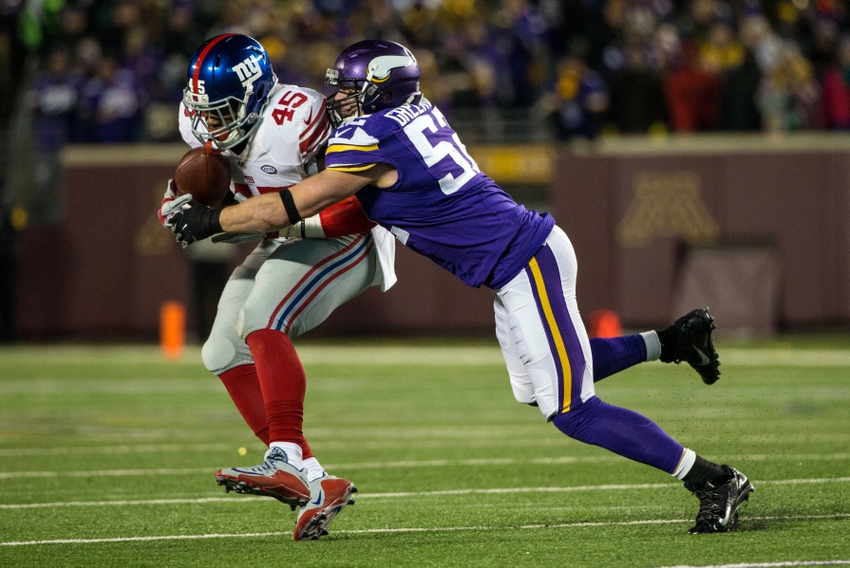 Everything that you need to see and know between this important Week 4 Monday Night Football matchup between the Minnesota Vikings and New York Giants.
In a battle between NFC contenders, the Minnesota Vikings will host the New York Giants on Monday Night Football in Week 4. The Vikings enter this game at an impressive 3-0, while the Giants come in at 2-1 after a tough loss to the Washington Redskins last week.
The Vikings may very well be the best team in football, and they have their defense to thank for that. Loaded at every level of the defense, the Vikings' defense has been absolutely dominant this season.
Led by a dynamic pass rush and a strong secondary, the Vikings rank as the fourth best team against the pass, according to defensive DVOA. With an incredible group of linebackers and play-making defensive lineman, they also come in as the fourth best team against the run.
Simply put, this Vikings' defense is tough to move the ball against. Sam Bradford and the Vikings' offense leaves plenty to be desired, but their elite defense will keep them in every game.
However, Eli Manning and the Giants' offense represent a tough test this week.
Manning is inconsistent at the quarterback position, but he is capable of a big performance at any time. Odell Beckham is obviously incredible on the outside. However, they now have a strong overall group at the position with rookie Sterling Shepard and returning veteran Victor Cruz looking great.
If they can protect Manning, the Giants can score points on anybody; even the Vikings.
On top of having an explosive offense, the Giants' defense is greatly improved this season. Their free agent additions of DE Olivier Vernon, CB Janoris Jenkins and DT Damon Harrison have been huge. The Giants spent a ton of money on their defense this off season, but it has worked so far.
Bradford, Stefon Diggs, Kyle Rudolph, Jerick McKinnon and the rest of the Vikings' offense will be up against a strong unit on Monday night.
Highlights for this game will be provided live as they happen.
Three Stars
These are the three players who I expect to have the biggest impact on this game.
Vikings tight end Kyle Rudolph
While the numbers this season do not necessarily reflect it, I see the tight end position as the way to attack the Giants' defense. They are strong up front and at cornerback, but their linebackers and safeties leave plenty to be desired.
Bradford and tight end Kyle Rudolph have shown a great rapport through their first two games together, and I expect that to continue this week. Expect Rudolph to be heavily involved in the Vikings' offensive game plan, especially in the red zone.
Giants wide receiver Sterling Shepard
It is hard to pin-point where to attack this Vikings' defense. They are loaded all over the place. I am sure that Odell Beckham will get his this week, but he will likely receive a ton of attention from the defense.
If that is the case, expect Sterling Shepard to be a major play-maker for the Giants. Shepard is an extremely quick and elusive wide receiver who runs precise routes on a consistent basis. Shepard will likely primarily be defended by Captain Munnerlyn out of the slot. Munnerlyn is a good player, but he is the weak spot in their secondary.
Expect Manning to look for Shepard early and often.
Vikings defensive end Everson Griffen
I could easily place pass rush sensation Danielle Hunter here as well, but I decided to go with the Vikings' star up front. Everson Griffen has been incredible this season, dominating against the run, putting consistent pressure on the quarterback and coming away with four sacks on the season.
His three sack performance against the Carolina Panthers last week was incredibly impressive. Do not be surprised to see more of the same this week.
The Vikings' defensive line against the Giants' offensive line is a major mis-match all around, but nothing stands out more than Griffen against left tackle Ereck Flowers. Expect Griffen to abuse Flowers throughout this one, making life incredibly difficult for Manning.
Next Week
In Week 5 of the NFL season, the Vikings will play host the Houston Texans. The Giants travel to Lambeau to take on the Green Bay Packers on Sunday Night Football.
This article originally appeared on