Giants/Cowboys: Giants O-Line vs. Dallas D-Line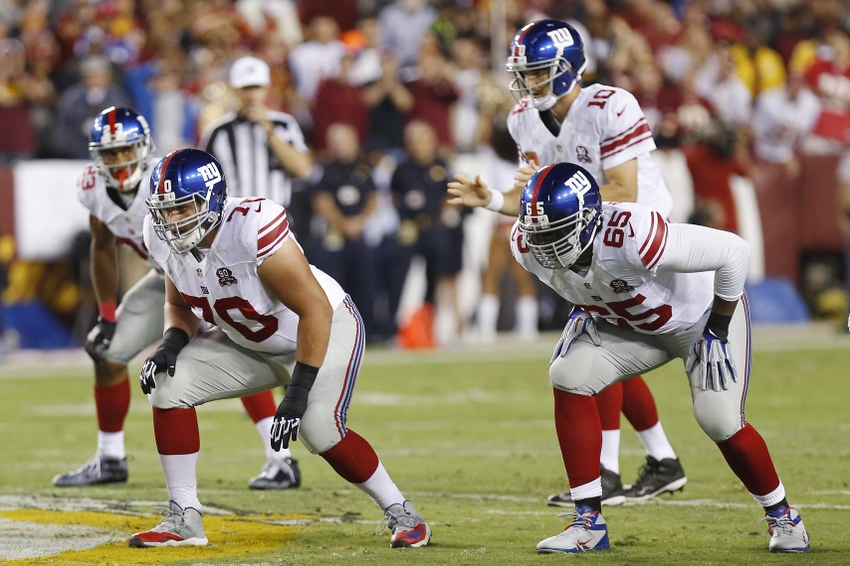 In the second of three critical match-ups to watch when the New York Giants and Dallas Cowboys meet this Sunday, we assess Big Blue's offensive line against Dallas' defensive line.
Let panicked Giants' fans tell it, the offensive line has been historically bad. Big Blue can't block pass-rushers, they can't run block, they're awful. Eli Manning is good, Odell Beckham is great, and Sterling Shepard may eventually walk on water. The real Jason Pierre-Paul is back, Olivier Vernon is awesome, Janoris Jenkins is an upgrade, and Eli Apple looks good. But the offensive line still sucks.
In fairness, they didn't give fans much to be excited about. They were an average unit last year, and much worse than that this preseason. Starters couldn't open running lanes for Rashad Jennings or Shane Vereen, or keep Eli comfortable during his limited snaps. Experts don't seem too worried.
Chris Simms, ex-NFL QB and son of Giants' great Phil Simms, thinks the concerns are overblown. Speaking to NJ.com, Simms called the line a "solid group."
Giants head coach Ben McAdoo concurs. He's backed his line all preseason and he won't waver now. On Sept. 6, 2016, McAdoo told Newsday "We're comfortable with the players we have on this roster right now. We have a good, strong football team…we're definitely comfortable with what we have."
"When at full strength, it is a solid group. I am not saying top 10—but more in that 14 to 18 range. Ereck Flowers, who played through some really tough injuries last year, has potential to be one of best tackles in football. (Justin) Pugh at guard and (Weston) Richburg at center should make them better than last year."

– Chris Simms, NFL Analyst
Giants' O-Line vs. Cowboys in 2015
The Giants split the season series with Dallas last season but both games were downright ugly. They averaged 289 yards of offense: 174 yards passing and 116 yards rushing. The line only surrendered three sacks but Manning was under constant pressure. He averaged 6.05 yards per attempt, his lowest against any NFC East team, and didn't throw a TD pass in either game.
The Giants did establish the run in the second meeting. The line sprang Vereen, Jennings, and Orleans Darkwa for 132 yards at 5.3 a pop. They will again look to establish the run against an unproven Cowboys front. Defensive ends Jack Crawford and Benson Mayowa have combined for four starts in seven NFL season. Tackle Terrell McClain has only played 15 games the last two seasons.
Big Blue relied on turnovers to beat Dallas last season. If not for bad Week 1 clock management, they should have swept the Cowboys. They won't want to rely on takeaways again this Sunday.
The offense must perform better against Dallas than they did last year.  Running the ball effectively will go a long way toward building confidence. If they can execute in the running game, expect the Giants to get creative with Beckham and Victor Cruz underneath before taking their shots deep. Experts or fans, the offensive line will prove someone right this Sunday. The Cowboys' front four is a good match-up to start with.
This article originally appeared on