Giants at Steelers Recap, Highlights, Final Score, More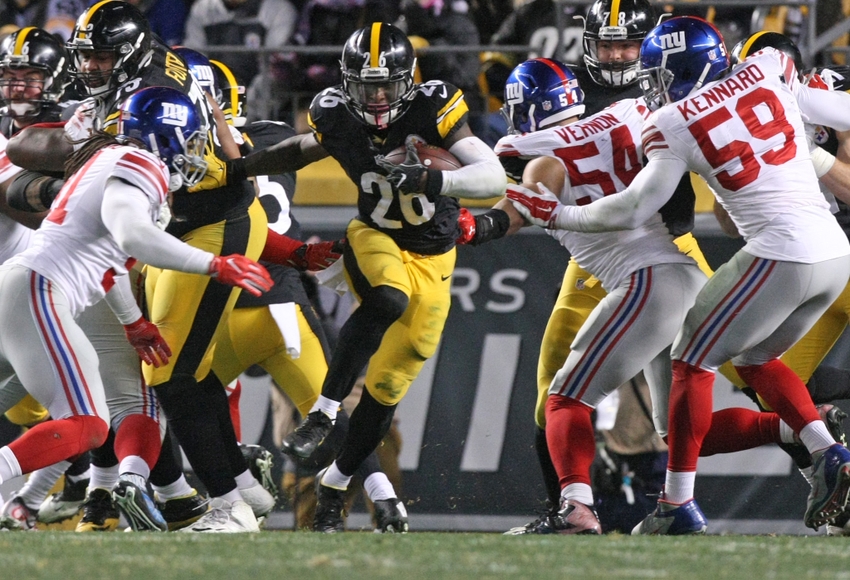 Pittsburgh Steelers quarterback Ben Roethlisberger's offense got the better of fellow draw class member Eli Manning's as the Steelers snapped a six-game Giants wining streak, 24-14.

14

24
The New York Giants managed just 234 yards of offense and turned the ball over twice, both on interceptions thrown by quarterback Eli Manning, who hadn't thrown a pick in his two previous games. Manning's two gaffes proved costly, with both coming deep in Steelers territory to squelch out potential scoring drives.
Big Blue's defense, which had successfully bailed the offense out over the course of the now ended six-game winning streak, had its share of issues as well. New York had few answers for tight end Ladarius Green, who finished with 110 receiving yards and one touchdown, and running back Le'Veon Bell, who became the first running back to top 100 yards against the Giants run defense this season.
The Giants, who had been a relative picture of health, didn't come out of this one unscathed. Defensive end Jason Pierre-Paul left the game with a groin strain. Additionally, defensive back Coty Sensabaugh suffered a rib injury.
Three Stars
RB Le'Veon Bell, Pittsburgh — The Steelers' dual threat logged his third straight 100-yard rushing game, finishing with 118 yards on 29 carries. For good measure, he also caught six out of his seven pass targets or 64 yards as the Giants had no answers for Bell this week.
TE Ladarius Green, Pittsburgh — Green recorded the first 100-yard game of his career as the New York Giants defense still apparently hasn't figured out that covering an opposing tight end is indeed permitted. Green, not receiver Antonio Brown, finished as the Steelers' leading receiver with six catches for 110 yards and a third-quarter touchdown on a 20-yard pass from Ben Roethlisberger to make it 21-7 at the time.
ILB Lawrence Timmons, Pittsburgh — Timmons came up with the big second-quarter interception on an Eli Manning pass intended for tight end Larry Donnell down at the Steelers' 9-yard line. Timmons' pick set up the Steelers' first touchdown drive of the game, a 22-yard pass from Roethlisberer to Brown which made it 11-0 Steelers.
Highlights
Eli dumps it off @RashadJennings… and he weaves his way for SIX! #NYGvsPIT https://t.co/8v64tPrgwV

— NFL (@NFL) December 4, 2016
Ladarius Green has recorded the first 100-yard game of his NFL career with this beauty right here. 👇 #ProBowlVote https://t.co/kamOe2gW5i

— Pittsburgh Steelers (@steelers) December 4, 2016
Eli is looking for the end zone…

But he gets PICKED by @umdsfinest21!@steelers ball! #NYGvsPIT https://t.co/o9jb8XXav7

Oh AB. #ToeDragSwag pic.twitter.com/yRnHZvsgYy

— NFL (@NFL) December 4, 2016

— NFL (@NFL) December 4, 2016
Next Game
The Giants (8-4) return home for a Sunday night clash with the red-hot Dallas Cowboys, whom they defeated in Week 1. The Giants are still sitting up top in the Wild Card race, but the loss this week puts the pressure on them what with the Bucs (7-5), Washington (6-5-1), Packers (6-6) and Vikings (6-6) all breathing down Big Blue's neck.
The Steelers will hit the road for a two-game stretch starting with a clash against Buffalo next week. They will then follow the Giants on Sunday night football in Week 15 when they visit the Cincinnati Bengals.
This article originally appeared on