Giants at Browns: Highlights, score and recap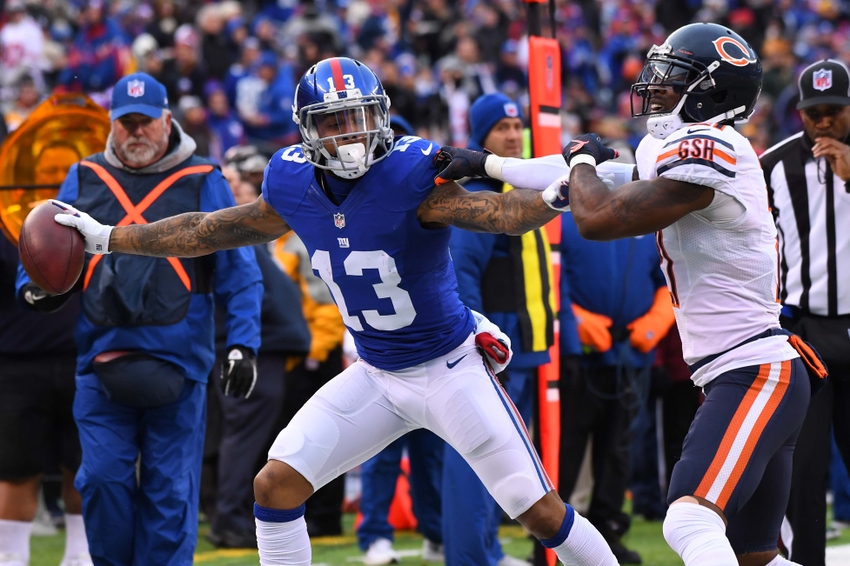 The winless Cleveland Browns host the 7-3 New York Giants at FirstEnergy Stadium in Week 12. Here are the highlights and key players for Sunday's game.
The Cleveland Browns haven't found a way to win for 11 weeks. A carousel of quarterbacks, injuries at wide receiver and an under-achieving defense haven't helped. By contrast, the New York Giants have quietly put together an impressive season. The Giants are winning behind an effective passing game and a big-play defense.
Both of those things can overwhelm the struggling Browns in Cleveland. In particular, a rapidly improving defense can smother a Brown offense lacking direction under center. Josh McCown is back in at quarterback with Cody Kessler out due to a concussion. Both passers took a beating against the Pittsburgh Steelers last week, suffering through eight sacks and many more hits.
This week's matchup could be a similar struggle against a Giants defense with 6.5 sacks in its last two games.
Highlights
Highlights will be added as and when they happen.
Three Stars
1. Landon Collins
Few defensive players in the NFL are playing as well as Landon Collins. The second-year safety has produced some superb numbers, per NFL Network's Ian Rapoport:
Michael Eisen of Giants.com puts those numbers into context:
Collins is the first NFL player with at least five interceptions and at least 3.0 sacks through his team's first 10 games since Green Bay's LeRoy Butler in 1996 (five interceptions, 3.5 sacks).
Collins can continue to be a game-wrecker this week. He should be lethal on the blitz against a Browns offense that couldn't pick up blitzes from the second level at all against the Steelers.
Coordinator Steve Spagnuolo loves to send his hybrid star from all angles. He should rush Collins early and often and make life difficult for McCown. A blitzing McCown can also help keep running back Duke Johnson in pass protection. Johnson is a useful dual-threat weapon who is particularly adept as a receiver. Collins can't let him release freely into space.
2. Olivier Vernon
Collins has been exceptional, but the real key to New York's defensive improvement has been the performances of their edge-rushers. Specifically, Jason Pierre-Paul and Olivier Vernon. The latter has notched a sack in each of his last three games. Vernon has improved since Spagnuolo started moving him around formations to target weak blockers.
In particular, the ex-Miami Dolphins rush end is causing havoc whenever he lines up over right tackle. It will be a good idea to keep him there this week and let Vernon avoid quality Browns left tackle, Joe Thomas.
3. Jamie Collins
Jamie Collins has only shown flashes of playmaking brilliance since joining the Browns in a trade from the New England Patriots. He's been in on 26 tackles, recorded a sack and forced a fumble.
The Giants are a good matchup for Collins, though. Big Blue don't boast a blocker agile enough to control Collins when he rushes off the edge.
Giants running backs are also suspect in pass protection. It's a weakness Browns defensive coordinator Ray Horton must exploit by blitzing Brown through the middle. He can be lethal rushing the A-gaps and forcing mismatched backs to block.
Next
The Browns will be on a bye in Week 13. Meanwhile, the Giants will again be on the road against an AFC North side when they face the Pittsburgh Steelers at Heinz Field.
More from FanSided
This article originally appeared on