George Farmer's Versatility Could Be Useful Down The Stretch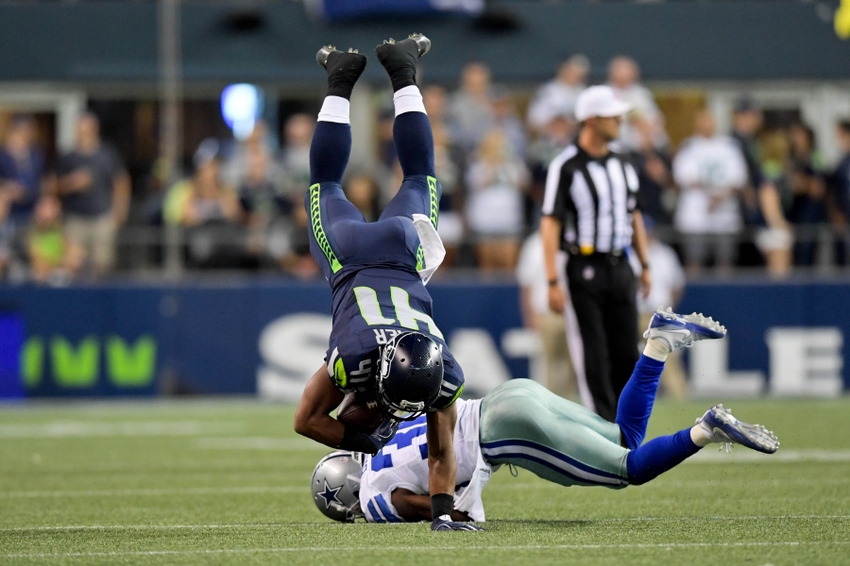 The Seattle Seahawks promoted RB George Farmer to the active roster today. He will slide in behind Thomas Rawls and Alex Collins in the Seahawks backfield.
The newest Seahawk's background as a wide receiver means he could snatch some of the third down snaps away from Collins. He was signed after injuries to running backs CJ Prosise and Troymaine Pope had the Seahawks scrambling for alternatives at the position. They even had to give quarterback Trevone Boykin some snaps last week to preserve the health of Thomas Rawls, who is working his way back from a fibula injury. Farmer's value lies in his 3rd down ability and versatility.
Their running back depth that had been a strength throughout the season suddenly became a weak link on an otherwise deep roster. This late in the season, there aren't many players on the open market capable of producing right away. While guys like Bishop Sankey or Ahmad Bradshaw may be the sexier names on the market, they may not be able to adjust to Seattle's zone blocking system quickly enough.
More from 12th Man Rising
After a brief stint with Dallas, Farmer has bounced between the Seahawks practice squad and the street during his short career. He was re signed to the Seahawks practice squad on November 10th. Farmer is still very raw. This is understandable, considering his background as a cornerback and wide receiver. But, his vision, patience, and instincts need some refinement. Farmer's knowledge of the Seahawks system made him the best option for Seattle.
However, giving Farmer the ball in space could yield extraordinary results for the Seahawks. At USC's pro day in 2015, he put up fantastic numbers, running a 4.40 40 yard dash, while posting a 34 ½ inch vertical jump, 10'03'' broad jump and a 7.00 three-cone drill. By comparison, the 6'1, 220 pound CJ Prosise ran a 4.48 40 yard dash. He also posted a 35 ½ inch vertical and a 10'01'' broad jump. Prosise did not participate in the three-cone drill. 
Farmer spent the preseason with Seattle. He pitched in 36 yards on nine carries and caught two balls for 15 yards during his preseason appearances before getting the ax.
As the NFL season enters the time period where injury reports fill up quicker than the buffet line at your Thanksgiving Dinner, versatility is key down the stretch. Farmer can slide in and fill the role as a third running back. Not only is his bottom heavy body type nearly identical to CJ Prosise', but Farmer can also come in on third down and catch passes out of the backfield.
In addition to Farmer's ability to play running back, his dynamic athleticism allows him to potentially fill in at several different positions. During his injury-plagued career at USC, Farmer was a wide receiver. He was signed as an undrafted free agent by Dallas, then quickly jettisoned during their training camp. Once he signed with the Seahawks, they transitioned him to cornerback. His size/speed combination fit the ideals for a Seahawks cornerback. Seattle released him, then re signed him, this time as a wide receiver. Halfway through training camp, the Seahawks decided that Farmer's skills would be more valuable at running back.
WR Tanner McEvoy got banged up during last Sunday's game. While he isn't out long term, the Seahawks may want to keep their receiving corps healthy for the playoffs. If needed, Farmer can fill in as a wideout.
Also, CB's Neiko Thorpe and DeShawn Shead left Sunday's game. Farmer hasn't played cornerback for a long time, but if needed, he could step in and play a few snaps. Also, Farmer has the traits to be a good special teamer as well. He filled in at kick returner during his freshman year of college in 2011, averaging 19.7 yards per return. His 4.4 speed could be useful as a gunner. Farmer shouldn't be playing these positions regularly, but if the battered Seahawks were ever in a bind, his versatility could be beneficial.
Now, Farmer isn't going to be a long-term franchise savior or even a complete replacement for Prosise. Chances are, he'll play 10-20 snaps in relief of Rawls and receive 2-5 touches. But, on an beaten and bruised Seahawks roster, his versatility could be extremely valuable throughout the stretch run.
This article originally appeared on