Game Preview: Cincinnati Bengals vs. New York Jets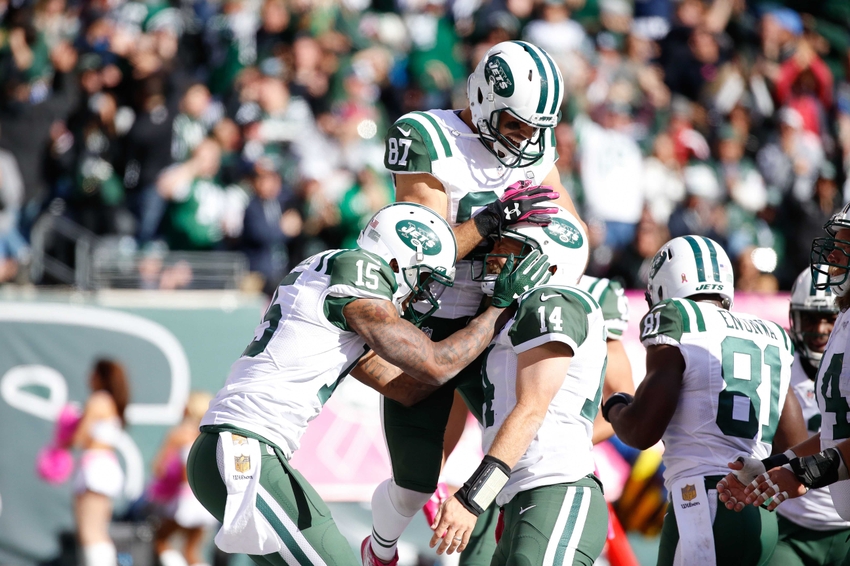 On Sunday, September 11th the New York Jets will play host to the Cincinnati Bengal's in their season, and home opener. The Jets are coming off a 10-6 season where they missed the playoffs after a tough road loss to the Buffalo Bills.
The Bengals are entering this game after losing in the AFC wild card game last season to the Steelers thanks to a Jeremy Hill fumble and two horrible defensive penalties. Both of these teams are looking to get off to a quick start after having very disappointing endings.
This game will pit together several story lines like the return of Ryan Fitzpatrick, the Bengals defense faring without Vontaze Burfict, and several others. This game could turn into a big one down the stretch as each team attempts to make the playoffs. 
Darrelle Revis, CB, New York Jets: Darrelle Revis will be tasked with stopping one of the game's top receivers in Cincy's AJ Green. Green is an annual 1,000 yard receiver and can be a spark plug for the Bengals' offense. Revis is a shutdown corner when he is healthy, and he can be a huge key to success if he gets going.
Jeremy Hill, RB, Cincinnati Bengals: Jeremy Hill's last touch of the 2015-16 season was a fumble that arguably cost Cincy a shot at moving on in the playoffs. He will face a tough task to get rolling against a stingy Jets defense that is tough against the run. Hill can play a crucial role in helping Cincinnati's offense establish play action, and open up the passing game.
Ryan Fitzpatrick, QB, New York Jets: The New York Jets' offseason was centered around re-signing or not re-signing Ryan Fitzpatrick, and now that he has re-signed the spotlight's on him. Following his long holdout he will need to continue the best stretch of his career in order to justify his holdout. He can get off to a solid start by leading the team to a win over the Bengals.
Geno Atkins and the Bengals D-Line: The Jets rely on the run to get going, and used Chris Ivory heavily last year to get going, they on ran 42.6% of their plays last season. Geno Atkins and the Bengals defensive line can shut down Matt Forte and force the Jets to throw the ball. They also have a good enough pass rush to be able to put pressure on Fitzpatrick and limit what the Jets can do offensively. 
Good Andy Dalton: Andy Dalton has been criticized his entire career for inconsistency, especially in crunch time. But when he shows up the Bengals are hard to stop. Last year Dalton threw only seven interceptions before getting hurt, but he always has those games where he struggles heavily. He's had 21 games where he has thrown multiple interceptions, if he can limit turnovers the Bengals have a great shot to win this game.
Gang Green Showing Out: The Jets defense has potential to be nasty this year, especially with a healthy Muhammad Wilkerson and Darrelle Revis. They will play this game without Sheldon Richardson, who's serving a one game suspension, but have depth to fill the void. If the Jets defense can settle in early and get after Dalton it could be a long day for the Bengals, and a win for the Jets.
Filling the Void: Cincinnati will be without one of their defensive leaders in Vontaze Burfict for a few weeks in the wake of his suspension following the cheap shot he had in the playoffs. And it will be on Rey Maualuga and newly acquired Karlos Dansby to fill the void. Burfict was a playmaker for the Bengals defense and if they can't lead the defense the Bengals could be in trouble.
Jeremy Hill: Jeremy Hill has something to prove, an offseason full of torment and fingers being pointed at him will lead to an inspired week one effort. Expect Hill to be all over the place on Sunday in his first return to action since the wild card game.
Karlos Dansby: Karlos Dansby was the biggest proponent of a Cleveland run defense that showed little signs of life last year. He was a consistent tackler, and even had three interceptions last year in pass coverage. Expect to see Dansby all over the place making plays on defense Sunday.
Brandon Marshall: At the start of training camp, Brandon Marshall made a bet with Antonio Brown for each others cars based on who had more receiving yards. Expect Marshall to have not just a big game but a big season, but in respects to Sunday he will be covered by either Adam Jones or Dre Kirkpatrick, expect a big game.
Darrelle Revis: The Jets will need Revis Island to be open for business on Sunday with the Bengals unleashing three talented receivers against them. Revis will primarily be tasked with shutting down superstar AJ Green who put up 81 yards and a score last time they faced each other. 
The Jets have the home field advantage for this game, and are also not having to break in too many new starters. They will be without star end Sheldon Richardson for this game due to suspension, but still have a great defense budding under the mind of Todd Bowles.
The Bengals have a strong offense, and a defense with some question marks arising due to absences via suspension as well. They will turn to Andy Dalton and company to get the job done on Sunday, and they can deliver.
AJ Green will have a difficult matchup against Darrelle Revis, but they also have Brandon LaFell and Tyler Boyd as well as Gio Bernard and Jeremy Hill to test the Jets' defense. In the end Cincy has several playmakers who can open things up, but a new coordinator and questions on defense make them a hard pick.
The Jets having home field advantage, and the Bengals' defensive questions, especially at linebacker and safety, make them a hard sell especially on the road in an opener. The Jets have good weapons too especially on the outside who can cause problems for their secondary.
The Pick: Jets 23 Bengals 17
This article originally appeared on