Game Ball: Oakland Raiders vs. Houston Texans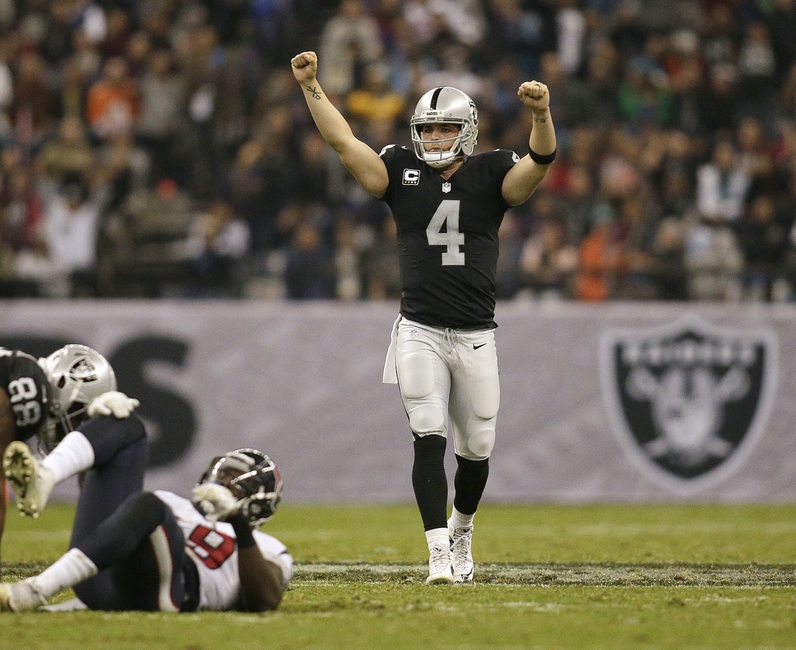 Game Ball is a weekly series that awards a "game ball" to the player of the game for the Oakland Raiders. Only one player will be chosen, and this one is for Week 11 against the Texans.
Awarding a game ball to a player, coach, or anyone deserving is a long-standing tradition in the NFL. And that is what serves as the inspiration for this weekly series.
Some games, many players may be deserving to be recognized as the player of the game — while some games, maybe only a couple of players are deserving. No matter what, there is always at least one person who stands out above the rest.
In Week 11, on Monday Night Football in Mexico City, that player was Derek Carr.
It was a tough decision — perhaps the toughest yet this season. With Carr Jalen Richard, Bruce Irvin, Jamize Olawale and the entire offensive line all having fantastic games, it was too difficult to just settle on just one.
So we went to the JBB community, who voted for Carr as the player most deserving of this prestigious accolade.
Carr may not have broken his own franchise record of 513 passing yards, but he was outstanding none the less. And most importantly, like he's done so many times in the past, Carr rose to the occasion when the Raiders needed him the most.
Trailing 20-13 in the 4th quarter, Carr hit Olawale on a 75-yard TD pass to tie the game. And on Oakland's next possession, he connected with Amari Cooper on a 35-yard touchdown to give the Raiders a 27-20 lead, and they never looked back.
It took the Raiders exactly 1:45 of possession to score both touchdowns.
Carr's stat line ended up being 21/31 for 295 yards, 3 TDs, 1 INT and no sacks. His passer rating was 117. It could have been even better if not for all of the drops.
Carr's resume continues to grow, as does his argument for being the NFL's MVP. The come-from-behind victory was DC's 8th since 2015, which trails only Matt Stafford (9) over that span.
http://justblogbaby.com/2016/11/21/t-j-ward-and-brandon-marshall-are-still-salty/
More from Just Blog Baby
This article originally appeared on