Game Ball: Oakland Raiders vs. Denver Broncos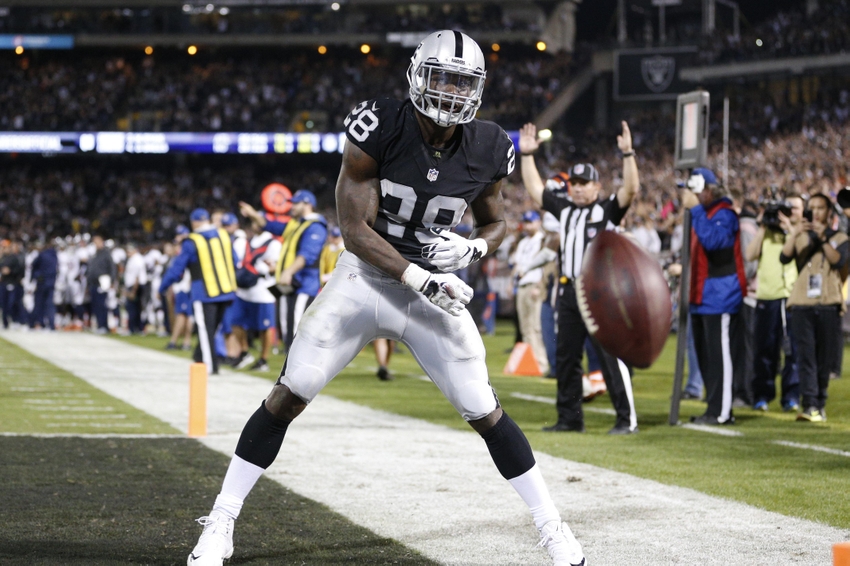 Game Ball is a weekly series that awards a "game ball" to the player of the game for the Oakland Raiders. Only one player will be chosen, and this one is for Week 9 against the Broncos.
Awarding a game ball to a player, coach, or anyone deserving is a long-standing tradition in the NFL. And that is what serves as the inspiration for this weekly series.
Some games, many players may be deserving to be recognized as the player of the game — while some games, maybe only a couple of players are deserving. No matter what, there is always at least one person who stands out above the rest.
In Week 9, that player was Latavius Murray.
After being the AFC's second leading rusher in 2015, Murray was asked to take a step back this season. Still as the leading ball carrier, but with a reduced workload.
The presence of DeAndre Washington and Jalen Richard helped keep Latavius fresh, as he no longer had to shoulder the entire workload of the run game. Murray still missed two games, but when on the field, he's looked noticeably improved.
That couldn't be more true on Sunday night. Latavius looked as good as he has in his entire career.
20 carries for 114 yards and 3 TD's was the damage done to Denver's defense, on primetime, in front of the entire country. Latavius put on a show.
The 114 yards was actually the second highest total of his career, and only the fourth time he's ever topped the 100-yard mark. His 3 touchdowns was a career high, and only the third time he's produced a multi-touchdown game.
Murray, per usual, was his usual fantastic self in pass-blocking situations. This is an area where he has thrived and does not receive enough credit.
But back to how he was running the ball. Murray looked as laterally quick as he ever has before, he was shifty, decisive, he finished runs with authority, and he was a force around the goal-line.
Honorable mention to the offensive line, who cleared the way for Murray's big day. They deserve the game ball every week, so shoutout to them.
It's a contract year for #28, and it'll be interesting to see how that situation plays out.
http://justblogbaby.com/2016/11/07/buy-or-sell-oakland-raiders-vs-denver-broncos/
More from Just Blog Baby
This article originally appeared on