Game Ball: Oakland Raiders at Tampa Bay Buccaneers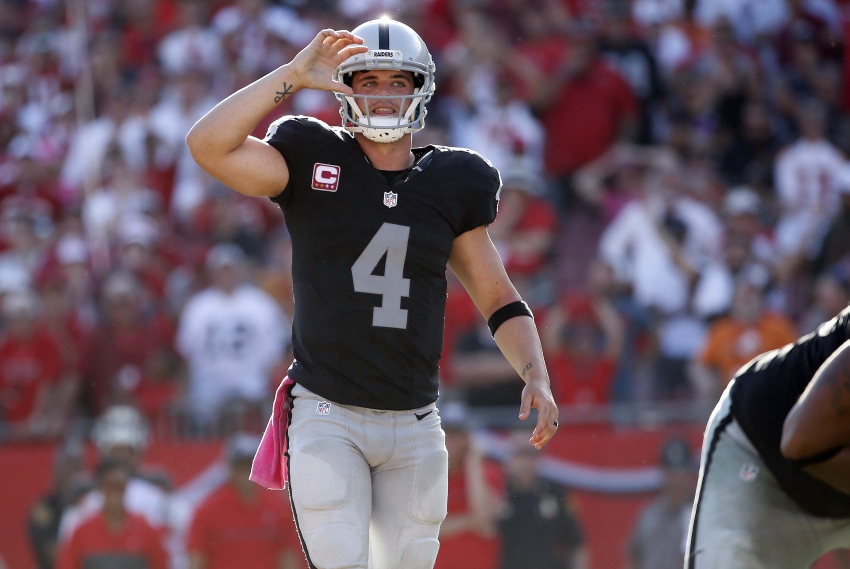 Game Ball is a weekly series that awards a "game ball" to the player of the game for the Oakland Raiders. Only one player will be chosen, and this one is for Week 8 against the Buccaneers.
Awarding a game ball to a player, coach, or anyone deserving is a long-standing tradition in the NFL. And that is what serves as the inspiration for this weekly series.
Some games, many players may be deserving to be recognized as the player of the game — while some games, maybe only a couple of players are deserving. No matter what, there is always at least one person who stands out above the rest.
In Week 8, that player was Derek Carr.
What a Sunday it was for Oakland's franchise quarterback — Carr completed 40 of 59 attempts for 513 yards, 4 TD's and 0 INT's. Per ESPN Stats & Info, Carr became just the third player in NFL history to post such numbers in a game, joining Ben Roethlisberger in 2014 and Y.A. Tittle in 1962.
Carr also set a franchise record for most passing yards in a single game, eclipsing the previous record of 427 set by Cotton Davidson in 1964.
What makes this even scarier is that Carr's number could have been even better. Michael Crabtree had a 45-yard reception negated by a penalty, and late in the game, Amari Cooper dropped a ball that would have been about that many yards. There was also a deep pass to Cooper in the end zone that looked on the money, but Brent Grimes committed a pass interference. So Carr could have been well over 600 yards, if not for a few bad breaks.
Aside from the box score glory, Carr is the reason this team won on Sunday. Down several times throughout the game, #4 marched the offense up the field time and time again. He delivered multiple clutch touchdowns, including one to Mychal Rivera that tied the game with just 1:38 remaining.
Then with under two minutes left in overtime, Carr found Seth Roberts over the middle of the field. Roberts broke two tackles and was off the races.
And with that, the Oakland Raiders moved to 6-2 — a record they haven't reached since 2001.
That's my quarterback.
This article originally appeared on