Future bright for Lions with young offensive line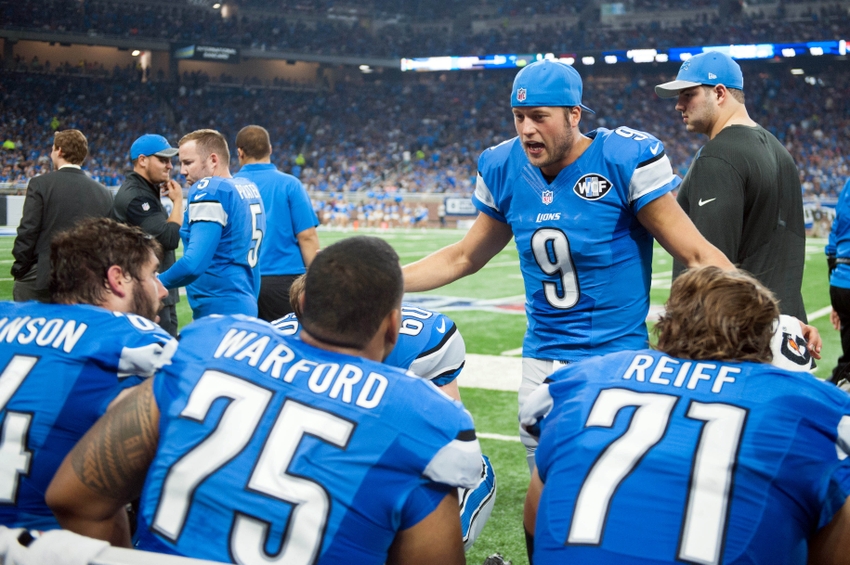 Detroit's offensive line, while rocky during stretches, is starting to come together at the perfect time.
Most who've watched the Lions games this season would say they are lucky to be at 5-4, and they are. Thanks to some late-game magic from Matthew Stafford, they've overcome some defensive blunders that would have cost a team with a lesser quarterback. Five different times, however, Stafford has put this team on his back against seemingly insurmountable odds to win. What may be getting lost in all of the Stafford hype, though, is an improving Lions offensive line.
While the Lions haven't been dominant up front, their group of mostly high draft picks has been steadily showing progress, and we can expect that to continue as the season goes on. Rookie left tackle Taylor Decker has been up and down, but his overall trajectory is certainly trending up. Laken Tomlinson was struggling but rookie Graham Glasgow, who's taken Tomlinson's starting left guard spot, has been a significant improvement. Center Travis Swanson, a guy most people wanted to replace after being handed a job he hadn't earned, has been possibly the Lions' best lineman in 2016.
Riley Reiff, despite missing some time with injury, has really embraced his move to right tackle. He's probably played his way into the Lions' long-term plans. Larry Warford was the one player people weren't worried about coming into the year. Like the rest of the line, he will only play better as the unit's chemistry grows. The point is not that the offensive line is better than expected, it's that they're most certainly going to get better because the Lions finally made it a priority to invest in the overall depth. Tomlinson would've been given a pass before – as a 1st-round draft pick – but only because there hasn't been a viable alternative like Glasgow or Joe Dahl in the past. Meanwhile, the team is winning while they figure out the right mix.
The Cowboys' offensive line is an absolute thing of beauty. It was built with a similar combination of high and mid-round draft picks. They didn't gel right away, but after playing together for a few seasons, they've helped a rookie-led team get to 7-1. Ezekiel Elliott and Dak Prescott have both been great, but both are unquestionably better playing behind the best offensive line in football. Detroit is a long way away from getting the kind of push and consistency up front as Dallas, but they have the pieces in place to be able to possibly get there someday.
At 5-4, Detroit is right in the thick of the divisional race after a 1-3 start. The difference between this team and the Lions teams of the past is that first-year GM Bob Quinn put an emphasis on building the trenches in this year's draft.  It's something every team talks about, but many get caught up in speedy tight ends or players that were more physically imposing than productive in college. Quinn made the boring, unsexy picks and those decisions look to be paying off. The Lions are winning mostly because of great quarterback play, but wherever they go this season, will be because a young offensive line is playing well enough to win.
Follow SLR Editor Matt Urben on Twitter @MattUrben88
More from SideLion Report
This article originally appeared on