Fred Jackson Prepares SEAR Steakhouse for Grand Opening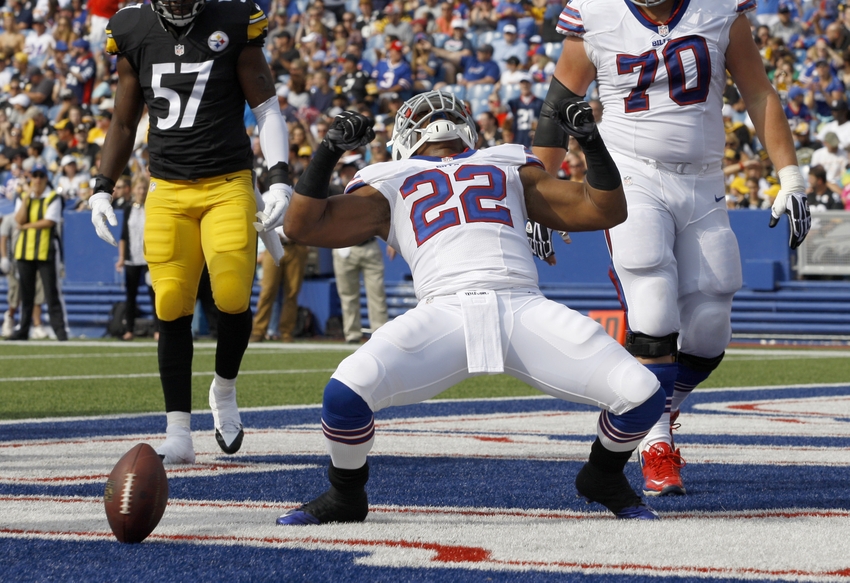 Fred Jackson and his new investment in Buffalo will be having their grand opening on Thursday, November 26th — that's today!
A couple of months ago, I wrote a piece on a new steakhouse coming to Buffalo, New York with a lot of ties to the Buffalo Bills.
For those of you that didn't hear about the project, it's something that Fred Jackson and a couple other noticeable names have invested in post-NFL career. SEAR was a steakhouse concept that has been in the works for quite a while, but they are finally ready to release the restaurant to the whole city.
Located in the Avant Building in downtown Buffalo, SEAR has brought together the likes of former Buffalo Bills' players Fred Jackson, Terrence McGee and Brian Moorman, as well as HealthNow president and CDEO David Anderson, LoVullo Associates president David Pietrowski and ADPRO Sports owner Ron Raccuia.
The owner of SEAR is Dave Schutte, who also owns Oliver's in Buffalo and Creekview in Williamsville.
SEAR will be open for people's enjoyment on Thursday, November 17th — that's today! Everyone should go check it out.
Fred Jackson has always iterated his love for Buffalo and being a part of this new steakhouse is a great way to stay active in the community. Here's what Jackson had to say about the grand opening of SEAR finally being here:
"We're extremely excited. It's something that I always wanted to do and I had this opportunity to work with the tremendous partners that we have. I'm extremely grateful for it. It's great the day is finally here."
Jackson even hinted at a possible comeback to the NFL:
"I want to play one more year. If it doesn't happen, I know I played nine solid season in Buffalo and a year in Seattle last year and it's something that I can be ok with. But, I'm staying in shape and if team does reach out I'll be able to go in and contribute as soon as I hit the ground."
He also knows that the return is less likely, given his age:
"I'm ancient for a running back right now at 35. But, retirement is something that is inevitable. We all have to do it. Father time is an undisputed champion. Once that road is crossed, we'll get there. Like I said, I had nine solid years in Buffalo that I'll always lean back on and it's something that won't be a doomsday for me when I do finally hang them up."
Fred Jackson had an amazing nine-year career in Buffalo and won over the hearts of every single Bills' fan in the city. He displayed great sportsmanship in route to becoming the third best running back the franchise has ever had and became one of my favorite Buffalo Bills' players of all time.
Jackson finished his career with Buffalo totaling 5,646 yards on 1,279 carries in 106 games. His 4.4 yards per carry average and 30 rushing touchdowns proved he was efficient, while 322 receptions, 2,640 yards and 7 receiving touchdowns proved his versatility.
It was the 2015 season that saw the unexpected breakup from Buffalo, before the season even began. After the Bills brought LeSean McCoy to the city and drafted Karlos Williams, the need for Jackson just wasn't that strong. Before the season started, Doug Whaley had an important decision to make:
"Today, we had to make the difficult decision to release Fred Jackson. He had an incredible career for this organization for the past 10 years. We thank Fred for his hard work, dedication and leadership during his tenure with the Buffalo Bills. Fred has inspired the city of Buffalo in a number of ways. Fred and his family have been dedicated to this community and we can't thank them enough for their contributions through his career."
Luckily, Fred Jackson kept his promise when he stated "Buffalo's not just a place I plan on forgetting about." With SEAR, he will help transform the steak industry and provide an up-beat atmosphere for families to enjoy. What's better than top-of-the-line steak?
As for their menu, here's a quick summary of what to expect if you plan on hitting up SEAR on their grand opening:
Waygu Beef Carpaccio ($14) – black garlic aioli, segments of roasted cippolini onions and scattered foliage.
Lacquered, Cider-Based Pork Belly ($16) – English pea puree, delicate crisps of dehydrated apple and caramelized fennel.
Smoked Blue Cheese and Bacon-Topped Wedge Salad ($10)
Roasted Beet Salad ($12)
House Prime, Waygu and Standard or Dry-Aged USDA Prime Cuts
Seared Ahi Tuna with Coconut Black Rice and a Miso Glaze
Faroe Island Salmon with Black Pearl Lentils
USDA Lamb Rack
Berkshire Pork Chop
Burger, Fries, Steak Sandwich
Sides: Brussel sprouts, garlic parmesan spinach, mashed potatoes and truffle fries.
If you have been looking for a new steakhouse to try out and bring your family to, SEAR is exactly what you've been waiting for. Schutte worked closely with Chef Nicholson when creating the menu, trying to "rival the brash, contemporary steakhouses commonly found in larger markets."
With Fred Jackson, Terrence McGee and Brian Moorman on the list of investors as well, you know it'll have that Buffalo vibe to it. SEAR hopes to earn a reputation as a top-five steakhouse in the United States eventually, but right now will settle for becoming your new, favorite restaurant in Buffalo.
Come check out the grand opening at 200 Delaware Avenue in downtown Buffalo, open from 11 am until 11 pm and will stay open seven days a week. You can call 716-319-1090 for more info. Valet parking will be available.
It's finally here, Buffalo!
This article originally appeared on