Four Takeaways Buffalo Bills vs. Arizona Cardinals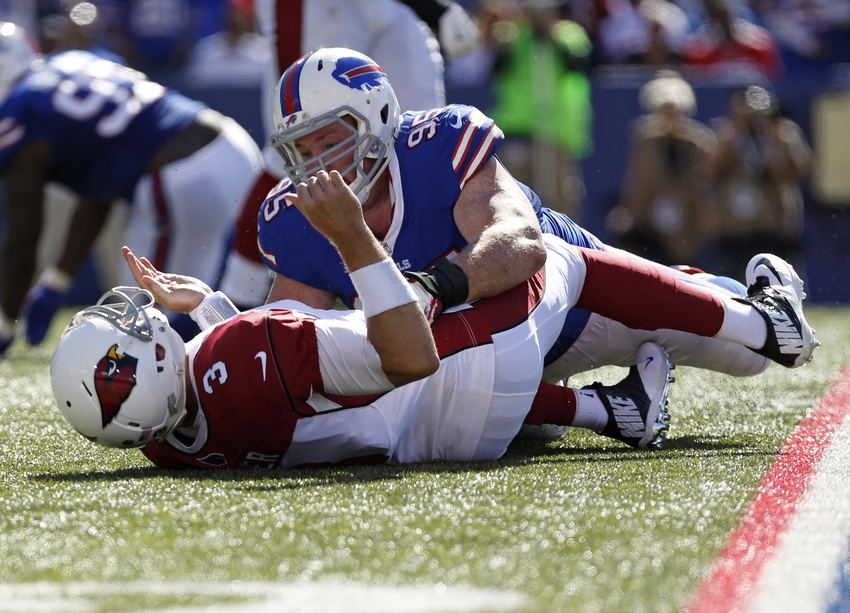 No In-Editor Preview for 120 Sports Videos
Video Details
ID: 203283284
Source: 120 Sports
Last Sunday featured the Buffalo Bills vs. Arizona Cardinals at New Era Field. The Bills pulled off the upset and came away with a 33-18 victory.
It was a surprising and much-needed win for the Bills at home. Starting off the season 0-3 would have left nearly zero chance of them ending their playoff drought. Now, if they can squeeze out a victory in New England this upcoming week, they'll sit at 2-2 and will be very much back in the playoff mix. There were several takeaways from this past Sunday's game against the Cardinals but here are the top four.
Takeaway One: The Team Played Inspired For Their Coaches
The Buffalo Bills were 0-2 and were heading into the game on their home field as a five-point underdog. The Arizona Cardinals presented big matchup problems for the Bills with David Johnson and their talented receiving corps. It looked like Buffalo had little chance of winning this game but the coaches came up with a good game plan and the team was able to prove their doubters wrong.
With Greg Roman being fired earlier in the week, the coaching staff knew their backs were up against the wall and there was little room for error. Rex Ryan decided to let coach John Blake give the players a speech the night before the game and it really connected with the team.
According to NewYorkUpstate.com, when asked about Blake's speech, Jerel Worthy said, "If we go out there and lay it all out on the line for our teammates, we just really wanted to see how good we could finally be. His speech was basically, 'Live up to your potential. Take advantage of what God has blessed you with.' That's what we showed today. That's what we did."
Not many thought the Bills were going to win this game including myself. When the game was over, the Buffalo Bills official twitter account wasted no time trolling the experts at ESPN who all picked the Cardinals in the game.
Rex Ryan gets a lot of criticism for how loose he is, and how soft he can be on his players. Some of that criticism is warranted but some of it is not. One of the reasons why Rex Ryan teams tend to put in inspired performances and win games they are not supposed to is because the players appreciate the way Rex doesn't micromanage their personal lives and so when his back is on the line, they lay it all out for him because they know he would do the same for them.
Some people think Rex is a bumbling idiot, and at times he doesn't do much to dissuade people that he isn't, but one thing Ryan is consistently good at is shifting the pressure off of his players and onto his own shoulders through his antics and comments. His players appreciate how he is able to take some of the pressure off of them and that only endears them to him further.
No In-Editor Preview for 120 Sports Videos
Video Details
ID: 203283284
Source: 120 Sports
The Defense is Back
The Buffalo defense is back. Last year it was very surprising that it was the defense that held the Bills back. The year prior, the Bills finished 4th in total yards given up and points allowed. They finished with 54 sacks that season which was the most in the NFL.
That sack total dropped to 21 last season under Rex Ryan which is especially shocking considering his reputation for dialing up unique schemes and blitzes to confuse quarterbacks. With 10 sacks through three games this year, the Bills are on pace for about 53 sacks and appear to have righted the ship
Rex showed some of his creative genius with the Bills 1-3-7 scheme from this past week. Basically, the team used Kyle Williams as their one down lineman, they used two outside linebackers as edge rushers, a middle linebacker, and seven defensive backs. Yes, you read that correctly. SEVEN! There were four safeties on the field on many plays which helped the Bills keep Carson Palmer under 300 yards on the day despite attempting 50 passes.
Want your voice heard? Join the BuffaLowDown team!
Another tweak on the defense was that Dennis Thurman called the plays and not Rex Ryan. According to NewYorkUpstate.com, Ryan said, "Dennis Thurman did a great job calling the game, and then my brother's contribution in the red zone looked pretty decent, I think."
BuffaloBills.com reports that Dennis Thurman will continue those duties going forward. While Rex Ryan did admit that Thurman is calling the plays, he did a very Rex thing and still somehow managed to try to shoulder the responsibility for the calls in case things don't work out.
According to BuffaloBills.com, Rex said, "I want everybody to understand that the responsibilities are the same regardless of who the play caller is. My input is going to be all over that. So I don't want all of a sudden the criticism to be on Dennis Thurman. It's shouldn't be. It's my defense, it's always been my defense and that's the way it'll be. Just so you're aware I'm on the headset constantly. But D.T. did a good job of operating it."
Bills fans got a good dose this past week of what the Ryan defense has the potential to be. Now the challenge is repeating this performance consistently week to week.
No In-Editor Preview for 120 Sports Videos
Video Details
ID: 203341296
Source: 120 Sports
Tyrod Taylor still struggling to pass
Not everything was "sunshine and rainbows" for the Bills in their 33-18 victory over the Arizona Cardinals. Despite coming away with a huge victory, Tyrod Taylor was only able to throw for 119 yards on 14 completions with 25 total attempts.
Offensive coordinator Anthony Lynn did his best to get Taylor in a rhythm early with some short passes. The first play of the game was a short pass to LeSean McCoy that went for no gain. At one point in the first quarter, Tyrod Taylor was 6/8 but for only 22 yards.
Upcoming

Schedule

10/2

at

New England Patriots
10/9
at
Los Angeles Rams
10/16

San Francisco 49ers
10/23
at

Miami Dolphins
10/30

New England Patriots
It's fine to do this to restore the quarterbacks confidence but it's not an acceptable way to run an offense over the long haul. The Bills rely on stretching the field with deep passes to their receivers so that it creates more space underneath for them in the running game.
While disappointing on the surface, these numbers should be looked at in context. The Bills were without their best wide receiver Sammy Watkins who had his foot injury aggravated when it was stepped on in a walk-through. With Watkins out, and the Cardinals having one of the best defensive backfields in the league, it was always going to be an uphill battle for Tyrod in the passing game.
Another important factor was the Bills were leading 10-0 after the first quarter and never looked back. With a steady lead the entire game and an effective rushing attack, the Bills didn't need to pass the ball as much and instead focused on rushing to keep the clock running. That's why Taylor only ended up attempting 25 passes while Cardinals quarterback Carson Palmer, who was playing catch up, doubled that number with 50.
119 yards passing won't cut it most weeks but it was more than enough this week and that's all that matters. It's an area of concern going forward but for now, let's just bask in the victory of this past week.
No In-Editor Preview for 120 Sports Videos
Video Details
ID: 203359704
Source: 120 Sports
Running Game Came Alive
When Rex Ryan and Greg Roman came to Buffalo, there was plenty of talk about wanting to "build a bully" and run a "ground and pound" style offense. The Bills running game was able to follow through on those promises from the coaches when they finished tops in the NFL last year in rushing yards, yards per rush and rushing touchdowns.
This year in the first two games the unit was the opposite. In Week 1 against the Ravens, the Bills rushed for just 65 yards as a team. In Week 2 against the Jets, the Bills only got 86 yards as a team. No individual player was able to put up over 60 yards in either of those two games.
Losing their starting left tackle Cordy Glenn to an ankle injury in the Week 1 against the Ravens didn't help but that's not the sole reason for the units' struggles. Over the first two weeks, the Bills blocking wasn't great and defenders were getting to McCoy quickly. LeSean was unable to get into space and couldn't take advantage of his shiftiness because of that.
Week 3 against a tough Cardinals team they finally got it going. Under new signal caller Anthony Lynn, the Bills rushing attack regained their form totaling 208 yards as a unit with a 6.5 yard per carry average.
LeSean McCoy was the major reason getting 110 yards and going over 100 for the first time this season. He finally got some space and was able to show why he is still one of the best in the game.
Tyrod Taylor was also a major contributor with 76 yards. In the middle of the first quarter, Taylor ran the ball on an option play for 49 yards which set a Buffalo Bills record for longest rushing play by a quarterback. The previous record was 41 yards and it was held by Joe Ferguson who played for the Bills between 1973 and 1984.
Mike Gillislee added another 20 yards for the Bills on just three carries and Bills rookie Jonathan Williams saw his first action of the season but didn't do much only gaining two yards on three carries.
The Bills rushing attack seems rejuvenated under new offensive coordinator Anthony Lynn. One week is too small of a sample size but what we saw on the field this past week was very encouraging for the future.
Now let's see if the team can carry this momentum into Foxboro this Sunday in a huge divisional matchup against the New England Patriots.
This article originally appeared on