Former Patriots Trainer: Dak Prescott Can Do 'Same Thing' as Tom Brady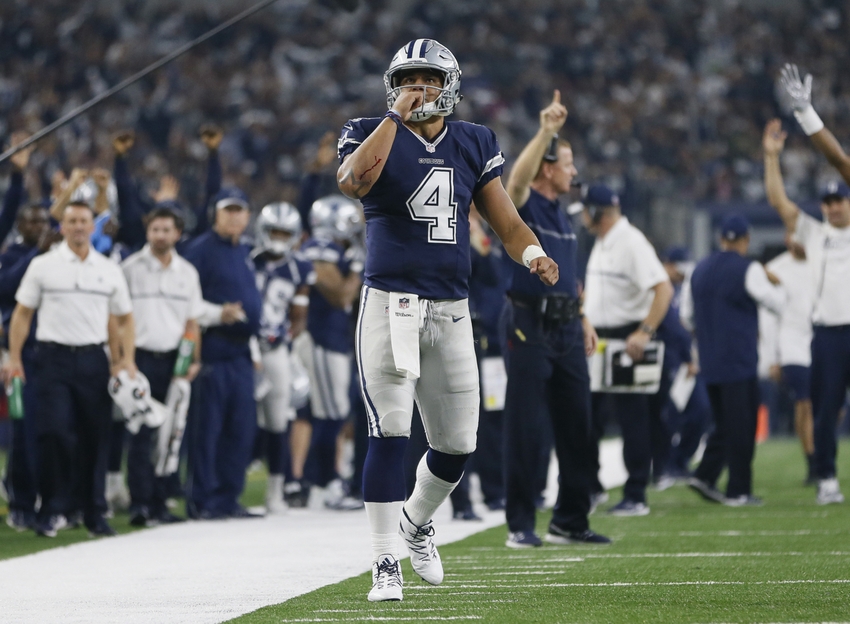 Former New England Patriots trainer, Tom Shaw, worked with Dak Prescott in the offseason and says the Dallas Cowboys rookie could be the next Tom Brady.
Dak Prescott being compared to Tom Brady is natural, to a degree. Both the Dallas Cowboys rookie and New England Patriots longtime star and leader were quarterbacks largely overlooked in their draft class. Granted, they were different quarterback classes in terms of quality and depth, but they both fell into the Day 3 picks. Prescott was taken in the fourth round, Brady in the sixth. What's more, they both usurped established starters due to injury to occupy their roles.
For many, though, the comparisons stop there. Sure, Prescott has come in as a rookie and led the Cowboys to a 10-1 record through 12 weeks, but he's still not the greatest of all-time. And that label is loosed liberally (and rightfully) when talking about Brady. Subsequently, it's all about the draft position and situation when it comes to comparisons, right?
Not if you ask former Patriots trainer Tom Shaw.
Shaw worked with Brady when the Patriots drafted him in 2000. Moreover, he worked with Prescott throughout the draft-process leading up to April. So after having a bird's-eye view of both quarterbacks early in their careers, Shaw wasn't afraid to take the comparison of the two further.
Per an interview with NFL.com's Ian Rapoport, Shaw said, "I'm not saying he's going to be the next Tom Brady, but he has all the intangibles to do exactly the same thing. All Dak wants is to be the best. When he wakes up in the morning, that's what he wants."
Shaw continued:
I had Tom Brady coming out of college as a rookie and then the first seven years of his career. And I had the opportunity to work with Dak before the draft. What I noticed about Dak was, this guy had the same desire, work ethic, the same traits as Brady. Nobody wants to be compared to anyone else. But he was the hardest worker, guys gravitate towards him, he was the first one there.
The comparisons didn't stop there as Shaw also noted that Prescott keeps his left hand in front of his face when he makes his throws, just as Brady does. What's more, he noted similarities they displayed while running accuracy drills.
Clearly Shaw too is stopping short of saying they're the same quarterback. One is still in the midst of his first regular season in the NFL. The other has Super Bowl rings, accolades, and ridiculous, sustained production. No one should be foolish enough to say that Dak Prescott is Tom Brady or even that he's the next Brady at this point.
However, Cowboys fans will attest that the rookie quarterback has every trait Shaw describes. Consequently, there's at least a Brady-like quality to Prescott. At 10-1 and with a long future ahead, Dallas will take that 100 times over.
This article originally appeared on