For 49ers' Kaepernick, This is it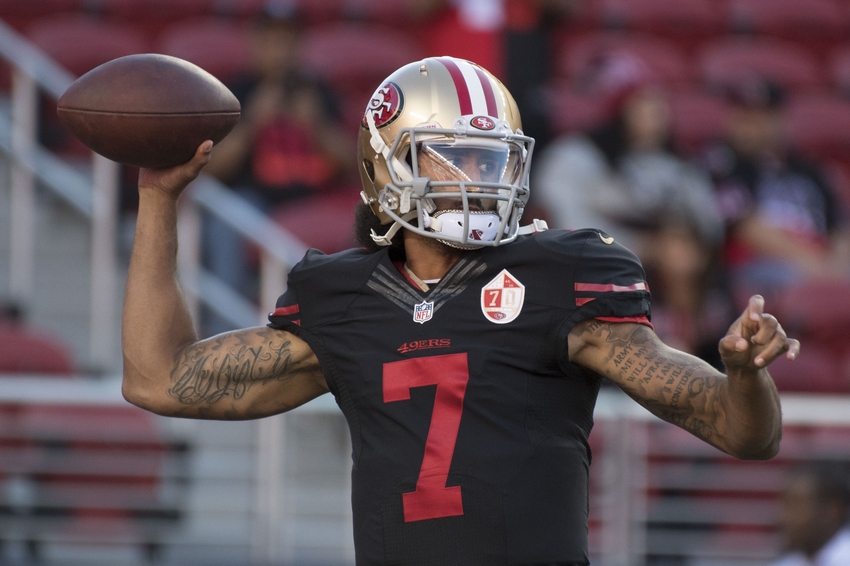 This is San Francisco 49ers QB Colin Kaepernick's last chance to prove that he is worthy of a starting quarterback job in the NFL. Now on what is essentially a one-year deal, Kaepernick's tryout for 32 teams — and a protest movement — starts Sunday against the Bills.
Colin Kaepernick has made waves throughout the NFL this season — all without throwing a pass. Now in Week 6, Number 7 finally has a chance to start for the San Francisco 49ers. He'd better make the most of it, too, because for Kaep, this is it.
Kaepernick recently re-worked his contract with the 49ers to remove the injury guarantee that made playing him a financial risk for the organization. It also gave Kaepernick the opportunity to void the deal after this season, should he desire to test the waters of free agency.
So, essentially, Kaepernick is on a one-year deal financially. From a performance standpoint, he is day-to-day and week-to-week. No one would argue Blaine Gabbert played well in the first five games of this season, but he was by no means the only problem on offense. Gabbert has also been out-performing Kaepernick in practice, so if Kaep flames out, do not be surprised to see Number 2 once again under center.
If Kaepernick wants to be a starter in this league, he had better prove it. And he had better prove it now.
The same is true with his protest movement — which I am sure I don't need to re-hash. Kaepernick has brought a lot of attention to himself this season while on the sidelines. If he performs well on the field, his mission will get a boost. If he fails, well, the protests may continue, but they will not hold the same weight.
This is his time, his chance. This is it.
All statistics, records and accolades courtesy of Pro-Football-Reference.com and Sports-Reference.com unless otherwise indicated.
This article originally appeared on