Flat out awful: Why Green Bay Packers lost to Dallas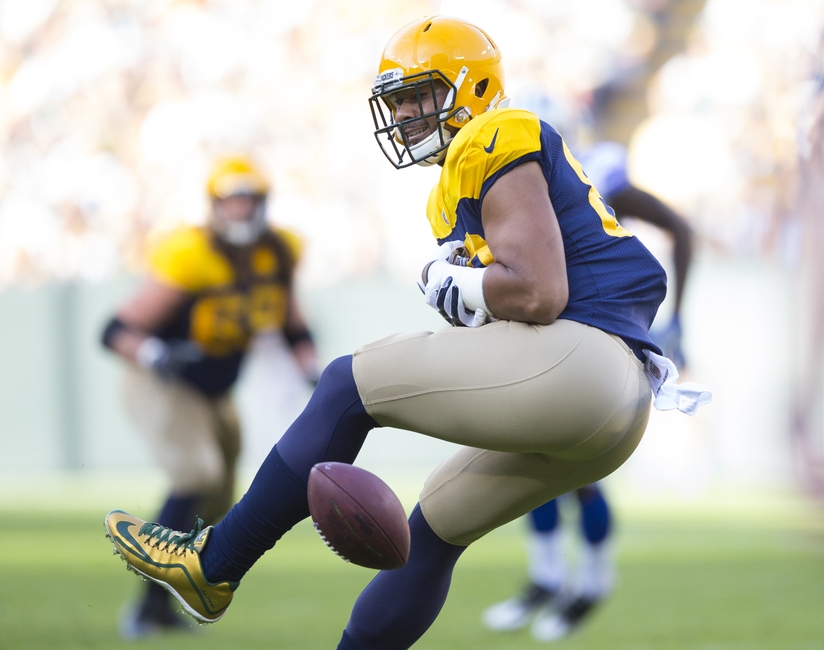 With a win despite a sloppy offensive night against the New York Giants in Week 5, the Green Bay Packers had to be hoping for a better showing in their Week 6 matchup with the Dallas Cowboys.
That did not happen.
The Cowboys handled Green Bay on their way to an impressive road win, leaving the Packers with nothing but more questions as to what is going so wrong with their team lately.
What happened here?
Let's start with the most obvious issue.
Rodgers was off
Honestly, this is one of the worst games I remember seeing from Rodgers.
This loss isn't only on him of course, but I can't recall any contest where so much of the reasoning for why the team was defeated sits squarely on his shoulders.
Ignore the box score statistics; the yardage (294) and completion percentage (73.8%) were his highest of the year, but a decent portion of those came from garbage-time stat-padding.
It was particularly surprising to me that his completion percentage was so high in the end, because every pass seemed to be off-target. His ball placement was awful on numerous passes that are burned into my mind.
Most notably there were three passes where he could have found Randall Cobb for touchdowns –and he missed it every time. On two of those, Cobb got behind his man and would have had a free run to the end zone for an over-the-top TD catch; Rodgers either chose wrong on his angle or just missed him for both.
On the other, Cobb even got himself wide open in the end zone; all Rodgers had to do was drop it to him in a way just about any QB could manage, but he missed him well high with it. Besides those, we saw far too many passes placed behind his receivers, both in coverage as well as open space; a lot of yards were left on the field there due to the receivers having to make major adjustments to even have a chance at the catches.
It got even worse than just subpar ball placement, too: his poor decision-making led to multiple turnovers yet again.
We all saw that ridiculous interception. He made the sort of mistake a rookie might get caught in, throwing to a spot without paying attention to the coverage. The safety was just sitting there waiting, and a guy usually known for his preternatural ability to avoid bone-head plays put in right in his body.
He also put the ball on the ground twice, one of which was lost.
That one was also a pretty terrible decision, with Rodgers running a draw play but doing so in a very tentative manner. He didn't even head right towards the end zone, leaving himself open to the exact type of hit which happened.
He neglected to secure the ball properly as well, making the fumble basically inevitable.
What might be most frustrating is that even despite all these errors, the team around him managed to do enough to keep the game close enough for a comeback attempt going into the 4th quarter, down 20-6 with the ball after an INT (Dak Prescott's first of the year!) which followed that fumble.
Of course, Rodgers proceeded to miss Cobb on that endzone shot alluded to earlier, the Packers kicked their third field goal to put the score at 20-9, and the Cowboys subsequently ground down a tired defense on their way to victory.
Everybody has a book of theories as to why it is Rodgers is struggling to this extent (my personal one eventually settled on waning athleticism). Whatever it actually is, he needs to figure this out before the fan base (and his team's chances for the postseason) spontaneously combust.
Gunter's turn to flop
This season began with great hopes for the young Packers secondary, but instead of the strong play we saw to end 2015 we have seen them mostly take turns being injured or ineffective (if not both).
This week was LaDarius Gunter's turn to be burned.
Through the first four games, Gunter was surprisingly playing the best of any of Green Bay's corners (Pro Football Focus had him graded above 80 coming into this game), despite his inexperience and having to step up into a major role on multiple occasions due to the injuries around him.
This week however — much like his compatriots in previous outings — he was routinely attacked and taken advantage of by the Cowboys.
Dallas' final drive before halftime was the worst batch of plays from him. After the Packers allowed Dallas to gain a first down — preventing Green Bay from having a final shot at a score before the half — he was attacked for huge plays twice.
The first he was beaten deep by Terrance Williams for 42 yards; the second, he let Brice Butler get behind him, leaving plenty of space for Prescott to find him for the score.
In all, Gunter ended up being targeted 8 times, allowing 6 catches for 119 yards and two touchdowns. He played so poorly he was actually PFF's lowest graded cornerback for the weekend (24.8), and saw his overall grade for the season drop from over 80 all the way into the mid-50s.
With Sam Shields officially headed to IR — as well as Damarious Randall and Quinten Rollins still dealing with injuries which could keep them out too — Gunter better be ready to put this awful showing behind him.
Up next: Alshon Jeffery, fresh off a 7-catch, 93-yard effort.
Giving the game away
No matter how good a team is, turnovers have the ability to undermine any positive efforts.
When a team is struggling on the level this Green Bay offense has however, they are even more toxic, and they did themselves no favors in this matchup.
In most seasons, the Packers have usually been among the best in the league at holding onto the ball; in fact, outside of 2013 (when Rodgers missed half the year) Green Bay has ranked no lower than 10th in turnover ratio.
Even in 2015 when many of these offensive issues first came to light, the team still took care of the ball, managing a +5 rate (10th in NFL). Unfortunately, this season has seen this area become just another of the many ways the unit continues to fail to live up to its prior excellence.
In this particular game, the Packers defense actually did a nice job of creating turnovers themselves, picking up two off of the mostly-efficient Prescott to help keep the team in the game despite their offense's issues.
The only problem? Green Bay's offense doubled that total.
I already mentioned the two turnovers committed by Rodgers earlier; the interception led to a field goal by Dallas, and though the fumble ended up coming right back to Green Bay a couple plays later it did stop what seemed likely to be a TD drive in a then-manageable deficit, wasting precious time.
As for the other two..
On their second drive, down 7-3, Green Bay doesn't even finish one play before they lost it. Jordy Nelson caught a pass deep over the middle, but as he was turning to run Barry Church knocked the ball out of his hands; with no Packers anywhere around, it was an easy recovery for Morris Claiborne.
Though Green Bay was gifted a fumble by Prescott on that subsequent drive, the play was a perfect corollary for the Packers' inability to get anything going on offense.
The other fumble came when the game was pretty much sealed up, but not totally done; a team which had survived long odds multiple times just last season could be forgiven for having hope of something improbable. Ty Montgomery — who was actually having a strong day (10 receptions, 98 yards) for a moribund unit — took a carry up the middle, but got popped.
The ball fell out, and Dallas came away with it; after review, it was made official to put the final stake in the Packers' collective hearts.
As much as any other single area, fixing this new penchant for giving the ball away must be curbed before they will have any chance of getting back to the heights we remember.
Run off the field
Coming into this game, the Packers had been massively impressive against the run.
They were stopping opponents at an unprecedented rate on the ground.
Their opposition was not impressive however (T.J. Yeldon w/o Chris Ivory in Jacksonville, a partial showing from Adrian Peterson, a run-allergic Detroit team w/o Ameer Abdullah, and a Giants' attack down to their #3-5 running options and a terrible offensive line) so it was fair to question just how good they actually were.
Turns out, competition matters.
In what was widely regarded as a classic "Unstoppable Force vs Immovable Object" matchup, the Dallas offense steamrolled through the Packers' feeble attempts to slow them down. Most of this was just letting their rookie runner go to work.
Ezekiel Elliott came in off of three straight games of over 130 yards, and put up his highest total yet with 157 yards on 28 carries, consistently busting through would-be tacklers for decent-or-better gains seemingly every time he touched the ball.
As the game wore on those runs only got stronger, milking precious time off the clock to close the door on any potential comeback.
In the end, the Cowboys piled up more yardage by running than the previous four opponents combined.
While Green Bay won't be facing teams with such a special array of talents in this facet of the game, this doesn't bode well for when they do face decent running teams.
The cat is out of the bag: they can be pushed around, just like they were in seemingly every year since their latest Super Bowl win.
Even worse: after playing the Bears on Thursday, the next four teams on their schedule (Atlanta, Indianapolis, Tennessee, Washington) are all in the top 10 for Rush Offense DVOA (8,10,7, and 4, respectively).
The Packers will have plenty of chances to show this Dallas game was a one-off against a unit in its own class, but this area is now yet another problem for fans to worry about yet again.
Dallas drive before halftime
Point blank, this was the turning point of the game.
Green Bay hadn't looked good at this point, but despite the offense not finding a rhythm (including the fumble by Nelson, settling for two field goals, and turning the ball over on downs) the defense had done enough to keep the score to just a 10-6 margin.
Even better: maligned Green Bay punter Jacob Schum had just helped pin the Cowboys at their own 3 yard line.
With Green Bay having all three of their timeouts left — and set to receive the kickoff after halftime — the team could quickly find themselves jumping out to a possible 16-10 (or even 20-10) lead right out of the half, completely changing the completion of the game and forcing Dallas to play from behind.
The drive started off alright: a 4 yard run by Elliott. The second was a little better — 5 yards this time by Elliott — but this still left Dallas needing to convert a 3rd-&-1. Should Green Bay stop them, this would let them get the ball back with about 40 seconds left at somewhere around midfield; at least a field goal (and maybe a TD) would be a fair expectation even for a struggling offense. Plus, even if Dallas does convert this play, it isn't likely they do much more than just run out the clock; being so deep in their territory, anything else would be rightly considered unnecessarily aggressive and risky.
The result of this next play changed that.
Green Bay was likely expecting another run up the middle from Elliott, but Dallas went in another direction; instead, they called a jet sweep for Lucky Whitehead.
The Packers were unprepared for this new wrinkle, and it showed: Whitehead found space around the edge of the Green Bay defenders, running all the way to Dallas 38 before getting pushed out of bounds.
Dallas didn't have any timeouts left, but they were far enough downfield to make it worthwhile to try getting into field goal range with 40 seconds left on the clock.
Turns out they wanted more — and took it. As mentioned previously, Prescott took advantage of bad coverage from Gunter to find Williams and then Butler for passes and the eventual score.
All of a sudden, a situation which weighed heavily in Green Bay's favor to possibly take a lead — or at least stay within one score — turned into an 11-point deficit.
The game was far from over, but it definitely felt like the type of momentous shift which made that reality a lot harder to fathom.
This game was full of plays and performances we would all likely rather forget, and with a Thursday night game, the Packers have a chance to put it behind them quickly.
Here's to hoping that effort looks a lot better than this one…as well as their last Thursday game against the Bears.
This article originally appeared on