Five ways the Cowboys will beat the Redskins on Thanksgiving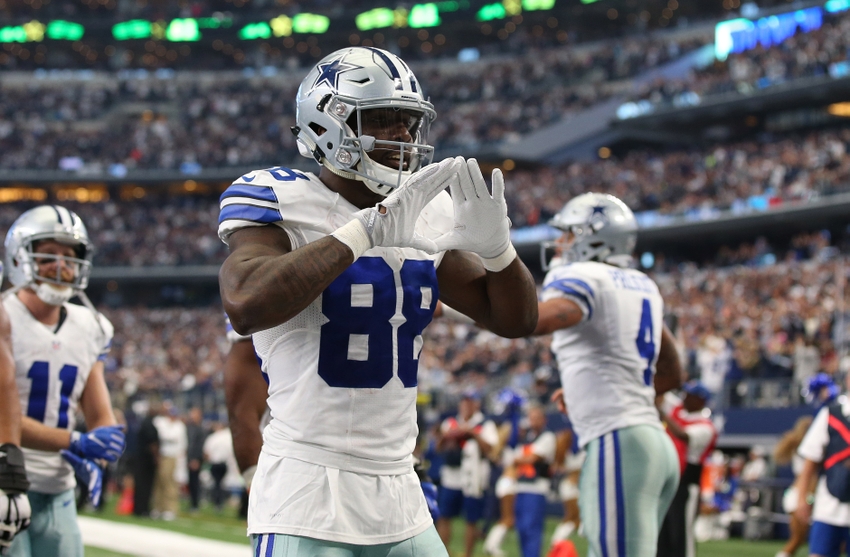 After a commanding 9-1 start, the Dallas Cowboys have passed all the tests. A Thanksgiving match against the Redskins is the next pay-per-view event to see.
There's a lot to be thankful for when the Dallas Cowboys and Washington Redskins square off this Thursday.
You got a strong 9-1 team going against their rival, who has a winning record (6-3-1) and hot streak of their own.
You like that?
Well, hold on now…
America's Team has a lot to play for right now, and that's an exciting predicament considering the Cowboys were 3-7 this time last year.
This is a different team, and certainly a different group from week 2 when the Cowboys and Redskins last met.
And while we eat all kinds of protein and sides this Thanksgiving, let's rejoice with friends and family on the Cowboys' good fortune.
So what better way to rejoice than to create a list of five ways the Redskins will lose to the Cowboys.
Wait. What? Little harsh?
Oh well.
Enjoy the list.
1. The Redskins struggled with the AFC North. The Cowboys blew that division up.
Well, well, well. Look at the team with a tie on their record.
Washington struggled the Steelers week 1, losing 38-16.
They beat the Browns by two scores (but who hasn't).
They defeated the Ravens by six points in week 5. And finally, they tied with the Bengals 27-27 on October 30th.
Yes, the Skins blew up the Packers last Sunday Night, 42-24. But hold the hot sauce man.
Green Bay was on eBay looking for extra defensive bodies, so going full-blown gloat mode probably isn't a good thing.
Not only has the Dallas Cowboys swept the AFC North, they did it in ridiculous, "Hollywood" big screen style.
A healthy dose of run Ezekiel, run, will happen Thursday — the same formula that toppled the AFC North. The Ravens, with the best defense in the NFL mind you, couldn't stop the train.
Washington will leave Texas deflated, bloated, and hungry for revenge — not turkey legs — on the plane ride home.
2. The "You like that" guy does awesome, then he doesn't.
So, about that guy who drives an old van and says things like, "You like that" at innocent people and cameras…
Yeah, he gonna fail.
Cause quarterback Kirk Cousins did so in week 2 against the Cowboys when it mattered most.
The Cowboys defense should just let him drive to the red zone, let his heart inflate, then burst that bubble with a pick.
Want your voice heard? Join the The Landry Hat team!
It happened on September 18th, when Dallas won 27-23.
Sure, the 28-year-old is coming off a 145.8 rating game against the Packers.
Yes, he's shooting a 98.8 QB rating for the year, with 3,000-plus yards under his belt, and a 17-7 touchdown to interception ratio.
But I just feel like he'll be the turkey and Dak Prescott will be the goat. There's only one thing left to say:
You like that Kirky?
3. Ezekiel Elliott eats cereal, then has turkey in the middle of having cereal.
Did you catch Elliott and company doing their breakfast club commercial? A fine touch of cinema if you ask me. I'm sure Washington fans caught it. Cause you know how they know about the Cowboys more than their own home team.
Anyways… 
Back to the list!
With Elliott bursting over the 1,000 yard mark, it's hard to see this Washington team scheme to stop the kid.
The Redskins have allowed 112.1 rushing yards a game. Elliott has 1,102 yards for the year so far, averaging 110.2 yards a game. With 223 totes in 10 games, he is averaging nearly five yards a pop.
Not good for the Washington defense.
Since Zeke's 83 yards on 21 carries in week 2 at FedEXField, Elliott has rushed for:
• 140 against the Bears
• 138 against the 49ers
• 134 against the Bengals
• 157 against the Packers
• 96 against the Eagles
• 92 against the Browns
• 114 against the Steelers
• 97 against the Ravens
Not good for the Washington defense.
The defense will have to find a way to break Zeke's accelerator. I don't think they do and at best, they watch the anchor speed up as it rolls faster and faster downhill.
4. Dez Bryant beats Josh Norman, because Norman gets mad at all the flags.
I didn't know this, but Josh Norman is the most penalized individual in the National Football League.
Something about that makes me laugh and at the same time, want to apologize.
But I'm not so…
Okay. Bryant. Norman.
I think Dez is too hot right now. He's finding his stride with Dak Prescott.
In his last two games, he has caught 12 passes (off 17 possible targets) for three scores.
Bryant is back. It doesn't matter where he plays, or who he plays against (hi Norman).
For the year, Bryant has caught 14 balls at home, 14 balls at away games.
Bryant is ready to ball, home or away, against anyone.
With Jason Witten, Terrance Williams and Cole Beasley wiggling around on the field, I think this will open up one on one contests against the all-star cornerback.
Bryant continues his streak.
So does Norman with all those yellow flags.
5. Dak Prescott is OCD, or too nice, or just plain too awesome when it comes to littering.
Dude.
You're the quarterback of the Dallas Cowboys. The hardest, maybe most talked about position in all of sports. In all of sports.
And yet, America watched as you shot a two pointer, hitting nothing but rim, only to watch you stand up, correct your bad, and pick up your own trash.
Baller. Just baller.
The guy can't do wrong. He gets better as the game goes on (read: Ravens game), adjusting his reads and listening to how the coaches want to change-up the tempo.
Prescott has 2,640 passing yards, 17 touchdowns to two interceptions, a 85.3 QBR and a 108.6 quarterback rating. He also carried the ball 33 times for 141 yards along with four scores.
The 135th overall draft pick takes out the trash this Thursday. And why not? I don't blame him one bit for tossing the Redskins where they belong — the trash can.
Happy Thanksgiving everyone!
This article originally appeared on