Five takeaways from Packers' season-saving win at Eagles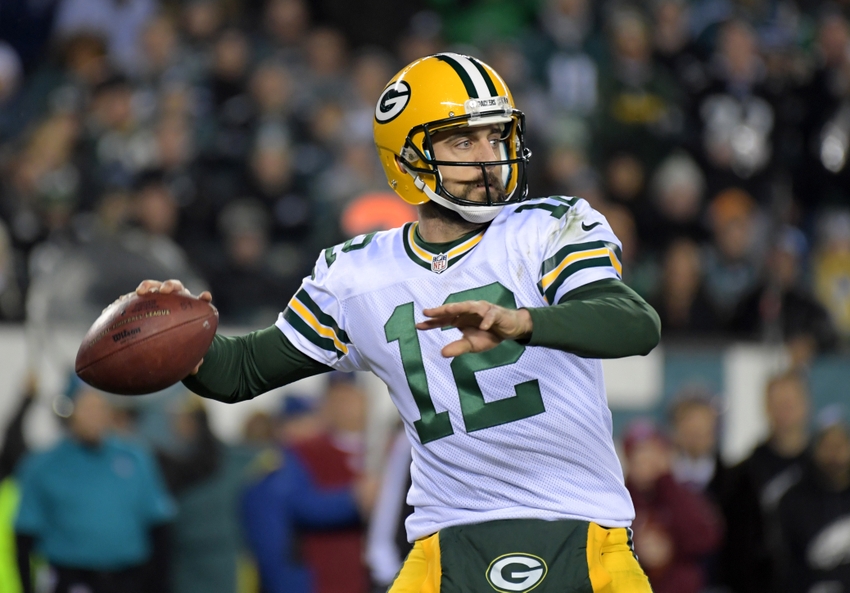 Never count out Aaron Rodgers, who often plays at his best when the Green Bay Packers' backs are firmly pressed to the wall.
Rodgers was near perfect as he powered a dominant Green Bay performance in Philadelphia on Monday night. The Packers' season was essentially on the line, a loss almost certainly ending their hopes of regaining the NFC North title.
With victory, they move back within two games of the division-leading Lions, who the Packers meet in Week 17. A lot of football is to be played.
READ MORE: Davante Adams continues to silence his critics
Not only was a potential playoff berth ready to slip away, jobs could also be considered on the line. Had Mike McCarthy slipped to a fifth defeat in a row, all but ending any hopes of a postseason return, would his job have been placed in jeopardy at season's end?
This was, however, just one step. The Packers must build on Monday's success to dig themselves out of their 5-6 shaped hole. A seventh or eighth loss would kill off any comeback. The margin for error remains paper thin.
What did we learn from the Packers' impressive performance in primetime? Here's five takeaways.
Davante Adams' rise continues
Davante Adams' breakout season continued in a big way at Philadelphia, the third-year receiver hauling in his seventh and eighth touchdown pass of the year.
His five-catch, 113-yard, two-score performance was his second multiple-touchdown game of the year, and his third posting over 100 yards. Adams is tied with Odell Beckham Jr. with eight touchdowns this season, only trailing teammate Jordy Nelson (nine), Antonio Brown and Mike Evans (both 10).
Adams continues to silence his critics following a disappointing 2015 campaign, and he's been on fire since Week 7. He's tallied 43 receptions for 558 yards and five touchdowns since the 26-10 win over Chicago on October 21.
Nelson's star won't shine forever in Green Bay, the Packers needing to find a successor sooner than later. Adams has certainly inspired belief he can take on the role as the Packers' top receiving target in future years. He must now build on an excellent season, one that has him on pace for 84 receptions, 1,128 yards and 12 touchdowns.
Aaron Rodgers trusts his young receiver, who is finally emerging as the player the Packers thought they had drafted in the second round of the 2014 NFL Draft.
Offense wins the day
Green Bay's offensive struggles appear to be a distant memory. Injuries forced Mike McCarthy to adapt his scheme, and he left no tricks in the bag Monday night.
McCarthy used more two-back sets, allowing Aaron Ripkowski more time on the field. And of course it was Ripkowski, not James Starks or Christine Michael, who scored the first rushing touchdown by a running back in green and gold this season.
Michael saw just two snaps as he continues to learn the playbook, Randall Cobb and Ty Montgomery continuing to spend time in the backfield. Even fullback Joe Kerridge got on the field.
Aaron Rodgers threw darts all night, completing 30 of his 39 pass attempts for 313 yards and two touchdowns.
Jordy Nelson was reliable, Davante Adams electric. Nelson moved the chains while the big plays belonged to the third-year man. It's hardly a surprise to see the correlation between Adams' rapid rise and the Packers' improvements on offense.
Green Bay will need to continue to lean on Rodgers' arm for the remainder of the season. The Packers controlled the tempo of the game offensively, keeping their ailing defense on the sideline.
To escape the NFC North, the Packers must continue to win with offense.
Defense takes step, but work needs to be done
During Philadelphia's opening drive, it looked a case of same old for the Packers defense.
But the Eagles' early game-tying touchdown would be the only one they would score all night. While Green Bay's defensive performance won't be drawing comparisons to Seattle any time soon, it was certainly a step in the right direction.
Ladarius Gunter, Damarious Randall, Micah Hyde and Quinten Rollins all averages fewer than 8 yards allowed per target

— Nathan Jahnke (@PFF_NateJahnke) November 29, 2016
The unit surrendered just 13 points, sacking Carson Wentz four times, Ha Ha Clinton-Dix also coming away with a crucial interception.
Dom Capers' defense doesn't need to suffocate run games and shutdown opposing receivers, simply get off the field often enough to allow Aaron Rodgers to work his magic. Green Bay's 2014 defense was hardly record-breaking, but strong enough to complement a highly efficient offense. This formula is required again in 2016.
Clay Matthews's performance raised some eyebrows, beaten all too easily early on, but spending time at inside linebacker can be considered a positive. The Packers should utilize their playmaker in this role more frequently, as it allows Capers to get creative.
Early on it looked as though the Packers were entering a shootout. Aaron Rodgers and a dazzling offensive performance takes the credit, but the defense held their end of the bargain.
A defensive performance far from domination, but one with plenty of satisfaction.
Packers show urgency at last
A sense of urgency lacked the Packers until it was too late throughout their four-game losing run.
That all changed Monday night. Green Bay played with purpose, energy and an understanding of the importance of their play. Mike McCarthy executed an aggressive gameplan focused on taking the game to Philadelphia, and silencing their vocal fans.
The Packers also played with heightened focus. They were highly efficient on offense, converting 10-of-14 third downs and 1-of-1 on fourth down.
Aaron Rodgers was sharp, completing almost 77 percent of his 39 passes. Davante Adams displayed ability he could've only dreamed about a year ago, looking like the second-round pick he was expected to be.
The Packers were efficient in all phases of the game. An Achilles heel on special teams this year has been defending kickoff returns. Philadelphia lead the league in kickoff return yards, but they were held to an average of just 16.3.
Question marks still surround a decimated defense, but the unit surrendered only one touchdown, sacking Carson Wentz four times and intercepting him once. Signs of life were evident after allowing an average of 38.32 points per game in their past four.
The Packers knew they needed this one, and it was clear from the opening kickoff.
Week 13 pivotal in NFC North race
The difference one win can make.
Following the Lions' Thanksgiving victory over the Vikings, the Packers slipped three games behind the division lead. But with a win on Monday night, the gap shortens to two games.
Detroit visits New Orleans this week, a game the Saints will be favored to win. Minnesota hosts Dallas, who have won their past 10 games. Green Bay returns to Lambeau to take on Houston. Should the Packers take down the Texans, they may find themselves just a game behind the Lions entering Week 14.
Green Bay meets both Detroit and Minnesota again before season's end. Victory at Ford Field would seal a season sweep over the Lions and give the Packers the all-important tiebreaker.
Defeat in Philly would have all but ended the Packers' playoff ambitions. Instead, an impressive road victory inspires hope in Titletown. Aaron Rodgers often plays his best ball when his back is against the wall, as was evident Monday night, and as long as he's healthy, the Packers will have more than a fighter's chance in every game they play.
The NFC North isn't ready to be painted blue just yet.
This article originally appeared on