Five takeaways from Packers' humiliating loss to Redskins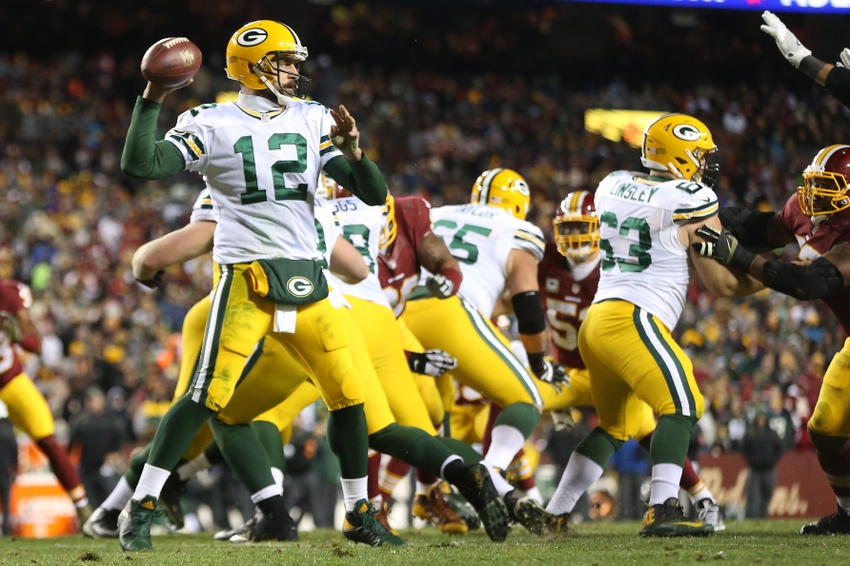 Hanging by a thread are the Green Bay Packers' playoff hopes following a fourth straight defeat.
Not since Aaron Rodgers' first year as a starter have the Packers dropped four straight. That season was also the last time Green Bay failed to reach the postseason, eight long years ago.
Yet after an encouraging 3-1 start to the season, the Packers have dropped five of their past six, placing them above only Chicago and San Francisco in the NFC. Sunday's loss was Green Bay's 13th in their past 22 games.
MORE PACKERS-REDSKINS: Quick reactions to Week 11 loss
Slow starts, poor defense and inconsistent offense can all be blamed for the team's struggles this year. All three phases of the game have been below standard, and that's far from a successful formula to win football games.
Detroit and Minnesota both won this past week, the two tied for first in the NFC North at 6-4. A huge Thanksgiving Day showdown at Ford Field awaits as they wrestle for the division lead. Green Bay will travel to Philadelphia next Monday night three games behind Thursday's winner.
What takeaways are there from yet another setback? What was learned in Green Bay's humbling at FedExField?
Slow starts holding offense back
Three-and-out. Three-and-out. Three-and-out.
That's how the Packers offense began proceedings in Washington. The Redskins failed to capitalize in the first quarter, but this slow start by Green Bay continues a worrying trend.
A week ago at Tennessee there was no such letup for the early offensive woes, the Titans racing out to a 21-0 lead inside the first quarter. Ballgame.
Seven days earlier, the Packers surrendered a touchdown on the opening kickoff to Indianapolis, and following two disappointing offensive drives, the Colts again found the end zone to open up an 11-point lead.
Kirk Cousins took a while to get rolling with the wind in his back early on, giving the Packers a perfect opportunity to impose their will and take command of the game. As the offense stalled, all momentum created by the defense was squashed, who were back on the field no sooner than they had left it.
It was once rare to see Green Bay fail to score on their opening possession. Now it's a surprise if they move the chains.
A poor defensive performance takes the blame for a fourth consecutive defeat, but a slow start offensively set the tone.
Defense hits embarrassing low
Green Bay's defensive struggles are as bad as we've seen in over half a century.
Tonight's loss marks the first time the Packers have allowed 40+ points in back-to-back games since 1950.

— Packers History (@HistoricPackers) November 21, 2016
Over the past four weeks, the Packers are scoring an average of 26.8 points per game. While not their 2014-highs, it's a healthy average. This is slightly skewed due to being down by multiple scores late in games, but as a whole the unit is playing well enough to win games.
Dom Capers' defense has surrendered 153 points over the four-game losing stretch, an average of 38.3 points per game. Lacking depth across the board, Capers has no answer as he watches his depleted unit get carved open time and again.
Average defense would be enough to give Aaron Rodgers a chance. One stop might have done it.
Down 29-24, Green Bay forced Washington into fourth-and-1 on their own 41-yard line. But a great opportunity slipped through the Packers' fingers as Kirk Cousins converted on a quarterback sneak. Four plays later Washington found the end zone.
It was another humiliation for Capers' defense, this time in front of the nation. Washington piled up 515 total yards, the Packers bullied by the team they sent out of the playoffs last January.
If Ted Thompson needs convincing to open his mind about free agency, Jared Cook sure made a case. Cook's return from injury gave the offense a much-needed spark, his speed and athleticism creating mismatches Aaron Rodgers could exploit.
Mike McCarthy loves to utilize his tight ends in the passing game, but Richard Rodgers isn't efficient enough to trust.
Cook led the Packers in receiving with six catches for 105 yards and a touchdown. For perspective, Rodgers has posted just 203 yards and a touchdown in 10 games this season. If not for a miscommunication while wide open in the end zone, as well as a late fumble, Cook's evening would have been even better.
On one play, a 47-yard catch-and-run down the sideline, Cook flashed a combination of size, speed and athleticism the Green Bay offense has lacked for three years. Finally healthy, the former Ram may be the difference maker Aaron Rodgers needs to attack the middle of the field.
Rodgers clearly likes his new tight end, Cook leading the team in targets with 11. Davante Adams and James Starks both had six.
Getting Cook more involved down the stretch may be critical if the Packers are to have any hope of winning the division.
Lack of depth killing Packers
Injuries happen in the NFL, not just to the Packers. Depth wins championships, and Green Bay lacks talent in the secondary beyond Sam Shields and Damarious Randall.
Even when healthy, Randall, a first-round pick in 2015, has struggled to reach his rookie promise. Quinten Rollins, selected a round later, has offered no improvement to the defensive backfield since returning from a groin injury of his own.
Between LaDarius Gunter, Micah Hyde and Demetri Goodson, the talent pool is thin.
Relying on undrafted free agents, such as Gunter and safety Kentrell Brice, comes with its risks, and the Packers are paying the price.
Sure, had Shields not got hurt the secondary would be in better shape. He's talented enough to mask over many of the deficiencies elsewhere. But relying on one player to hold up the entire secondary is almost asking for disaster.
The Packers expected more out of Randall and Rollins this year, although both have been hit with injuries. As high draft picks, the defense needs both to live up to their potential.
Shields' future in Green Bay remains in doubt after a history of concussion problems. Randall and Rollins were expected to take over the reigns.
If not, it'll be back to square one in the defensive backfield next spring.
The season is slipping away
Forget about the wild-card race: Green Bay's only route to the postseason is inside the NFC North.
The Packers will enter next Monday's game with the Eagles three games behind the division-leader, one of the Lions or Vikings, who meet on Thanksgiving Day. Defeat at Philadelphia would surely end any outside hopes of reaching the playoffs.
Philadelphia's passing offense doesn't strike the same fear as Washington's, but it's another tough road game against another playoff-vying team. Rookie quarterback Carson Wentz has put together a solid debut season in the NFL, but as any rookie, he is prone to mistakes. The Packers must take advantage.
After losing for a sixth time, Green Bay's hopes of an eighth consecutive playoff appearance have been placed on life support. A seventh defeat would surely end their incredible playoff streak, shifting many fans' attention to the offseason.
Following a road trip to Philadelphia, the Packers host Houston and Seattle before visiting Chicago. There is no margin for error in this run, but the difficult games keep piling up.
Playing at this level, it wouldn't be a surprise to see Green Bay fall to 4-10 or 5-9. Serious improvements must be made, and fast, to dream of the postseason again.
This article originally appeared on