Five Questions with Titan Sized: Raiders at Titans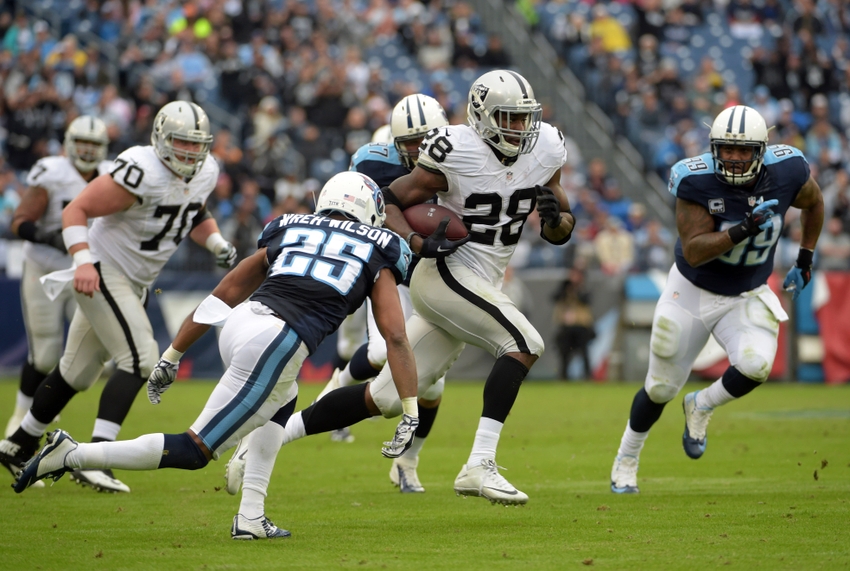 Ahead of the Week 3 matchup between the Oakland Raiders and Tennessee Titans, we reached out to Titan Sized with some questions.
The Raiders take on the Titans this Sunday in Tennessee for a second consecutive season. This matchup suddenly becomes an intriguing contest given the fact that both teams have up and coming quarterbacks, newer head coaches and a buzz around the league that has been lacking in recent years.
I had a few questions regarding Sunday's matchup, and Matias Wodner of Titan Sized was kind enough to provide some answers.
Note: Just Blog Baby is in bold.
Well to begin with, I'd like to start with a matchup to watch. Tackle Jack Conklin and Khalil Mack headline both sides of the trenches, and should face each other throughout the day. Teams have been throwing backs and tight ends Mack's way to nullify his pass rush; Do you see Tennessee being comfortable with allowing a one-on-one matchup between those two?
While the Titans have shown full confidence in Jack Conklin, they can't possibly believe that he'll be able to neutralize Khalil Mack singlehandedly. He struggled in Week 1, but had a much better week two (particularly in pass blocking).
Considering Mack's power/speed combo, I believe the Titans will use backup tight ends Anthony Fasano and/or Phillip Supernaw to chip Mack whenever possible, easing Conklin's workload. DeMarco Murray is also a very capable pass blocker, so look for him to help out Conklin as well.
Yeah, I agree with you on that. It will be a very sound test for both Conklin and Lewan, as they will more than likely see both Irvin and Mack simultaneously. Whether or not the pass rush finally gets going for the Raiders is still a question, and I think the combination of those guys going against young tackles could lead to a few sacks.
In your eyes, what do you feel is the biggest question mark for the Titans?
Pass defense. While there is some talent in the defensive secondary (Jason McCourty and Rashad Johnson), they just can't seem to stop anyone through the air. Their second corner, Perrish Cox, has been nothing short of dreadful, and strong safeties Da'Norris Searcy and Daimion Stafford struggle a bit in coverage as opposed to run defense.
When they have to go into nickel packages, Brice McCain and/or Antwon Blake come onto the field and they're just not very good. Matt Stafford had two passing touchdowns called back due to penalties this past week and we've coughed up over 100 yards in each game to Stefon Diggs and Marvin Jones.
Derek Carr is going to attack our secondary often and I'm not sure how we're going to be able to stop Amari Cooper from continuing that 100-yard trend.
This is definitely a possibility. If pass defense is a problem, than Derek Carr and co. may not be the best antidote. A big thing that was being echoed this week by a few players was their inability to start fast on offense. I think there will be a heightened sense of urgency to begin the game fast next week.
On the flip side, Mariota seems to strive in the short to intermediate passing range, which is what Matt Ryan exploited to his fullest this past Sunday. Although Tennessee's receivers match up a little better with Oakland's corners, the short crossing and quick slants/outs worry me. 
Yeah, I've noticed that the Raiders hadn't started out either game well on offense. But once they get into a groove, they really put it in high gear and are as tough an offense as any to stop.
Mariota's weakness is the deep ball. He just doesn't seem to have a feel for the power and touch needed to get those passes into the right spot. He also doesn't have the explosive receivers needed to complete those deep passes anyway.
That's why he works the middle of the the field and the intermediate passes outside the numbers. His weapons are much more suited in these parts of the field, as Tajae Sharpe, Delanie Walker, Rishard Matthews and others are possession receivers that don't have much speed/explosion.
Give me an x-factor that has to come through on Sunday. Either a player or unit, defensively or offensively. 
The defensive line. DaQuan Jones is a space-eater up front and Jurrell Casey is immovable in the run game and gets constant pressure on his pass rushes. Outside of those two, Angelo Blackson has flashed a bit and Karl Klug is a solid pass rusher.
But at times throughout games, they struggle to disrupt the offensive line on passing downs, leaving too much time for the quarterback in the pocket. They're great in the run game, but if the Titans are going to win this game, pressure is needed.
In order for pressure to be applied, the defensive line has to eat up their blocks so that Brian Orakpo and Derrick Morgan (assuming he plays) can have one-on-one matchups against the left and right tackles. It won't be easy against a much-improved Raiders offensive line.
I agree. Derek Carr has been kept very clean thus far, although that should be expected given the money Reggie Mckenzie put into that unit.
On the flip side of that, with Warmack's injury putting his availability in flux for Sunday, what does the offensive line depth look like, and who would fill in if need be?
If Warmack doesn't play with a cast and opts for surgery and a multi-week absence instead, I would imagine rookie Sebastian Tretola would fill in. He's Warmack's direct backup.
That being said, the Titans tried center Brian Schwenke at guard during the preseason and he was solid there. They also claimed Josh Kline off waivers, so he's another possibility.
I still think Tretola would get the start, and he's the best option in my opinion. It really wouldn't be a big drop-off considering Warmack has been really bad this year, although a rookie in his first start is always an area to attack for the opposing team.
Do you have a prediction for Sunday?
While I would love to see the Titans win two straight, but I think the Raiders win this game 27-23.
I feel the same about the outcome. Both defenses are exploitable, while simultaneously trying to find their footing.
I think it will be close, but the talent and experience Oakland has has to sync together at some point. I say Oakland 31-21. 
This article originally appeared on