Five Questions with Predominantly Orange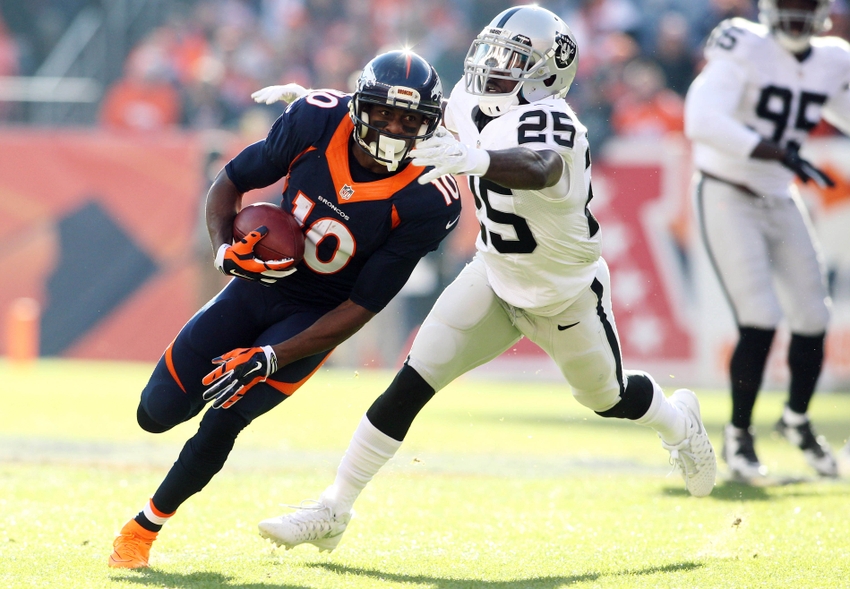 Five questions with FanSided's Denver Broncos site Predominantly Orange, previewing the Week 9 primetime matchup with the Oakland Raiders.
The Oakland Raiders and the Denver Broncos will do battle on Sunday night football, with first place of the AFC West on the line.
To preview the big game, we reached out to Ty Walden of Predominantly Orange, FanSided's Denver Broncos site.
Just Blog Baby is in bold.
The loss of C.J. Anderson will definitely be felt for not only this week, but for the rest of the season as well. Have you liked what you've seen overall from Devonate Booker? Do you think he's up for carrying this heavy of a workload through the final eight games?
The only issue I have with Booker is the fumbles. He had a huge fumble that would have given the Broncos a 24-7 lead last week vs. San Diego. If he can limit the turnovers and protect the football, I believe we will be okay. He has shown that he can handle the workload.
With Aqib Talib sidelined with an ongoing back injury, who steps in as the third cornerback? Talk a little about their depth.
Lorenzo Doss did well in the nickel cornerback position. The Broncos added Taurean Nixon from their practice squad on Saturday, so there will be a bit more depth for this game. Kayvon Webster is dealing with a hamstring injury as well, so the No Fly Zone is a bit banged up. But with Chris Harris Jr. and Bradley Roby covering the wideouts, the team should be okay.
Will the absence of Wade Phillips from the sideline affect the communication on the field?
I don't think it will. It was a bit of a scary situation when Melvin Gordon ran into him, but Wade Phillips likes to joke around. It probably is a good thing he will be in the press box because of a broken rib. He still has more of them, but until that one heals, better that he does not get himself hurt even more.
Who's going to make an impact for this Broncos offense?
If Booker can get things going in the running game, it is going to make such a difference in the game. It will open up the passing attack of Demaryius Thomas and Emmanuel Sanders. Run first, pass later. If Booker can perform well, it will really help the Broncos offense.
What's the status of Demarcus Ware? Is he a full go? On a limited snap count? Is there going to be any holdback in his play?
Because of his veteran status and his injury history, he is on a snap count. But he will be playing in this game. He will make the most of his chances on the field.
http://justblogbaby.com/2016/11/05/matchups-to-watch-oakland-raiders-vs-denver-broncos/
This article originally appeared on