Fantasy Football: Which Packers to buy, sell ahead of Week 9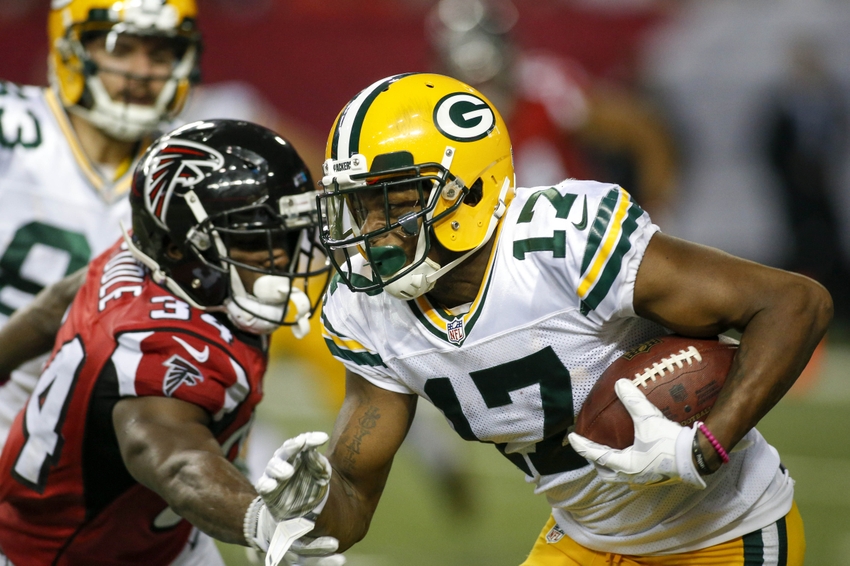 Which Packers should you buy, sell in fantasy entering Week 9?
What's the fantasy value of the Green Bay Packers entering Sunday's tilt with the Colts? It's easy to make knee-jerk reactions in fantasy, but it's always important to put individual games in perspective.
Looking at recent form and the upcoming schedule, which Packers should you aim to move on for good value, and who should you buy low?
Jordy Nelson (Sell): Now is the time to sell Nelson. Not only does he have the name value and is the Packers' perceived top receiver, Nelson is also fresh off a 15-point fantasy day in Atlanta. But this kind of production hasn't been consistent from the 31-year-old, making him tough to trust down the stretch.
Nelson has logged 13 targets over the past two games, but Davante Adams is getting the most attention from Aaron Rodgers, receiving an incredible 30 targets in the same span. With Nelson's play declining, he still draws the toughest matchup from opposing secondaries.
If you can trade Nelson for a WR2 or better, make the deal.
Randall Cobb (Sell): Cobb has carved out a productive role on offense recently, making this the perfect time to trade. Rodgers is throwing the football more often than early in the season, and while this does result in more opportunities for Cobb, the targets have been spread about.
Cobb is a low-end WR2, high-end flex from here on. If you can trade him on name value for a strong WR2, make the move.
Davante Adams (Buy): With each passing week, Adams is looking more and more like the Packers receiver to own. He has the trust of his quarterback, and has logged 30 targets in two weeks. While this number isn't sustainable, he is in a favorable position in this offense and will continue to feature in a big way.
A costly fumble hurt his numbers last week, potentially making him a strong buy-low candidate.
Adams is putting up good yardage totals and has a nose for the end zone, scoring five times this season. His fantasy value is lower than it should be. Grab him while you can.
Ty Montgomery (Buy): Montgomery, when healthy, has been another name emerging in this Packers offense. Knile Davis was released earlier in the week, and with James Starks' knee injury likely sidelining him at least a couple more weeks, Montgomery looks set for a big role out of the backfield both as a runner and pass catcher.
He missed the Atlanta game with an illness, so his status is worth monitoring ahead of Sunday's clash with Indianapolis. Still, after a 98-yard performance vs. Dallas followed by 126 yards of total offense vs. Chicago, Montgomery must be owned in all leagues.
As long as Eddie Lacy and James Starks are out, Montgomery is a vital piece for Green Bay, and can be for your fantasy team as a WR2.
James Starks (Buy): Starks' value is incredibly low, and for the right reasons. First off, he's currently on the shelf with a knee injury. Second is due to performance. He averaged a disappointing 1.8 yards per carry when healthy this year. But he will return in the coming weeks as the leading back in Green Bay.
If you have space on your bench to stash Starks, do it.
This article originally appeared on