Fantasy Football: Week 9 Targets on the 49ers Roster and Beyond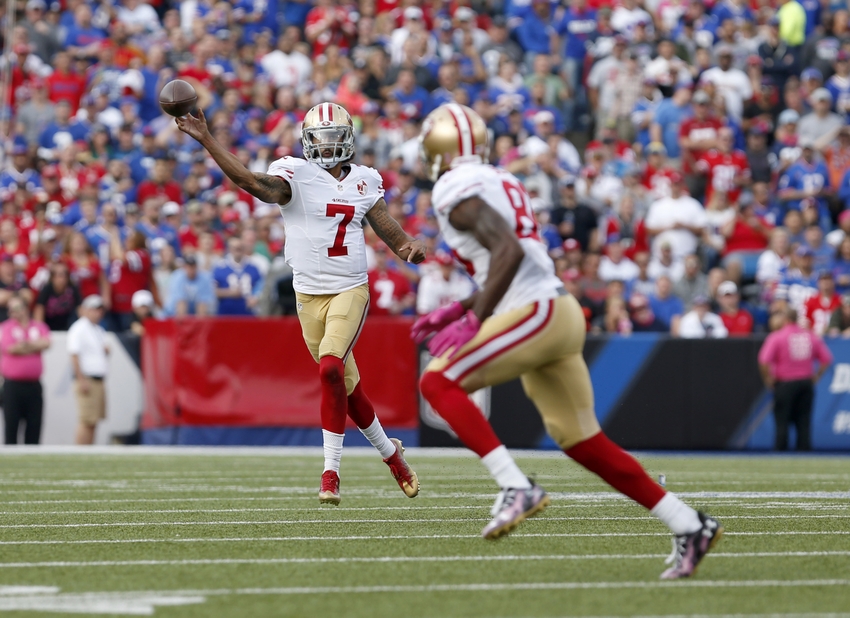 Players on the 49ers, and around the rest of the league, who are fantasy worthy in Week 9 of the 2016 NFL season. The "Startable, Ownable and Eyeable."
Much was made of the fact that, prior to the start of the season, Las Vegas didn't have the 49ers favored in a single game this season.
The Red and Gold came out of the shoot hot, spitting in the face of odds makers everywhere as they cruised to a then-convincing victory over the Los Angeles Rams.
Since then, it's the 49ers that have been spat upon, losing the next six games in a row and looking increasingly worse in each subsequent contest.
Here's how things stack up in the NFC West at this juncture:
So, with slightly less than half the season on the books, the 49ers are all but out of it.
Of course, there's the infinitesimally small chance that the team reels off nine wins in a row, while the rest of the division simultaneously crumbles. But as my best friend's father (and my "Niner Dad"), Turnin' Vernon, used to say, "The chances of that, Jon, are slim and none… and slim just left town."
Just to cement the image of the 49ers as a true dark horse (I mean, we're talking black hole dark here), at the beginning of the year the team's odds of winning the Super Bowl were 100:1. Some of the worst odds in the league.
However, nowhere near today's odds. According to Football Locks, entering into Week 9, the 49ers have 9,999:1 odds of hoisting the Lombardi Trophy this February.
So, assuming Chip Kelly did not find the equivalent of football's Fountain of Youth during the bye week, the 49ers' 2016 season is as good as sunk.
Moving beyond the glaringly obvious long-term issues, the Niners futility also begs the following more immediate questions:
What can fans reasonably expect in the second half of the season?
If you are one of those fans, why even watch the games?
The cynic in me would immediately reply, "Not much and you shouldn't." But let's, at least for a moment, entertain a somewhat more sanguine outlook. And maybe your Fantasy team has a shot at the playoffs!
With the story for the season already written, here are three on-field actions that the 49ers could take to improve their headlines for the rest of the year:
Get Vertical
Ranked No. 28 in the league in yards per completion, the 49ers have one of the most downcast air attacks going. On average, they throw the ball less than ten yards a clip (9.7), and that number has only declined since Colin Kaepernick took the reins at quarterback.
Over the last three games, the Niners are averaging a paltry 8.8 yards per catch, effectively shortening the field for opposing defenses, while simultaneously rendering their on-field product virtually unwatchable.
What's the remedy? It's time to get vertical.
There is absolutely no reason that a homerun threat like WR Torrey Smith should be seeing less than eight targets of twenty yards or more per game. He's the team's best receiver, its fastest player, and the Niners are paying him $8 million per year. Use him. Use him like he was meant to be used. Use him until he's all used up.
Sure, Kap won't connect on most of his deep attempts. He's not a terribly accurate passer. It's OK. And he'll probably throw a few interceptions too. So what? Call them punts. It's still probably as or more effective than anything P Bradley Pinion can muster.
The point is… none of that matters. What matters is taking a few shots down the field, striking some fear into opposing coverage units, and giving the fan base something to rouse them from their otherwise depression-laden stupor from time to time.
And maybe, just maybe, 49ers wide receivers coach Bob Bicknell can even goad Smith into actually competing for a few of those balls, potentially drawing a pass interference call or two along the way. One can dare to dream.
Get Tricky
At this point in the season, the team isn't playing for anything, apart from a top draft pick. But if the Niners are adopting the "Suck for Luck" redux approach, why even take the field?
No, the unwritten rule for professional sports teams — especially the NFL — is, regardless of how poorly the season is going, they have to continue to at least attempt to win and, in turn, entertain the fan base.
And what makes a hapless 1-6 Niners even mildly entertaining? Why, some good old fashioned "trickery," of course.
Desperate times call for desperate measures, and the vibe in Levi's Stadium could not be more desperate if the CDC actually quarantined it.
The Niners need to make the games exciting again, and that means playing, and coaching, with some reckless abandon.
Give me a double reverse. A halfback pass. Fake a punt or two and throw in a fumble-roo… ski, that is.
Even a tackle eligible play might get the fans on their feet. Can you imagine big No. 77 Trent Brown lumbering down the field like a runaway cruise liner? Tackle that, Richard Sherman!
To remain even remotely relevant in 2016, the 49ers needs to keep the fans guessing. Heck, on occasion, they might even confuse the opposition too.
Get Happy
Football, like all sports, is first and foremost a game. And games are played for the love thereof.
Don't get me wrong. I'm not some ditzy Pollyanna.
Of course, professional sports are also big business. But, above all else, when a team is truly down and out, what keeps their fans engaged? Whether or not the players are still playing. Are they still having fun?
If the 49ers can pass that litmus test, if they can inject a modicum of joy into the mix, they might be able to keep their fans from grabbing the pitchforks and torches.
Here are the facts:
Each of the players and coaches signed a contract to produce a season's worth of games.
Those games are going to happen whether they enjoy them or not.
There's nothing left for the 49ers to play for except fan engagement and the joy of the game.
The alternative is a Bataan Death March towards Week 17.
There's a lot about the 49ers and their current plight that can't be changed. The ownership is abominable. The general manager is a nincompoop. The Stadium is an underwhelming, overpriced mausoleum, and the product is wack as they come.
It's Week 9, and the team is already playing for nothing. And as the saying goes, when you've got nothing, you've got nothing to lose. So, get vertical, get tricky, and get happy, Niners. And maybe you might take the first critical step (of many, I suspect) to getting right.
This week, the 49ers play host to Drew Brees and the ever-potent New Orleans Saints offense. As just enumerated, the Niners are a far cry from the competitive fervor that gave rise to the "Vernon Post" in 2011.
That said, the Saints will still come to Levi's loaded as they try to keep pace with the high-flying Atlanta Falcons. That makes virtually all of their offensive players a great fantasy bet this week, both in yearlong and daily play.
Who else, apart from every Saint, is Startable, Ownable and Eyeable this week? Let's discuss.
Startable
RB DuJuan Harris
It looks like RB Carlos Hyde will be watching this week's action from the sideline. His shoulder injury, sustained before the bye, is lingering. As one of only a few 49ers skill players with much long-term value, the team seems determined to treat him with kid gloves.
Hyde's injury opens the door for Green Bay Packers cast off, RB DuJuan Harris. By far the most dynamic of the three-headed Hydra (along with RBs Mike Davis and Shaun Draughn) that will fill Hyde's place on Sunday, Harris makes an interesting Week 9 spot start.
There's not much of a book on Harris as a Niner, with his only real appearance coming aganist Tampa Bay in Week 7. In that game, he saw eleven attempts which generated 39 yards on the ground. Over his career, he boasts an average of 4.2 yards per carry and just over nine yards per catch.
If the Niners stand any chance at all in this contest, they will need to establish a running game. Of the choices, I'm taking Harris over both Davis and Draughn.
Author's Note: As stated above, I'm starting all New Orleans Saints skill players this week without reservation: QB Drew Brees; RBs Mark Ingram and Tim Hightower; WRs Brandin Cooks, Willie Snead, and Michael Thomas; and TE Coby Fleener. So don't look for them throughout the rest of this article. Just start them. All of them. Wait, they can't all score… or can they?
Other RBs that comprise the Startable this week include:
RB Ezekiel Elliot (DAL)
Apart from the 49ers-Saints game, this week's other glaringly fantasy-friendly matchup is Dallas taking on the perennially downtrodden Cleveland Browns. The Cowboys has a multi-faceted offense that can beat teams both on the ground and through the air.
That noted, with the Browns touting the second worst run defense in the league (don't forget who's No. 1 in that department… Start dem Saints!), this is a game ready-made for Elliot. His league leading 799 yards from scrimmage only stands to grow this week, as do the points totals of the fantasy owners who start him.
RB Latavius Murray (OAK)
As hyped as the Denver Broncos defense is, it's not been particularly stout against the run. Ranked No. 24 versus opposing rushers, Denver is exploitable on the ground.
Latavius Murray has been extremely productive this year, averaging over 11 fantasy points per game. Facing a Denver front that is yielding 4.4 yards per carry, look for another double-digit performance from Murray.
By the way, Oakland gives up 4.8 yards per carry, so Denver RB Devontae Booker doesn't look so shabby either.
RB Melvin Gordon (SD)
Despite being a 2016 standout, Gordon faces a reasonably stout run defense in the Tennessee Titans this week (ranked No. 9). Much more so than last week against Denver.
Yet, Gordon's value does not lie solely in his totes. He's also a prolific pass catcher, with a 9.1 average yards per catch this year.
Tennessee has been much more vulnerable in the passing department, ranked No. 24 against opposing airshows.
Look for Gordon to conjure up more fantasy goodness this week, particularly through the air (even better for PPR, by the way).
Startable Cont.
WR Torrey Smith
Alright. It's officially a mental block. I am simply not willing to accept the idea that Torrey Smith could be this unproductive within a Chip Kelly-led offense.
Of course, I understand why Smith's production has been subterranean to date: poor quarterback play, a lack of attempts, and no other "shiny objects" on offense to distract opposing defenses.
All that noted, if Smith is going to have a breakout game, this is where he gets loose. Coming off a bye week and facing the No. 28 ranked pass defense in the league, it's officially time for Smith's 2016 coming out party.
The Saints are yielding just under 287 aerial yards per contest, and are susceptible to both speed and quickness.
Often featuring three and four safeties on the field, the Saints secondary seems tailor-made for what has historically been Chip Kelly's calling card, i.e. quick slants and bubble screens on the outside with the occasional deep shot down the field.
On paper, do owners likely have better options this week than Smith? Undoubtedly. But, if the Niners are going to give anyone a legitimate reason to watch this week's game, it will involve Smith having an above average day.
Other Wide Receivers among the ranks of the Startable this week include:
WR Dez Bryant (DAL)
C'mon, it's Cleveland. And just like owners should be starting all Saints this week, there's no reason to hold back on "dem Boys" either.
Bryant made a spectacular return to the turf last week, posting 113 yards and a touchdown, good for 17.3 points in standard leagues.
Dez is one of the few players that, when healthy, who can be counted on to get his on a weekly basis. There are other dynamic pass catchers in the league: Odell Beckham Jr., Jordy Nelson, TY Hilton, Antonio Brown, and AJ Green.
But event this year's No. 1 ranked pass-nabber Julio Jones has not exhibited the consistency throughout his career of Diamond Dez.
When he starts… start him.
WR Emmanuel Sanders (DEN)
The woes of the Raiders defense are well documented. The team ranks No. 30 overall, and is equally poor versus the pass and the run.
Denver has two above average receivers in Sanders and his counterpart, WR Demarius Thomas.
Now, they also have a below average passer on the other end of the connection in QB Trevor Siemian, and to the extent that Denver can win exclusively on the ground, they will.
But with a tantalizing opportunity to rack up yards in all ways, expect Sanders (and Thomas) to do well.
WR Kelvin Benjamin (CAR)
Benjamin has been relatively quiet since returning from injury. He is steadily racking up yards, but has not found the end zone since Week 4 in Atlanta.
Don't be surprised if that changes this week when he's pitted against a Rams secondary that, although above average, doesn't flash a ton.
Niner fans all remember how dominant "KB" was in Week 2. Not afraid to take his show on the road, Benjamin could muster another corner-crushing performance this week in Los Angeles.
Ownable
QB Colin Kaepernick
I'm not impressed with Kaepernick's "Return to Glory Tour" so far. With six seasons under his belt, and physical gifts reserved solely for demigods, Kap should be a top ten NFL passer at this stage in his career.
Instead, he's a crestfallen star who now receives more attention for his sideline performances than those he generates between the numbers.
In three games this season, Kap has thrown for 330 yards and two touchdowns, along with a lone interception. His 66.2 passer rating is at the very bottom of the slope down which his career has tumbled ever since he pried the starting quarterback gig away from Alex Smith in 2012.
All that said, Kaepernick still has a few (and trust me, we're only talking a few here) pluses.
One, he still gets yards on the ground. Since wresting the helm from QB Blaine Gabbert in Week 5, Kaeperick sports an impressive 8.8 yards per carry, highest among QBs with at least ten carries.
Two, Kap has shown flashes following his return to the gridiron. His Week 7 touchdown toss to RB Shaun Draughn was an extremely skillful threading of the proverbial needle.
The issue to date has been that the longer Kaepernick's on the field, the worse he gets.
Dovetailing the above with my third and final point, although Kap's performance degenerates as the game wears on, he's coming off a bye, set to face one of the worst pass defenses in the league.
With an extra week to prepare and in a game that will likely necessitate an above average number of passing attempts, Kaepernick has everything he needs to tally his best performance of the year.
If you're as desperate as the 49ers this week, start Kaepernick.
In terms of other Ownable signal callers, i.e. those worthy of a bench spot and that currently have an ownership percentage around 50% across all ESPN leagues, the pickin's are razor thin.
So, instead of regaling readers with virtues of Cody Kessler and Case Keenum, here's who I'm starting at QB in Week 9 as well as one Ownable QB for future consideration:
QB Aaron Rodgers (GB)
At home in Week 9, Rodgers and the Pack Attack are starting to round into form.
Although I haven't highlighted any Green Bay skill players above, WRs Jordy Nelson and Davante Adams are also great calls against an exceedingly mediocre Indianapolis secondary (ranked No. 30).
With seven touchdowns and close to 600 yards over the last two games, take a trolley ride to Mr. Rodgers neighborhood in Week 9.
QB Andrew Luck (IND)
Let's not leave the other half of the equation out.
Luck is having a very solid statistical year, ranked No. 2 overall with 168 fantasy points on the season.
With Green Bay flaunting the No. 1 ranked rush defense, look for Luck to go vertical. And he welcomes back two receivers off of Injured Reserve this week, Phillip Dorsett and Donte Moncrief.
Luck's fortunes are trending in the right direction heading into Lambeau Field this week.
QB Jay Cutler (CHI)
Cutler came off IR last week to turn the Bears fortune on a dime.
Although his stat line was not jaw dropping (20 of 31 for 252 yards and a touchdown), his 100.7 passer rating is leaps and bounds above anyone else currently available at 3-percent ownership.
Now, don't get it twisted. Cutler is Cutler. He'll have those multi-pick, head-smacking games. And he's on bye this week.
But, if you need reinforcements at the position, his current output (small sample size, I know) looks far superior to the Joe Flacco's of the world.
Eyeable
Sorry Faithful, there simply isn't much Eyeable talent to discuss. Heck, I'm struggling week to week to flesh out the Startable and Ownable sections.
Although, I will say, one more stink bomb from Kaepernick, and it might be time to "ponder" a change. Get it? Get where I'm headed here? Speaking of stink bombs, I'll move on.
Here are two names to at least keep on your fantasy radar:
RB Shaun Draughn
Although primarily limited to passing situation, Draughn has continued to prove valuable in his limited touches this season.
His 6.7 yards per catch average is right in line with his career numbers, making him a viable check-down threat. Of course, checking down has never been a strong suit for fastballer Colin Kaepernick.
However, in situation like this week's, where there will likely be more passing than usual, Draughn makes for a sneaky play.
K Phil Dawson
Yes, it's so bad, I've resorted to profiling kickers.
In all seriousness, Dawson is having another stellar year, going eight for nine on field goals this season and a perfect 16 of 16 on extra points. His one miss was on a 50-plus yard attempt, which is by no means a chip shot.
Dawson is as solid as they come. He just needs more attempts.
In a game that Vegas has totaling over 52 points, it's not hard to imagine Dawson getting his fair share of that pie.
OK. That's all she wrote (or in this case, he wrote… meaning me. I mean, I wrote. Well, you get the idea).
Best of luck with all of you endeavors this week, fantasy or otherwise, and as always, make sure to pray or hope for something semi-respectable at Levi's Stadium this Sunday.
This article originally appeared on