Fantasy Football Week 9: Start or Sit?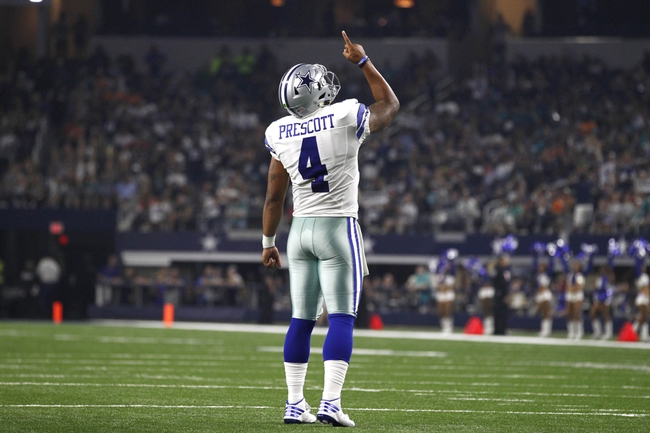 Who should you start and who should you sit at each position in fantasy football Week 9 in the 2016 NFL season?
Just like last week we have six teams on a bye week. So that means players like Tom Brady, A.J. Green, Larry Fitzgerald, David Johnson, Alshon Jeffery, DeAndre Hopkins (come on, he still has some value) will be unavailable this week. Cry your hearts out, fantasy football owners.
Oddly enough, basically all the reliable TE1s not named Greg Olsen won't be playing this week either. Owners who have Rob Gronkowski, Jordan Reed, Martellus Bennett, Zach Miller, and Tyler Eifert need a replacement for this week.
Also just like last week, some injuries from the week before really have owners scrambling. Jacquizz Rodgers won't be available for Thursday Night Football. Will Spencer Ware be cleared from the concussion protocol? Will LeSean McCoy or Ben Roethlisberger be healthy enough to suit up this week? At this moment we can't be sure but owners should prepare as if they won't be playing just to be on the safe side.
With all of these uncertainties going on, I will be handing out a "Dumpster-Diving" player or each position for owners who are in bigger leagues and/or in really desperate situations. As always, no easy picks so you you won't find me "advising" you to start Le'Veon Bell or Mike Evans. You're smart enough to know that.
This is Fantasy Football: Start/Sit, Week 9 Edition.
Quarterbacks
Start
Philip Rivers, San Diego Chargers vs. Tennessee Titans – Over the last three weeks Rivers has been putting up below average numbers. Yet, two of those three games were against the Denver Broncos who have the best defense in the NFL. This week, Rivers returns home to play against a Titans defense that has given up multiple touchdown passes to opposing quarterbacks in three-straight games and in four out of their last five.
Dak Prescott, Dallas Cowboys vs. Cleveland Browns – You know the rule by now: when in doubt, pick on Cleveland (isn't that right Chicago?). Not only is it a good matchup for Prescott, but he himself has been solid. Over his last four games, he's averaged 264 total yards and 2.5 touchdowns per game. Last week was the first time all season the Browns did not give up multiple touchdowns to an opposing quarterback. I'm guessing they won't do it for a second-straight week.
Jameis Winston, Tampa Bay Buccaneers vs. Atlanta Falcons – I like Winston this week because of the potential game-flow. I strongly believe Matt Ryan and company will put up a good amount of points on the Buccaneers. This will force Winston into throwing a lot and he could cash in on some garbage time points. Keep in mind the Buccaneers are down to their fourth-string running. These combining factors makes it likely Winston approaches 40 passing attempts.
**Dumpster-Diving Special** – Colin Kaepernick, San Francisco 49ers vs. New Orleans Saints – In his two and only starts this season, Kaep hasn't been that bad of a fantasy quarterback. Sure he's only averaging one touchdown per game but he's also averaging 75 rushing yards per game. The Saints should rout the 49ers and Kaep could rack up a ton of points when the 49ers are in catch-up mode.
Sit
Matthew Stafford, Detroit Lions vs. Minnesota Vikings – I hated the matchup for Stafford last week and, once again, I hate the matchup for him this week. The Vikings defense did not look impressive by any means on Monday Night Football. But keep in mind that Jay Culter only had 14 fantasy points. They also haven't given up multiple touchdown passes to an opposing quarterback since Week 1.
Derek Carr, Oakland Raiders vs. Denver Broncos – Yes, he was the No.1 fantasy football scorer last week, but this week he takes on the Broncos. Last week, Philip Rivers was the first quarterback all season to throw multiple touchdown passes against the Broncos. However, he also threw three interceptions. Based on what this defense did all last year and so far in 2016, I can never suggest starting a quarterback against them.
Running Backs
Start
Christine Michael, Seattle Seahawks vs. Buffalo Bills – Last week, Michael tied his season low in carries (10) and finished with his lowest amount of rushing yards (40) this season. Still, with Thomas Rawls out, he will still lead Seattle's backfield in touches this week.
Terrance West, Baltimore Ravens vs. Pittsburgh Steelers – Over their last two games, the Steelers have given up a combined 346 rushing yards and five touchdowns to opposing running backs. West should see a good amount of touches this game (unlike Week 7).
Darren Sproles, Philadelphia Eagles vs. New York Giants – Ryan Mathews might be listed as the Eagles starting running back on the depth chart but it doesn't look that way. Last week Sproles had 20 touches and 103 total yards. Sproles usually has FLEX consideration in PPR leagues, but now with him expected to get more carries, he's a FLEX even in standard leagues.
**Dumpster-Diving Special** – Antone Smith, Tampa Bay Buccaneers vs. Atlanta Falcons – Due to injuries there's no Doug Martin, Charles Sims or Jacquizz Rodgers. Smith is now the starting running back for the Buccaneers, but it's more than likely to be a committee. Still, if he can get off to a fast start, the coaching staff just may ride the hot hand.
Sit
Ryan Mathews, Philadelphia Eagles vs. New York Giants – Numbers can lie at times but not in this case. He has four games this season with single-digit carries and in six out of seven games he either has one or zero receptions. He's a touchdown dependent running back with low volume.
Rashad Jennings, New York Giants vs. Philadelphia Eagles – Did the Giants use their bye to let Jennings get healthy so they can feed him the rock? Maybe, but they also might have used it to get the more explosive rookie running back Paul Perkins more involved. If Jennings gets the volume he's not a horrible play. I'm just not too sure that he will.
T.J. Yeldon and Chris Ivory, Jacksonville Jaguars vs. Kansas City Chiefs – The Jaguars firing their offensive coordinator might be the best thing to happen to these two. In all honesty, it can't be any worse. Still, due to the offense's uncertainty with their new OC and their lack of productivity this season, this situation needs to be avoided. Not to mention, the Chiefs haven't allowed a rushing touchdown to opposing running backs at home since Week 1.
Wide Receivers
Start
Michael Thomas, New Orleans Saints vs. San Francisco 49ers – The rookie has five-plus receptions in three-straight games and a touchdown reception in three out of the last five. Drew Brees loves spreading the ball around, but he knows he has to keep getting this kid the ball.
Stefon Diggs, Minnesota Vikings vs. Detriot Lions – The Vikings made a point to get Diggs more involved last week and he set a season-high in targets with 13. He's the Vikings best and most explosive playmaker and he should be able to exploit the Lions below average secondary.
Kenny Britt, Los Angeles Rams vs. Carolina Panthers – Britt is the best fantasy receiver on the Rams and he leads the team in receiving yards. The Panthers have given up multiple touchdown receptions to opposing wide receivers in three out of the last four games. Britt should get back on track after posting a season-low in receptions (3) in their last game.
**Dumpster-Diving Special** – DeVante Parker, Miami Dolphins vs. New York Jets – With the Dolphins coming off their bye-week, Parker is more than likely the healthiest he's been in a while. The second-year wide receiver has shown plenty of big-play ability over the last two years and he could flash once again against a very bad Jets secondary.
Sit
Doug Baldwin, Seattle Seahawks vs. Buffalo Bills – Russell Wilson's injuries are having a negative effect on the entire offense and that includes Baldwin. He's failed to reach 70 receiving yards in four-straight games and he's only averaging six targets per game in that span. After the entire offense failed to produce in a dream matchup against the Saints last week, it's hard to trust him, even against a beatable Bills secondary.
Sterling Shepard, New York Giants vs. Philadelphia Eagles – The rookie had five-plus receptions in two out of the first three games of the season. Since then, he's only reached five receptions just once over the Giants last four games. He also hasn't topped 32 receiving yards in the last four games. There isn't a lot of upside for Shepard this week against an Eagles defense that is stingy against opposing wide receivers.
Travis Benjamin, San Diego Chargers vs. Tennessee Titans – If Benjamin is able to suit up, he'll be doing it well under 100 percent. His PCL injury is more than likely a big reason why he's only had four receptions or less in five out of the last six games. However, fantasy football doesn't hand out sympathy points for players playing through injuries.
Tight Ends
Start
Kyle Rudolph, Minnesota Vikings vs. Detroit Lions – You know what rules other than Knibb High Football? Starting your tight ends against the Lions defense. After last week they have now given up eight touchdowns to opposing tight ends. Rudolph, who is basically a lock for five receptions per game, should have no problem producing in this one.
Cameron Brate, Tampa Bay Buccaneers vs. Atlanta Falcons – Let's see, the Buccaneers will be without Vincent Jackson, Russell Shepard, and their their top-three running backs. Matt Ryan and company should have no problem putting up points against a Buccaneers defense that just gave up 500+ passing yards last week. When you combine these two factors, Brate should see an abundance of targets and opportunities.
**Dumpster-Diving Special** – Lance Kendricks, Los Angeles Rams vs. Carolina Panthers – He's seen 7+ targets in three out of the last four games and his last two games were his best of the 2016 season. The Panthers have given up a touchdown to an opposing tight end in four separate games this year.
Sit
Julius Thomas, Jacksonville Jaguars vs. Kansas City Chiefs – The last time Thomas had more than three receptions in a game came back in Week 2. He's bailed out owners with a touchdown reception in each of the last two games but playing on the road against the Chiefs, I don't see it happening in Week 9.
Jesse James, Pittsburgh Steelers vs. Baltimore Ravens – Free agent signee Ladarius Green could suit up this week and that'll take away from James already limited targets. With only two receptions in four out of the last five games, he's purely a touchdown-or-bust option.
Ladarius Green, Pittsburgh Steelers vs. Baltimore Ravens – Even if he does suit up, he's too hard to trust in his first game of 2016.
D/ST
Start
Kansas City Chiefs vs. Jacksonville Jaguars – The Chiefs defense is a different kind of animal when they play at home (just ask Ryan Fitzpatrick). The Jaguars offense is struggling in 2016 and that shouldn't change this week.
Carolina Panthers vs. Los Angeles Rams – I'm pretty much always going to have no faith in Case Keenum. Not to mention, the Panthers defense really got back on track last weekend.
Sit
Baltimore Ravens vs. Pittsburgh Steelers – The Ravens look like they'll get Ben Roethlisberger and Antonio Brown at less than 100 percent. Still, as long as those two are on the field along with Le'Veon Bell the Ravens D/ST is a dicey play.
Los Angeles Rams vs. Carolina Panthers – Yes the Rams are coming off a bye week and are playing at home. I just don't see enough upside trotting them out their against Cam Newton and company.
Last Week and Season-Long Record of Start/Sit
This week and every week I'll be keeping track of my recommendations from the week before and total for the entire season. Keep in mind, I'm not going to recommend ridiculously obvious players to sit or start just to pad my stats.
Week 8 QB Starts: Tyrod Taylor, Russell Wilson and Andy Dalton – Week 8 was a great week for quarterbacks as a majority of them did well. With that said, Wilson did not. Result 2/3
Week 8 QB Sits: Matthew Stafford and Blake Bortles – Blake "Garbage Man" Bortles ended up killing me over the final five minutes of the game. Thanks a lot, Tennessee. Result 1/2
Week 8 RB Starts: Matt Forte, Jeremy Hill and Ty Montgomery – Forte and Hill found the endzone while Montgomery ended up being inactive. Result 2/2
Week 8 RB Sits: Jonathan Stewart, Mark Ingram and Jordan Howard – Stewart and Howard only turned out to be the two best running backs of Week 8 so…do-over? Result 1/3
Week 8 WR Starts: Willie Snead, Doug Baldwin and Will Fuller – I really don't want to talk about it. Result: 0/3
Week 8 WR Sits: Tyrell Williams, Alshon Jeffery and Jeremy Maclin –  Yeah, I still don't want to talk about it. Result: 1/3
Week 8 TE Starts: C.J. Fiedorowicz and Kyle Rudolph – One found the end zone and one did not. That's pretty much all you need to know about tight ends this year. Result: 1/2
Week 8 TE Sits: Coby Fleener and Zach Ertz – Both did next to nothing. Result: 2/2
Week 8 D/ST Starts: New York Jets and Tennessee Titans – Really New York? Against the Browns? The Titans were a solid pick until the last five minutes when Blake Bortles scored two touchdowns. Result: 0/2
Week 8 D/ST Sits: Buffalo Bills and Houston Texans – The Texans defense didn't do much of anything, but they were still a top-10 play last week. Ugh. Result: 1/2
Week 8 Results: 11/24 = 46 percent 
Season Results: 111.5/200 = 56 percent 
This article originally appeared on