Fantasy Football Week 9: Do Running Backs Dominate Wide Receivers Again?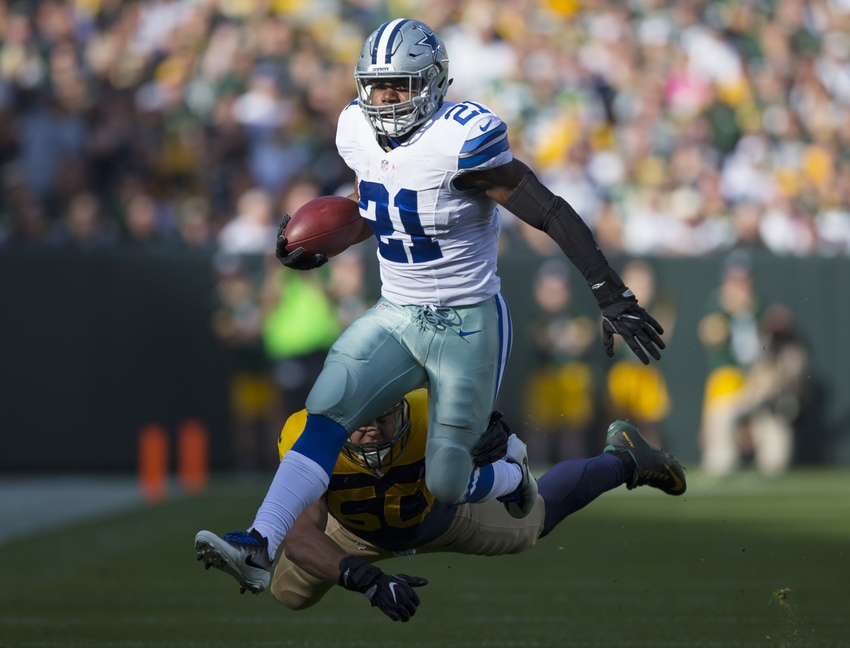 There was supposed to be a shift, but entering fantasy football week 9 running backs have owned wide receivers in the rankings. What should owners do now?
Remember how this was supposed to be the year when wide receivers finally unseated running backs atop fantasy leader boards? It's why Antonio Brown, Julio Jones and Odell Beckham were all first-round draft picks and few fantasy owners were confident in anything beyond the first couple running backs.
A shift was supposed to take place, but entering fantasy football Week 9, running backs have dominated receivers throughout the rankings. They're more reliable, more consistent and scoring way more points. What should owners do now?
Two brothers from New York, Dan Salem and Todd Salem discuss Fantasy Football Week 9 in today's NFL Sports Debate.
Todd Salem:
Halfway through the NFL season, the flex leader board (which doesn't include quarterbacks, defenses or kickers) is all running backs. Through eight weeks, the top six fantasy scorers are all backs. The first wide receiver doesn't show up until Jones at No. 7. He had a 36-point week and can't even crack the top six for the year.
Of the 29 players who have recorded at least 80 fantasy points thus far, a semi-random cutoff (it's essentially 10 points per week in standard scoring),19 play running back. So it's not just the tippy top, but also high-end depth that favors backs over receivers. Running back remains king; long live the king.
For fantasy football Week 9, taking a look at the flex rankings, who would you rather have between equally ranked running backs and wide receivers? Obviously there are individual exceptions, but it seems like the running back is nearly always preferable to the wide receiver. How far down the list must we travel before the value shifts back in the other direction?
At a certain point, the running back value dries up because there aren't enough guys or carries. That is when receiver finally becomes the smart play. Ironically, that may be right around the spot where the flex position comes into play, around 25th or 30th at the position.
Again, these are arbitrary selections based off of rankings by people other than me, but the 25th-ranked wide receiver (Willie Snead) seems like a much better flex play than the 25th running back (Spencer Ware, who is unlikely to play). The same goes for the 30th guy at each spot and pretty much everyone in between. Does this tell us anything about rest-of-season rankings or, more likely, rankings for next season?
Dan Salem:
This shift in fantasy scoring hints at the larger shift taking place in football. Because passing has become so prolific, defenses have shifted to remove the best receiver from a game. To combat this tactic, offenses are doing two things. First, they are using their running backs more in the passing game and in more unique and creative ways. Especially in the red zone, its all about finding the open space, which now is in the flat where the running back lives. Second, offenses are throwing to their third and fourth receivers who are open.
Both trends favor No. 1 running backs. When the ball gets spread around in the passing game, fantasy points plummet as production goes from 100 yards a game to the 50 or 60 yards per game range. We are seeing a lot of viable wide receivers in this mid-tier this season, stuffing the flex rankings outside of the top 20. But even teams that employ two backs generally favor one over the other, making the top of our fantasy rankings nearly all running backs.
Say for instance that half the league has a dependable fantasy back who scores 10 points per week on average. That is 15 players, leaving room for five receivers in the top 20, which is exactly what we have seen this season. So let's put this math to good use and try to plan ahead to win some fantasy cash. I leave you with two key takeaways going forward, something that has worked well for me this season.
Solidify your roster with two running backs you can count on
Have at least five wide receivers to rotate based upon matchups
I play in a league that starts three backs and three receivers each week, allowing for a quarterback flex. Basically I've struggled to hold a third running back who can stay healthy, but I have five receivers no lower than the second option on their respective teams. You can't bet big on the top receivers, because the backs are cleaning up in the touchdown department.
While the backs are dominating the rankings, the drop off from the top to the middle is enormous. If you miss the top you're screwed. With receivers you have room to play.
This article originally appeared on