Fantasy Football Week 9: 5 Biggest Takeaways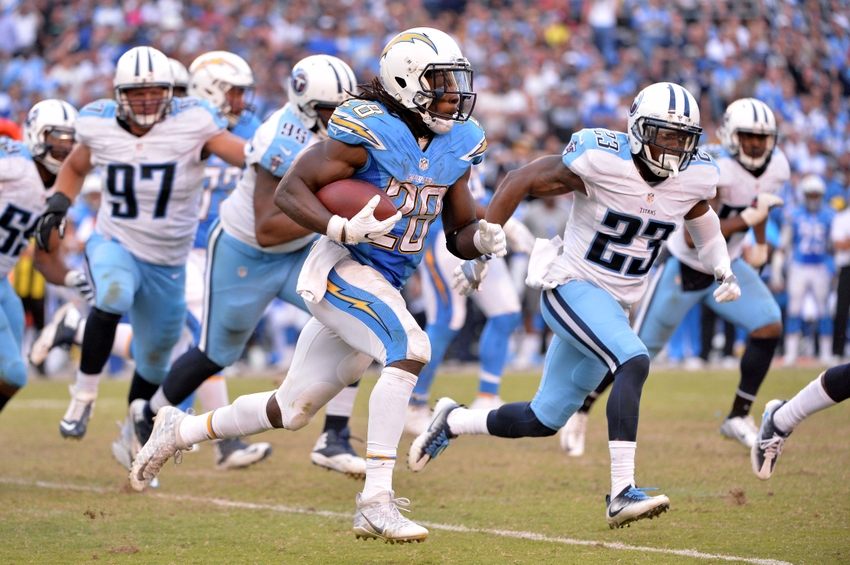 The five biggest fantasy football takeaways from Week 9 of the 2016 NFL season.
After nine weeks, some players continue to impress, others are emerging and a few are spiraling downward. Fantasy football, just like the NFL, is constantly a fluid situation. Just about every week players are written off but then the next week, a few of those same players are viewed as staples on fantasy teams. This week is no different.
Here are the five biggest fantasy football takeaways from Week 9.
5. Is Kaepnerick in QB1 Territory?
This is the beauty and the tragedy of fantasy football. It's not always about the best players or the best athletes. A lot of the times it's about the right player in the right situation. With 49ers quarterback Colin Kaepnerick, that's what we might have.
Yesterday, Kaepernick shredded the Saints defense for 421 total yards and two touchdowns. Yes, the Saints don't have the best defense in the NFL. In fact, they have one of the worse and Kap won't get that cake of a matchup every week. You know what he will have in his favor every week?
His horrible defense.
The 49ers cannot stop anybody and there's no reason to believe that is going to change this season. Since Week 2, the 49ers are giving up an average of 37 points per week. This gives Kaepnerick the opportunity to play from behind and rack up a lot of garbage time fantasy points.
In his three starts, Kaepernick is averaging 17 fantasy points per week. That is more points on a per game average than players such as Carson Palmer, Russell Wilson and Philip Rivers.
4. Vikings and Broncos D/ST are Not Must-Starts
It used to not matter the matchup, the quarterback or the situation. If you owned either the Minnesota Vikings or Denver Broncos D/ST, you were starting them. Now, that's not the case. It's not to say these defenses aren't good NFL defenses, but it is saying owners might be better off leaving them on the bench some weeks.
The main reason for this is due to injuries. The Vikings offense has suffered a tremendous amount of bad luck when it comes to injuries. As a result, their offense fails to sustain drives and it often puts their defense in bad spots. In their first five games of the season they did not give up more than 16 points in any game. In each of  their last three games, they have given up 20+ points.
The Broncos have suffered losses on the defensive side of the ball and were without cornerbacks Aqib Talib and Kayvon Webster yesterday. Linebacker Brandon Marshall missed some time due to an injury and now Derek Wolfe suffered a hairline fracture to his elbow yesterday. It's not as if the Broncos run defense was elite this season. After yesterday, they have now given up 100+ rushing yards to opposing running backs in four out of the last five games.
Both teams will have some favorable matchups some weeks but tell me this: Would you feel confident starting the Broncos D/ST next week on the road against Drew Brees?
3. Michael Thomas is the Best Saints WR
One characteristic of being the "best" is being consistent. The Saints rookie wide receiver Michael Thomas is consistently rewarding owners week after week. The same can't be said for his teammate Brandin Cooks.
In five out of the last six games, Thomas has produced double-digit performances in standard scoring leagues. In that span he is averaging over 12 fantasy points per week. Cooks has produced three double-digit performances over the last six weeks and is averaging just nine fantasy points during that span.
Cooks can absolutely pad the stat sheet and we've seen that a couple times this season. In Week 1 he finished with 143 receiving yards and two touchdowns. In Week 7 he finished with 173 receiving yards and one touchdown. Owners have also seen Cooks just totally disappear this season too. In six out of eight games this season he has finished with less than 69 receiving yards and in four of those games he's failed to reach the endzone.
Thomas will never beat Cooks in a 40-time and, chances are, you'll never see him streaking down the field for a 70-yard touchdown reception like we've seen with Cooks. With that said, owners who were able to snag Thomas off the waiver-wire should feel confident about starting him every week and now that he's become a solid WR2.
2. Murray is Back to RB2 Status
You ever here the expression, "You don't know what you have until it's gone?" That looks to be the case with the Oakland Raiders. However, now that they have Latavius Murray back they're treating him like how a starting running back should be treated.
In Weeks 1-4 the Oakland Raiders were set on creating a three-man committee with Murray, Jalen Richard and DeAndre Washington. As a result, Murray only averaged 12.5 touches a game during that span. In Weeks 5-6 Murray missed two games due to an injury. In those two games, no running back had 50 yards or more rushing and their running game was noticeably worse. Since Murray returned, they have made a point to get him the ball more.
Latavius Murray Per Game Stats
| | | |
| --- | --- | --- |
| Weeks 1-4 |   | Weeks 7-9 |
| 12.5 | Touches | 19 |
| 59 | Yards | 87 |
| 0.75 | Touchdowns | 1.66 |
| 12 | Fantasy Points | 19.66 |
It appeared the coaching staff realized the three-man committee wasn't working and getting Murray the ball more is in this offense's best interest. Owners who were patient with Murray and hung onto to him should feel optimistic because it appears his increase in usage is here to stay.
1. Melvin Gordon is Fantasy Elite
A lot of times, it's difficult to overcome a bad reputation. And after his one and only season in the NFL, Chargers running back Melvin Gordon had one. In 2015 he only managed 833 total yards, a 3.5 YPC and zero touchdowns. He was also severely outplayed by teammate Danny Woodhead. Now, was it fair that Gordon quickly earned such a bad reputation so quickly? No—but unfortunately, that's life in the NFL.
Heading into 2016 fantasy drafts very few people were clamoring at the idea of getting Gordon on their fantasy team. Now, he is making some owners look brilliant while he's making a lot of others look foolish.
After nine weeks, Gordon is third in the NFL in rushing yards (768) and is tied for the most rushing touchdowns (9). In back-to-back games he has averaged 208 total yards. From a pure stat perspective, that's amazing. Yet, his running ability from an eye-test perspective has been even better. He is showing strength, burst and decisiveness. His last two games have arguably been the best of his NFL career as he looks like a man on a mission.
Keep in mind Gordon has averaged 29.5 touches per game over the last four weeks. The way he's running right now with that kind of workload is going to win some owners some money very soon.
This article originally appeared on