Fantasy Football: Week 8 Targets from Around the League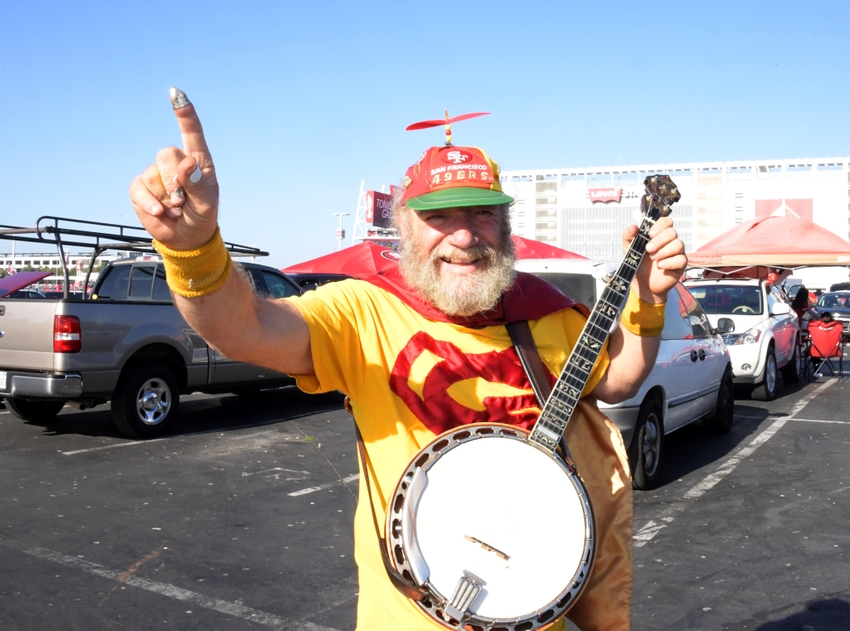 With the 49ers on bye, who else around the league is fantasy worthy in Week 8 of the 2016 NFL season. The "Startable, Ownable and Eyeable."
Here's the good news. Regardless of how terrible the 49ers have been this season, they absolutely cannot lose this week.
The Red and Gold have a bye in Week 8, and just as the team will (hopefully) use this week to regroup and rejuvenate, so shall this column.
What we've learned about the 49ers in 2016 so far:
Jim Harbaugh Is Officially Missed
Harbaugh was an acerbic, grating personality, but his results were undeniable. His plodding, methodical style of smash-mouth football, although not always exciting, was supremely effective (49-22-1).
In the wake of Jim's departure, another Jim stepped in, Jim Tomsula.  No less demonstrative, Tomsula was far less effective, posting a disappointing record of 5-11 in 2015. The Forty-Niner Faithful seemed likely to chalk "The Jimmy T Experience" up to a one year dalliance, the ineffectiveness of which would have no bearing on seasons to come.
But, after opening this year with a dismal 1-6 record, the only question now is whether or not the lowly Niners can somehow miraculously muster four more victories to eclipse last year's nadir.
Don't confuse the above with a blanket indictment of Chip Kelly (more on that below). His results have been spotty, but no more so than the talent that he's been provided. Which segues perfectly into the next point.
Trent Baalke Must Go (Today)
Confucius is credited with saying "The best time to plant a tree is yesterday. The next best time is today."
Jed York can't plant yesterday's tree, i.e. undoing the mediocre draft record of Trent Baalke, or T-Baalz, as I like to call him.
However, he can do the next best thing, which is acknowledge his mistakes, show T-Baalz the door and get someone in the front office that's more enamored with current talent than future potential (you know, someone anti-Team ACL).
If you read last week's Startable, Ownable and Eyeable, you know Baalke is well past his expiration date.
Plant that tree, Jed. Draw the line in the sand. Make your mark. Whatever your favored cliché for doing something that needs to be done, adopt it. Show T-Baalz the door.
You probably won't win tomorrow, but you might just win over the hearts and minds of some of the beleaguered Faithful today.
Chip Kelly's Offense Semi-Works
If a football game was thirty minutes long, the 49ers wouldn't be half bad. Half bad… get it? Pee-to the-yew.

As this table demonstrates, apart from the annual meltdown in Seattle, the 49ers have been competitive during the first half of games, reaching halftime with an average deficit of a mere field goal.
Moreover, the team is scoring points. Nothing "world beater" mind. However, at the current clip, the Niners are on pace to post 330 points. Despite the fact that this figure is under Chip Kelly's lowest point total as an NFL head coach to date (377 points in 2015), It's still close to one hundred points better than the anemic Tomsula-led offense of that same year (238 total points).
So, the Chip Kelly offense sort of works, i.e. the Niners can put up enough points to be reasonably competitive, especially in the beginning of games.
Give Kelly some semblance of actual talent (more on that momentarily) and he probably posts numbers similar to his NFL career average, i.e. 431 points over three seasons in Philadelphia. By the way, based on scoring to date, that would make the 49ers the No. 5 ranked offense in 2016, sandwiched right between the Indianapolis Colts and the Carolina Panthers with 29.6 points per game.
The Second Half Offense Is Killing the Defense (and Vice Versa):
It's the 49ers second half action that's so troubling.
Returning to the table above, the Niners have been outscored in the second half by more than a touchdown (averaging 7.7 points). And the trend has worsened dramatically over the past three games (a whopping -17 points, on average).
Another fun fact, per TeamRankings.com, San Francisco is ranked No. 23 in terms of third-down conversion percentage (36.27 percent, and 30.95 percent over the past three games).
The inability of the 49ers to convert on the "money down," particularly in the second half of games, is crippling the team, in some cases quite literally.
During last week's Tampa Bay game, four defensive players left the field with injuries in the final quarter.
Why do the Niners struggle so mightily in the back half of games? Two reasons. Their defense is tired, and the opposition's is not.
The 49ers have an average Time of Possession of 26 minutes, or roughly 40 percent of the game. The bulk of the game is left to the defense.
Over seven games, the Niners D has been on the field for 489 snaps, second only to the New York Giants (500) in number of snaps against. No wonder the defense looks so gassed at the end of each game.
Meanwhile, that same imbalance of time of possession is keeping the opposition's defense fresh. The other team ends up "playing downhill" in the second half, while the Niners defense struggles to simply get off of the field.
One final point: the mark of above average teams in the NFL is the ability to make halftime adjustments, on both sides of the ball. The 49ers have failed miserably in this area, doing their worst work during the last thirty minutes of games.
The Niners Simply Don't Have the Horses
As noted several times previously, the 49ers have seen a precipitous drop off during the past three games. Not surprisingly, this decline corresponds precisely to Navorro Bowman's season-ending injury.
Since Bowman's departure in the middle of the Cowboys game, the Niners have been outscored 122 to 57.
First off, that's an amazing testament to Bowman's singular talent. Secondly, it also serves to highlight just how stark the talent gap is between Bowman and his successor(s).
Linebacker Nick Bellore plays hard. He ran downfield on punt coverage last week and attempted to make the tackle without a helmet. That's tough.
But, toughness and determination can only mask so many athletic deficiencies. Bellore is no Bowman. That's a given. But Bellore is not even a viable second-string inside linebacker. He's a special teams standout who's also a serviceable stand-in for a quarter or two.
In baseball terms, he's the back-up catcher that also serves as the team's emergency pitcher in case the game goes deep into extra innings. He's not your starter.
Of course, if this talent dearth were confined to one player, or even one side of the ball, the 49ers might be able to compete. But the team has talent and depth issues at multiple positions: Defensive line, inside and outside linebacker, wide receiver, tight end, running back, and most notably, quarterback.
Moreover, their inexperience and lack of depth on defense is conspicuously problematic. If the Chip Kelly-era offense is going to force the defense to play extra snaps, then the natural conclusion is the team needs to carry a disproportionate number of defensive players.
Summary
It's time for some material changes at 4900 Marie P DeBartolo Way. The Niners are in the midst of a flat-out rebuild. The team has a few nice pieces in place, but is a ways off (potentially miles) from sixty minutes of respectable competition.
Chip Kelly just arrived. Although the jury's still out whether or not he's a viable NFL alternative, switching coaches again seems impetuous and potentially perilous (who's going to want to come work under Baalke after that?).
No, it's time to remake the front office, and that begins with the ouster of Baalke and the procurement, either through the draft or free agency, of a franchise quarterback.
The team's got mountains of cash. Its got picks galore too.
I'm no genius, but I suspect that's enough for any GM worth his salt to field a better team than the one that's been burning my eyeballs out with poor play this year.
And on that cheery note, it's time for Starable, Ownable and Eyeable in Week 8 of the NFL. As previously stated, the 49ers are off this week, so the format of the article is a bit different.
Instead of festooning the ensuing pages with Niner hopefuls, I'm simply listing three players at key positions and the SOE category into which each falls.
Clear as mud? That's how we like it. Tally ho.
Quarterback
Startable: Aaron Rodgers (GB)
You're starting Rodgers. That's a given. However, in a game with a 52.5 over, you're starting him with glee. Despite a slow start to 2016, he's still the No. 11 ranked fantasy QB. Look for the King of Camembert (What?! The Prince of Parmesan? The Guru of Gruyere? OK. Stopping now.) to build on his 23-point performance from last week.
Ownable: Alex Smith (KC)
Smith has been solid this year, definitely worthy of a QB2 roster spot. Owned in just 42.2 percent of ESPN leagues, Smith's impending schedule is also quite favorable. Despite two future dates with Denver, Smith also has fantasy-friendly contests with Atlanta, Oakland, Jacksonville, and this week's foe, the Indianapolis Colts (No. 25 versus the pass).
Eyeable: Josh McCown (CLE)
McCown is the best passing option in the City of Champions (excuse me while I mop the barf off my lap after typing that). In his brief 2016 Week 2 appearance, he was completing over 70 percent of his passes before sustaining a clavicle injury. Keep an eye on McCown. He yet prove Ownable.
Running Back
Startable: Matt Forte (NYJ)
With the 49ers licking their wounds this week, the moniker of Worst Run Defense falls to the ignoble Cleveland Browns. Couple that weakness, with the idea that Jets head coach Todd Bowles will do virtually anything to keep the ball out of QB Ryan Fitzpatrick's pick-prone hands, and everything is stacking up nicely for a "Forte Day".
Ownable: Matt Asiata (MIN)
Between injuries, bye weeks, and backfields by committee, the tailback position is as thin as ever. Asiata to the rescue. He's seen an uptick in usage over the past two games, and although his counterpart RB Jerik McKinnon is slated to return this week, I'm not worried. At just 48.2 percent ownership, Asiata looks the part of a value buy, especially with his propensity to hoard Minnesota's goal line work.
Eyeable: Knile Davis (GB)
Someone has to tote the rock in Green Bay, and I don't think converted WR Ty Montgomery is the long-term solution. Head coach Mike McCarthy is savvy enough to know that the Pack Attack is best served balanced. Look for Green Bay to start weaving Davis in as their early-down option. Davis was productive in Kansas City when called upon to spell RB Jamaal Charles. Who says he can't do the same in Green Bay?
Wide Receiver
Startable: DeAndre Hopkins (HOU)
I'm going out on a limb here. Texans Quarterback Brock Osweiler looks as though he's destined to be a backup, authoring a putrid 71.9 passer rating through seven starts. However, if he's ever to turn things around, perhaps it will be at home against one of the worst pass defenses in the league, the Detroit Lions (ranked No. 23). Hopkins has all the talent necessary to post exceptional numbers. With a tasty matchup and RB Lamar Miller not at full strength, he might actually do it this week.
Ownable: Devante Adams (GB)
I know, I know… a lot of cheese this week. What can I say? The Packers O is trending up, and until they can run, they'll throw. QB Aaron Rodgers is going to have to toss it to someone, and his primary target from years past, WR Jordy Nelson, just doesn't seem to be himself. That of course, could change in a heartbeat. But with Adams averaging 13.4 fantasy points per game over the last three outings, including last week's monster game in which he hauled in a career high 13 passes, why wouldn't he continue to be a key piece of Green Bay's offense? Ownable.
Eyeable: Jamison Crowder (WAS)
Crowder is nothing if not productive. Yet, most owners, on ESPN anyhow, are coveting bigger, less prolific names. I'm guilty of it. I'm still sitting on WR Jeremy Maclin, waiting for the "inevitable" turnaround. Instead, I should be keeping an eye on Crowder. He's out touched Maclin 31-27 (albeit Maclin has played one less game) and in the process posted almost double the points (61-36).  Right now, Crowder has more fantasy points than Maclin, Brandon Marshall, Randall Cobb, Alshon Jeffery, and both the aforementioned DeAndre Hopkins and Jordy Nelson.
Tight End
Startable: Kyle Rudolph (MIN)
Chicago is terrible. What's new? That said, they are touting strong numbers against tight ends this year. I think that changes this week. Despite the return of WR Stefon Diggs and RB Jerik McKinnon, Minnesota is mediocre at both receiver and running back. Rudolph should get his looks in the red zone, making him a worthwhile start this week.
Ownable: Jack Doyle (IND)
With compatriot Dwayne Allen out of the lineup, Doyle has flourished. He's accrued 25 fantasy points over the past two weeks, and is getting a healthy number of looks in the process (14 targets). This week's opponent, Kansas City, has been stingy to opposing tight ends.
However, Doyle seems to have earned himself a spot atop the Colts depth chart. Maybe he belongs on your bench too.
Eyeable: Eric Ebron (DET)
Ebron has been sidelined the past several weeks with a cadre of leg maladies. However, the six-foot, four-inch target appears poised to lumber back onto the gridiron. Prior to his injuries, he was garnering around six targets per game. That's enough volume to make Ebron both Eyeable and potentially fantasy relevant.
Enjoy this week of rest, Faithful. Let your nerves unwind. Because next week, the Saints come to town, and all signs point to a bloodbath.
This article originally appeared on