Fantasy Football Week 7: Where's Antonio Brown Rank Among Receivers?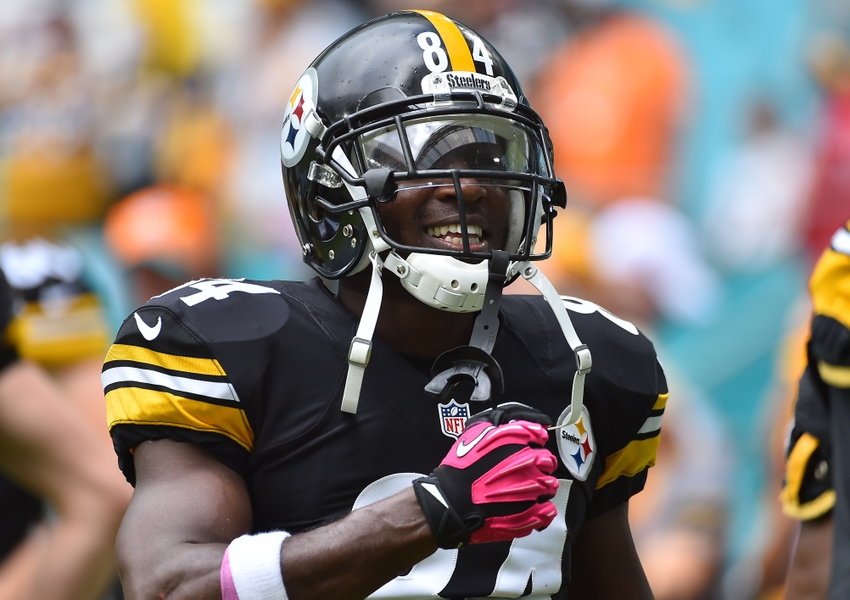 Antonio Brown is the best wide receiver in the NFL with Big Ben under center. Where does Brown rank without his star quarterback in fantasy football week 7?
What do fantasy football owners do with Antonio Brown this week? Brown has been the best wide receiver in the league for a number of years now. However, he has been no such thing when Ben Roethlisberger is out, as will be the case this week.
Big Ben suffered a torn meniscus that required surgery. He'll miss several weeks, leaving Landry Jones in charge of getting Brown the ball. What does this mean for Brown with the New England Patriots coming to town?
Two brothers from New York, Dan Salem and Todd Salem discuss Fantasy Football Week 7 in today's NFL Sports Debate.
Todd Salem:
Fantasy experts are…confused. Some still rank Antonio Brown as the No. 1 player at his position for this week against the New England Patriots. Others rank him as low as 28th among wide receivers, which seems ludicrous. Are you really finding 27 other receivers you would rather have over Brown? The consensus places him at 10th, which still seems off—though I'm not sure in which direction!
Overall this year, Brown hasn't been as great as he's been before, though the only wide receiver he trails in standard fantasy scoring is Julio Jones thanks to the latter's 300-yard game. Brown is essentially still the best in the biz. Yet that has not been the case when Roethlisberger is on the sidelines. Last year, Big Ben missed four games. In those games, Brown averaged just 58.75 yards per game and failed to reach the end zone. Those games were also the four fewest reception totals he had all year. Without Roethlisberger at quarterback, Brown became unusable as a fantasy player.
That was a pretty small sample size, but it is the only stretch that Roethlisberger has been out since Brown became the league's best receiver. The last time before that happened in 2012 when Brown was nothing more than good and only played 13 games himself.
That four-game batch is enough to cause concern; the difficulty is in determining how much. Going against the Patriots defense doesn't help matters this week, though the numbers don't make them out to be a very good pass defense, at least compared to conventional wisdom. Looking at the rest of the consensus wide receiver rankings, I cannot place Brown below the likes of T.Y. Hilton or Brandon Marshall. Even Amari Cooper is a question mark. I guess I would slot him in as my 7th or 8th receiver, right behind Mike Evans and Allen Robinson, both of whom give me pause as well. Brown is still elite and I'd ride with him in Week 7. I just hope Jones can get him the ball!
Dan Salem:
Antonio Brown is an absolute must start this week, but I'd certainly keep expectations low if he was on my team. I'm sure Landry Jones is a competent quarterback, but there is little chance he makes anywhere near the plays that Big Ben has week in and week out.
If I'm the Steelers, then I lean heavily on the running game this week against the Patriots. Le'Veon Bell has played outstanding and, though New England may stop the pass, I doubt they stop Bell. This will certainly limit Brown's opportunities in the passing game, probably halving his production. That being said, who else is Landry Jones going to throw to? What other receiver will he trust more than Brown to be open and make the play? No one else.
Brown's fantasy week hinges on whether he finds the end zone, mainly because I don't see him recording more than sixty or seventy yards receiving. It's the Patriots, so this was likely the case even with Big Ben under center. So it's certainly fair to rank Brown lower amongst wide receivers in fantasy football Week 7. I take issue with how low, because I think he scores a touchdown and is the only receiver Jones will look to consistently.
The consensus rankings have Brown behind Amari Cooper and I agree with that. Cooper and his Raiders are facing a terrible Jacksonville defense. Yet T.Y. Hilton of the Colts and Brandon Marshall of the Jets do not belong ahead of Antonio Brown. The way their teams are losing games, I trust Brown to find the end zone more then either of those two players. Hell, Geno Smith will be throwing to Brandon Marshall, so there's no way to know how that turns out.
This puts Brown at around eighth in my opinion. There are at least eight receivers who hold better matchups this week, considering quarterback situations and all. He'll likely fluctuate between fourth and tenth depending on the matchup and Landry Jones' play. Just hope Big Ben returns sooner rather than later.
This article originally appeared on