Fantasy Football: Week 7 Targets on the 49ers and Beyond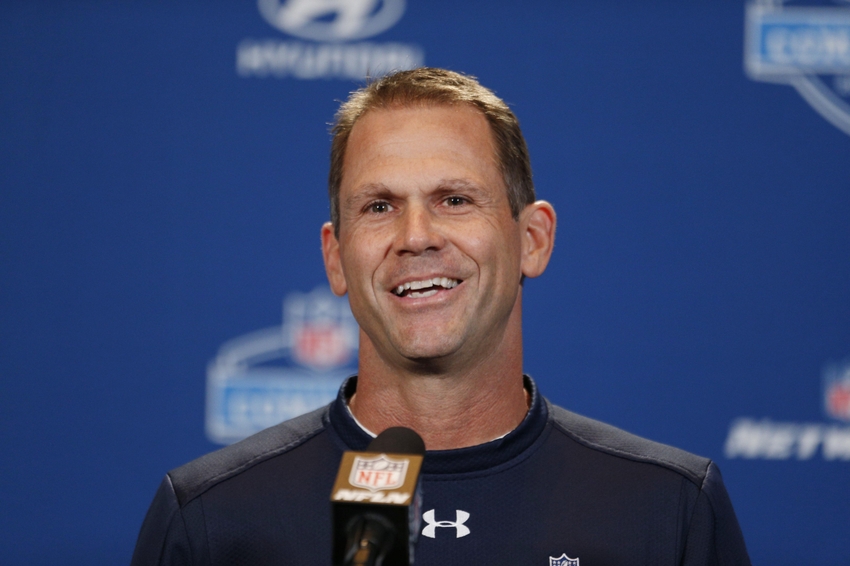 Players on the 49ers, and around the rest of the league, who are fantasy worthy in Week 7 of the 2016 NFL season. The "Startable, Ownable and Eyeable."
"Yes, Trent. I accept your resignation".  Wait, What?! This guy still has a job!
Disgraceful.
The Niners are seven weeks into the season and already completely out of the playoff hunt. What's worse, the only thing more embarrassing than the team's on-the-field performance, is the draft day track record of the general manager who fielded the team itself.
"Baalke Bashing" is all the rage these days, but before diving into this week's fantasy football picks, let's take one more look at the "basket of deplorables" (per 49ers.com) that Trent has assembled since taking over as GM.
For humanitarian reasons, only the first five rounds are shown:
Holy hat! That's a lot of mediocrity.
Thirty-eight fifth-round or better picks, and Baalke has four Above Average players to show for it?!
It's so astounding, I can't stop using a question mark followed by an exclamation point to end my sentences.
Now, I'll be the first to admit that the jury is still out on some of the younger players, e.g. Buckner, Armstead, Tartt, etc. And bad luck has factored into the mix as well, namely the unforeseeable early retirement of Chris Borland.
But as you work your way back up the chart, towards the earlier drafts, it's a sea of blood red, friends.
Let's face it, the Pinion pick alone is grounds for termination (a punter… in the fifth round?!). And in place of the undisputed team stalwart Andy Lee no less ("Andy Lee… MVP"). Inane.
Baalke whiffs more than the Gas House Gorillas when Bugs Bunny is on the mound. It's as though he couldn't hit on a player, especially an offensive one, if it were teed up for him. In fact, that's a fantastic nickname for Trent Baalke: T-Baalz.
To further illustrate the point, let's take a year-over-year look at the players taken either two slots above or below T-Baalz's picks, limiting this hard-hitting expose to the first round only for economy's sake (2016 excluded due to the limited number of snaps).
Stunning, really.
Wait a minute. You might be thinking, "Sure, the 49ers would have benefited from rostering some of these 'Above Average' players. However, the team wasn't drafting for those particular positions."
The quick counter to that argument is T-Baalz's incessant rhetoric about taking "the best player available".
That aside, let's indulge in an equally elucidating chart, one that details the quality of next five draft picks at the same position that followed a given 49ers pick; 2016 has once again been omitted.
So, there you have it. In every year, apart from 2011, a player taken after the player that T-Baalz selected has turned out to be better at his respective position.
Even Aldon Smith, as great as he was for several years, will almost certainly end up having a worse career than LB Ryan Kerrigan.
You know who's laughing all the way to the bank during this 49ers de-Baalk-le (yes… that just happened)?
The Jims. Jim Harbaugh and Jim Tomsula.
The railroading of Harbaugh is another well documented tragedy, so there's no need to carry on about it here. Suffice it to say, he's a winner.
That said, he's clearly a prickly winner. And maybe that plays better in the college ranks than in the NFL.
Just when his players' distaste for his khaki-wearing, sideline-flailing, "Who's got it better than us"-ing ways begins to overshadow the satisfaction that comes with winning, they graduate. And Captain Comeback has a whole new legion of young minds to meld (or torture, depending upon how you see it).
Then there's Tomsula. The Niners go out of their way to make a "huge" statement by firing him before the end of last season. He gets a $14 million severance check, and the team gets the same (or worse) record as last year. Atta boy, Jed.
Now I'm not suggesting for a moment that keeping Jim-Tom would have been the right move. But if York can give him the swift kick, why in the world is he so seemingly clueless when it comes to reaching the equally evident conclusion that Trent Baalke deserves the bum's rush?
If nothing else so that he doesn't catch a Molotov cocktail across the hood next time he pulls out of the facility. Niner fans are bereft. Niner fans are frustrated. But above all, Niner fans are straight up angry. Head on a swivel, Trent.
In conclusion (applause fills the air), I encourage, dare I say implore, Jed to make a real statement. Fire T-Baalz today, promote Assistant GM Tom Gamble, and maybe in three years or so, Niner fans can get back to watching something that resembles actual football.
So, with all that said, are you as excited as I am to talk about Startable, Ownable and Eyeable players on the 49ers this week? Then why are we waiting?
Startable
WR Torrey Smith
Smith delivered last week, hauling in a grossly under-thrown ball from QB Colin Kaepernick and taking it to the house. Sometimes it's so bad, it's good.
The 53-yard bomb was Smith's longest play from scrimmage this year. And although spotty quarterback play continues to throttle down his upside, Smith is an undeniable long-ball threat.
Couple that with the fact that the 49ers Week 7 opponent, the Tampa Bay Buccaneers, possess the No. 20 ranked pass defense, surrendering a healthy 262.4 passing yards per game this season, and Smith could have another start-worthy showing.
With starting RB Carlos Hyde sidelined with a bum wing, I expect the 49ers to take to the air. Look for Kaepernick to rifle a few more balls down field in an attempt to get Smith's average yards per reception up. Hey, it might even work.
Other Startable fantasy football receivers in Week 7 include:
WR Julio Jones (ATL)
As obvious as it gets, Jones is not only a top-tier talent, playing on an elite offense, but he also has a delectable matchup this week. The San Diego Chargers are the No. 24 ranked pass defense in the league, yielding 279.7 yards in the air every sixty minutes.
Yes, Jones is likely to see plenty of San Diego's star CB Jason Verrett. However, after the schooling that he gave the exulted Seattle Seahawks secondary, Jones is as close to a sure thing as it gets.
A great offense + An unexceptional defense = Points o' Plenty for one Julio Jones.
WR Mike Evans (TB)
I know it sounds crazy, but I actually think the 49ers might stop someone on the ground this week.
RB Jacquizz Rodgers is not a true starter, in my opinion, and if the Niners have practiced anything at all this past week (conjectural, I know), it must be preventing yet another 100-yard rushing day for the opposition.
Like Julio Jones and WR Kelvin Benjamin (who abused the Niners secondary in Week 2), Evans is a big-bodied receiver who can simply outsize the competition.
I'm not predicting a barn burner at Levi's this Sunday. However, I do expect each team to score over 21 points. In that instance, Evans will "get his".
Play him, if you got him.
WR Julian Edelman (NE)
So far, 2016 has been a very pedestrian year for Edelman. Hampered by a combination of injuries and the suspension of first-ballot Hall of Famer QB Tom Brady, Edelman's numbers have suffered.
Heading into Week 7, he's put up a very modest 25 total fantasy points. His yardage numbers have also been modest, with only two games over 50 yards this season.
However, Edelman gets right this week against the hapless Pittsburgh Steelers pass defense.
Pittsburgh has one of the worst secondaries in the game right now, second only to Oakland (making Jacksonville Jaguars WRs Allen Robinson and Allen Hurns interesting picks this week too).
Over the past two weeks, Edelman has seen both an increase in snaps (117) and targets (17). These are figures closer to the beginning of the year, when he was tallying seven receptions per game.
The Patriots are likely to have their way with the Steelers this week. They may do it on the ground. They may do it in the air. Heck, they might do it both ways.
Regardless, there's likely to be plenty of quick passes to the slot. No reason to get Tom Terrific's jersey dirty unnecessarily.  Edelman's a go in Week 7.
Startable Cont.
RBs Mike Davis and Shaun Draughn  
Davis and Draughn are very questionable fantasy football starts this week. At best, my general characterization of either of them is Ownable, and only in the deepest of leagues.
However, with RB Carlos Hyde on the shelf, someone is going to have to get this week's share of the carries. So, if there was ever a time to spot start either Davis or Draughn, this is it.
The purported division of labor is Davis on the early downs with Draughn acting as the third down back. The situation likely plays out that way. However, if either struggles early, particularly Davis, I could see the rock being shifted to the other.
Between the two, Davis is the safer bet to get 15 carries. That noted, I wouldn't be surprised to see the more dynamic Draughn finish the game with better numbers.
Desperation would be the key ingredient here, but with the recent injuries to Eddy Lacy, LeSean McCoy and others, it might be time to get creative.
Other Startable fantasy football running backs that lean sketchy this week include:
RB Jacquizz Rodgers (TB)
As mentioned above, I'm not convinced that Rodgers puts on a show this week.
The 49ers, despite boasting the worst run defense in the league (5.0 yds/attempt), will be getting a few reinforcements back this week in the form of CB Jimmie Ward and SS Jacquiski Tartt.
The return of Tartt, in particular, may very well serve to shore up the middle some. He's faster and more agile than colleague Antoine Bethea, allowing him to play his position more like a linebacker than a safety. And boy could the team use some linebacking assistance in the middle of the field.
All that said, the Niners are still the worst among 32 teams when it comes to stopping the run. Rodgers received a heap of carries against Carolina (30), turning in a 101-yard performance.
As sketchy running back starts go, The Quizz is likely more bankable than either of the 49ers starters.
RB Mike Gillislee (BUF)
Despite being the quintessential backup in 2016, Gillislee has made the most of his limited chances. He's carried the ball just 17 times this year, but has posted two touchdowns and an enviable average 6.9 yards per carry.
Of course those numbers will likely come down. But with this week's contest coming against the NFL's second-worst run defenders, the Miami Dolphins, who knows?
Gilislee will almost surely top the 15 carry mark, and he plays behind one of the best run-blocking lines in football.
I'm starting Mike G over any of the other options discussed above.
Ownable
QB Colin Kaepernick
Kaepernick was serviceable. Kaepernick was (near) watchable. And with 19 fantasy points last week, Kaepernick was Ownable.
Don't get me wrong, there are other, potentially more viable QB options (to be discussed momentarily).
However, I think there are several factors that work in Kaepernick's favor when it comes to being Ownable moving forward:
His Legs: Kaepernick's rushing ability is probably his most fantasy-friendly asset. Last week, he once again saved his stat line, with 66 yards on the ground. An abundantly evident observation to the fantasy savvy, every 40 yards a QB generates on the ground is worth a touchdown (using standard ESPN fantasy scoring). With RBs Mike Davis and Shaun Draughn lining up behind him this week, you can bet there will be some extra pressure on Kaepernick to put in some leg work.
His Will: Kaepernick is anything but accurate. However, he has the arm to get the ball down field. Now, I'm not suggesting that his predecessor, QB Blaine Gabbert, didn't have the arm strength. He didn't seem to have the will. Kaepernick is in a quasi-contract year with a lot to prove. He has the will.
The Scheme: I've been railing on head coach Chip Kelly for not employing a more creative offense this season. That said, it's somewhat undeniable: guys are getting open. In the first quarter of last week's game, Kaepernick overthrew Smith on the post for what would have surely been a touchdown.
So, I maintain that there are likely better ways to leverage the 49ers' suspect talent. However, I'm backing off of my referendum on scheme, because the end results are likely due more to operator error than anything else.
Kaepernick is getting stronger, getting healthier, and getting more practice reps. Against a very average Tampa Bay defense, expect more mastery of the playbook this week.
Other Ownable quarterbacks, i.e. those owned in ~50 percent of ESPN fantasy leagues or less, include:
QB Tyrod Taylor (BUF)
Taylor is a Kaepernick clone. More heralded for his rushing than his aerial skills, he's been a very consistent fantasy QB. This season, Taylor is averaging 14 fantasy points per game, and if you disregard his season-opening stinker against Baltimore, that average bumps up to over seventeen.
Just like Kap, he too has a star running back that will not suit up in Week 7, thereby making him the Bills de facto No. 2 ground threat.
Taylor is not likely to get an owner a slew of 20 point weeks. However, he's a serviceable backup, making him extremely Ownable.
QB Sam Bradford (MIN)
The antithesis of Taylor or Kaepernick, Bradford is as prototypical a pocket passer as they come.
Like the others, he's not liable to set the field on fire with his passing prowess. However, he is playing solid, mistake-free football, leading to an average of just over 15 fantasy points per game.
Couple Bradford's play with the idea that he's liable to get a bevy of short fields (due to his No. 1 ranked defense), and he makes for a decent bench add at the QB position.
QB Dak Prescott (DAL)
Somewhere between the factories that minted Taylor and Bradford, lies the assembly line that cranked out rookie Dak Prescott.
Wickedly accurate through the air (68.7 completion percentage) and a running threat near the goal line to boot, Prescott is shockingly owned in just over 60 percent of ESPN leagues.
Less the season opener, Prescott has averaged 18 points per game. Moreover, his floor has been tremendous, scoring no fewer than 17 points over that same stretch.
If you need QB help, look for Prescott loitering on the waiver wire. He's as Ownable as backup QBs get.
Eyeable
To be frank, there really isn't much Eyeable fantasy football talent on the 49ers right now. Here are a few very brief vignettes, but nothing about which a seasoned fantasy owner is likely to get excited.
TE Vance McDonald
McDonald has raw talent and he has flashed it at times during this season (Weeks 1-2 he scored 20 fantasy points). However, he's inconsistent and does not appear to be nearly the favorite of Keapernick's as he was of Gabbert.
As an aside, the TE to really eye right now is former 49er Vernon Davis. With Washington starter Jordan Reed now in the midst of concussion protocol for the seventh time in his short career, Davis may be on the verge of ascension. He scored last week, and could very well do so again against a soft Detroit Lions interior pass defense.
WR Jeremy Kerley
As predicted, Kerley's production hit the skids this past week with the switch at quarterback. Perhaps some additional rapport will develop between him and Kaepernick with time. However, I expect WR Torrey Smith to see an uptick in targets, some of which will come directly out of Kerley's pocket.
K Phil Dawson
Getting back to the middling tendencies of a Kaepernick-led offense might just be the fantasy salve that Dawson needs. Last week, he came through with a season high 12 points. He's still the No. 27 ranked kicker on the board right now. Certainly nothing to jump out of your chair for. But, with a few more solid performances, he may be worth an add.
That's the Startable, Ownable and Eyeable for Week 7 of the 2016 NFL season. Now get out there and win yourself a fake game or two.
This article originally appeared on