Fantasy Football Week 7: Start or Sit?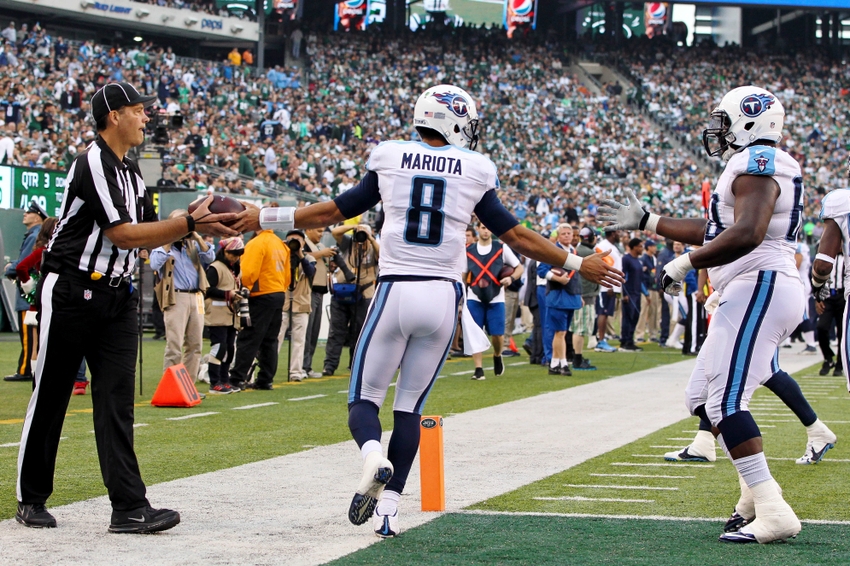 Who should you start and who should you sit at each position in fantasy football Week 7 in the 2016 NFL season?
Just like last week we only have two teams on a bye (Panthers and Cowboys). If you own a player such as Cam Newton, Greg Olsen or Ezekiel Elliott, you are missing a top-tier player at a position for Week 7. Then again, if you own one of these top-tier guys, I feel no sympathy for you. You'll be without one of these fantasy football studs for only one week. Get over it. (By the way, nice drafting!)
This week is the last week until Week 13 where only two teams will be on a bye. After that, at least four teams will be on a bye. There will be a whopping six teams on a bye in both Weeks 8 and 9.
Why am I telling you this? It's because you need to act now!
I'm sure some of you have your starting lineup put together while others are losing sleep over it. I'm sure some of you have exhausted the waiver-wire while others forgot to put your claims in for the week. No matter the case, once you get your staring lineup set for this week you need to look ahead to Week 8.
Go to your team, look at your players' schedule and see what players are on a bye in Week 8. If you have two, three, or even four starters out, you might want to think about hitting the waiver-wire now. This way you can beat the rush and grab the players people are going to want five days from now. If you have some players on your bench who you know you won't start anytime soon or are on a bye next week, drop them for a player you can use/start next week.
Did I mention this week and next week there is a London game? In case you didn't know, there is. So make sure you have your starting lineup set late Saturday night or get your gluteus maximus up early Sunday and set it!
Now let's get to business for this week.
This is Fantasy Football: Start or Sit, Week 7 Edition.
Quarterbacks
Start
Kirk Cousins, Washington Redskins vs. Detroit Lions – This call is more about the matchup than it is about Cousins. Last week the Lions gave up 321 passing yards and three touchdowns to Case Keenum. The same Case Keenum who did not throw for either 300+ yards or three touchdowns in any game this season before the Lions game. The last time this guy had 300+ yards and three touchdowns in the same game came back in 2013. Cousins floor in this game should be around 250 passing yards and two touchdowns.
Marcus Mariota, Tennessee Titans vs. Indianapolis Colts – If you own this guy, how are you sitting him? Unless you own Tom Brady, Drew Brees or Matt Ryan, you can't. In his last two games Mariota has combined for seven touchdowns and just one interception. In that span he is also averaging 224 passing yards and 62 rushing yards per game. In the Colts last three games opposing quarterbacks have averaged 291 passing yards and two touchdowns. Over the last two weeks Mariota looks like he's trying to do his best Lamar Jackson impression. It probably won't last but until it doesn't, ride the hot hand.
Andy Dalton, Cincinnati Bengals vs. Cleveland Browns – I'm biting into the low-hanging fruit and boy does it taste delicious. The Browns have given up three passing touchdowns in four straight games to opposing quarterbacks and my goodness it's the Browns for crying out loud. The Bengals could trot out Akili Smith on Sunday and guess what? You're starting him.
Sit
Aaron Rodgers, Green Bay Packers vs. Chicago Bears – "Oh no he didn't!" Yeah, I did. Rodgers simply isn't cutting it and I would start any of the three quarterbacks mentioned above over him (and more). Rodgers has gone 14 straight games (including playoffs) without reaching 300 passing yards. In those same 14 games, he only has more than three touchdowns in three of them. Don't tell me to "R-E-L-A-X," okay Aaron? You better fix your ways quick or I'll find a new man. Mhmm.
Eli Manning, New York Giants vs. Los Angeles Rams – Sorry, but I'm not buying into Manning unless you can guarantee me Odell Beckham Jr. will get 100+ yards after catch in this game like last week. Week 6 was the first game since Week 1 where Eli had more than one touchdown pass in a game this season. The last time Manning played in London he finished going 8-of-22 for 59 yards and zero touchdowns. Does the fact that it happened way back in 2007 matter? Probably not, but either way, I'm steering clear of him this week.
Running Backs
Start
Spencer Ware, Kansas City Chiefs vs. New Orleans Saints – Until Jamaal Charles takes back his role as the Chiefs primary ball carrier, I'm sticking with Ware. Last week he set a season high in carriers (24) and rushing yards (131). The Saints defense plays like they owe money to multiple bookies. However, instead of shaving points they are going full blown Brazilian wax on fools.
James White, New England Patriots vs. Pittsburgh Steelers (PPR ALERT) – Over the last two weeks, White has set season highs in carries, rushing yards, targets, receptions, receiving yards and receiving touchdowns. The only explanation I can think of why this is so is because this Tom Brady character has started taking snaps for the Patriots. I'm not sure if these two things are connected, but I'm going to assume that they are.
Terrance West, Baltimore Ravens vs. New York Jets – In the Ravens first game after they fired OC Marc Trestman, West saw a season high in carries (23), targets (6) and receptions (4). I don't think this was a quinky-dink and the Jets just gave up 111 rushing yards and three touchdowns to Cardinals running back David Johnson on Monday Night Football. If West can get half that, owners will be in good shape.
Sit
Matt Forte, New York Jets vs. Baltimore Ravens – Forte has a lot working against him this week. First off, he's seen a dip in carries in four straight weeks (15, 14, 12, 9). Second, the Ravens are allowing the least amount of rushing yards per game in the NFL. Third, just bench him.
Green Bay RBs vs. Chicago Bears – If you're trying to get cute or slick here do me a favor and don't. Knile Davis was acquired from the Packers on Tuesday and there's no way he's going to see a lot of touches for Thursday Night Football. Practice squad RB Don Jackson will be promoted to the 53-man roster but I'm not confident he'll do much with his limited touches. The Packers will be sure to give wide receivers Randall Cobb and Ty Montgomery plenty of snaps in the backfield on Thursday along with Davis and Jackson.
Rashad Jennings vs. Los Angeles Rams – I do believe Jennings will help owners in the second half of the season but I don't think he'll help them this week. Over the last five games, the Rams have only allowed two rushing touchdowns to opposing running backs. Much like Thursday Night games, there's something about London games that I don't trust.
Wide Receivers
Start
Cameron Meredith, Chicago Bears vs. Green Bay Packers – I'm sure there are owners out there that aren't familiar with Meredith but they need to. This way when he scores all these points on you, you won't be shocked. Over the last two games, Meredith has averaged 13.5 targets, 10 receptions and 122 receiving yards. The Packers could be without their top three cornerbacks for Thursday Night Football. He's a solid FLEX play with WR1/2 upside.
Mike Wallace, Baltimore Ravens vs. New York Jets – In PPR scoring, Wallace has only failed to reach double-digit production in just one game this season. In three-straight games Wallace has seen at least nine targets. With Steve Smith Sr. questionable to play, that trend should continue. As always, with Wallace's speed and Joe Flacco's arm strength he only needs one play to pay dividends. Over the last three games the Jets defense is giving up on average 15 receptions, 190 yards and nearly 2 touchdowns per game to opposing wide receivers.
Allen Hurns, Jacksonville Jaguars vs. Oakland Raiders – For the first time all season owners should have some optimism for Hurns. His 11 targets in Week 6 was the most he had in any game this season and his five receptions tied for the first in 2016. The Raiders defense on average is giving up over 200 yards receiving to opposing wide receivers. If Hurns has any chance of showing a glimpse of the fantasy wide receiver he was last season, he'll do it in this game.
Sit
Will Fuller, Houston Texans vs. Denver Broncos – Although he was active, a hamstring injury kept Fuller out of last week's game. He should play in this game but at less than 100 percent going up against the Broncos secondary you should take your chances elsewhere.
Jordan Matthews, Philadelphia Eagles vs. Minnesota Vikings – This is kind of the same story you just read with Fuller. Matthews is less than 100% but will suit up. However, the Vikings defense is one of the best in the NFL and I don't trust Matthews to reward owners this week.
Stefon Diggs, Minnesota Vikings vs. Philadelphia Eagles – Since his two big games in Weeks 1-2, Diggs hasn't done much of anything since then. In a tough matchup against Philly, he'll probably do next to nothing for the fourth straight game.
Tight Ends
Start
Hunter Henry, San Diego Chargers vs. Atlanta Falcons – The Chargers offense took two major hits when they lost Keenan Allen and Danny Woodhead for the year. They needed playmakers and it turns out, that's exactly what Henry is. The rookie has a touchdown in three straight games and gets a good matchup against the Falcons. Even if Antonio Gates is active, Henry should still be in starting lineups.
Cameron Brate, Tampa Bay Buccaneers vs. San Francisco 49ers – The last time Brate took the field in Week 5, he had his worst game of the season. However, I'm willing to bet his stat-line is closer to Weeks 1-4 where he averaged six targets, four receptions and 40 yards. Although those numbers don't jump off the page, keep in mind he gets an added boost now that the Buccaneers No. 2 receiver Vincent Jackson is on IR. Don't be shocked when he's the second-most targeted Buccaneer behind Mike Evans.
Sit
Zach Ertz, Philadelphia Eagles vs. Minnesota Vikings – Other than Week 1, Ertz hasn't had more than three receptions or 37 receiving yards in any game this season. Sure he missed two games with an injury but the Vikings defense is the real deal. You should avoid them if you can.
Gary Barnidge, Cleveland Browns vs. Cincinnati Bengals – The Bengals got absolutely slaughtered by the Patriots tight ends. But then again, most defenses would. Before that game, opposing tight ends combined for seven receptions, 90 yards and one touchdown across three games.
D/ST
Start
Baltimore Ravens vs. New York Jets – The Jets offense has been a dumpster fire and I don't think switching over to quarterback Geno Smith is going to help. The Ravens arguably have the best run defense in the NFL and Smith will be forced to carry this offense. For his career, he has a 3:4 TD:INT ratio. He's a good bet to add to that interception total before this game is over.
Cincinnati Bengals vs. Cleveland Browns – You would think I would get tired of picking on the Browns but you'd be wrong. Cleveland has to play on the road and quarterback Cody Kessler took six sacks on the road last week against the Tennessee Titans. The possibilities are endless with how bad the Browns offense can be.
Sit
Houston Texans vs. Denver Broncos – The Broncos offense isn't scary, but their defense is. I can see them getting to Brock Osweiler early and often in this game. This will consequently put the Texans defense in a lot of bad spots. This is going to be one reunion Osweiler is going to wish he didn't attend.
New England Patriots vs. Pittsburgh Steelers – I know owners are going to see that Landry Jones is starting and try to take advantage of it. To tell you the truth, if the Patriots were playing at home, I probably would be one of those owners. However, they are playing on the road and Le'Veon Bell and Antonio Brown are capable of scoring a touchdown from anywhere on the field.
Last Week and Season-Long Record of Start/Sit
This week and every week I'll be keeping track of my recommendations from the week before and total for the entire season. Keep in mind, I'm not going to recommend ridiculously obvious players to sit or start just to pad my stats.
Week 6 QB Starts: Marcus Mariota, Carson Palmer and Alex Smith – Mariota you are the man (for now). Palmer you are dead to me and the only way you appear in this weekly article ever again is on my sit list. Don't bother sending flowers. My mind is made up. Smith was efficient (19-of-22), but that was about it. The weather was awful, though, so I won't hold that against you. Result: 1/3
Week 6 QB Sits: Matt Ryan, Kirk Cousins and Philip Rivers – Unless something drastic happens to the Flacons like they lose Julio Jones for the season (I won't knock on wood. Make me.), I'm not betting against Ryan anymore in fantasy football. Cousins fantasy stats weren't good, but they also weren't bad. I won't give myself the benefit of the doubt. Result: 1/3
Week 6 RB Starts: C.J. Anderson and Frank Gore – Anderson had a beautiful touchdown reception called back due to a penalty. Gore went over 100 yards rushing. Result: 1/2
Week 6 RB Sits: Eddie Lacy and Jeremy Hill – Both have been disappointing owners pretty much all season long. Result: 2/2
Week 6 WR Starts: Jeremy Maclin, John Brown and Sammie Coates – Yikes. Can we pretend like this never happened? Result: 0/3
Week 6 WR Sits: DeSean Jackson, Jeremy Kerley and Allen Hurns – Not one of these receivers reached seven points in standard leagues. Result: 3/3
Week 6 TE Starts: Jimmy Graham and Jesse James – Graham continues to impress while James and the entire Steelers team put up a stinker against the Dolphins. Result: 1/2
Week 6 TE Sits: Dwayne Allen and Jason Witten – Allen was injured, but it honestly wasn't going to make a difference. Result: 2/2
Week 6 D/ST Starts: Pittsburgh Steelers and Tennessee Titans – The Steelers were awful but the Titans racked up six sacks on the day. Result: 1/2
Week 6 D/ST Sits: Kansas City Chiefs and Los Angeles Rams – The Chiefs and the rain slowed down the Raiders. The Rams were torched by Matthew Stafford. Result: 1/2
Week 6 Results: 13/24 = 54 percent
Season Results: 85.5/151 = 57 percent
This article originally appeared on