Fantasy Football Week 6: Waiver Wire Pickups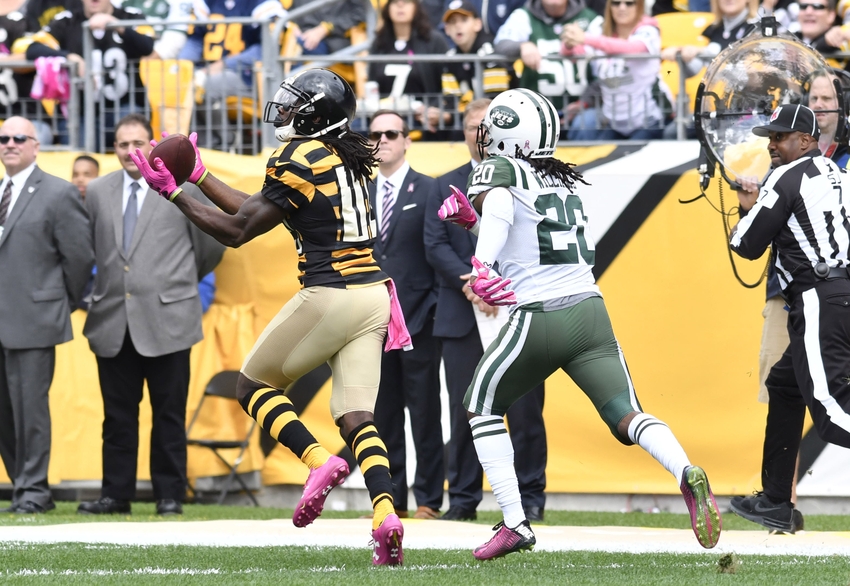 The waiver wire is what will end up making or breaking your fantasy football season. Here are a few players that could help you off the wire in Week 6.
Looking for a starter this week in fantasy football? I got you covered. Looking to add some bench depth this week? I got you covered. What position did you say you needed? No worries. I have options for all the main positions (QB, RB, WR, TE) for owners this week.
For these purposes, we will being using Yahoo! Fantasy Football as a guideline. Any player that is 50 percent owned or less is eligible.
5. James White, RB – New England Patriots (46% Owned)
With Tom Brady returning last week he elevates the entire Patriots offense. Whatever you saw and thought you knew about their offense in Weeks 1-4 you can forget it.
In his first game in New England's offense with Brady this season, White had a season-high in carries (5), rushing yards (26), and receiving yards (63). This was in a game against the Cleveland Browns where the Patriots absolutely dominated. In games where the score is closer or especially when (if?) the Patriots are trailing, White should see more opportunities.
In the Patriots final seven games in 2015 (including playoffs) White had four or more receptions in five of them. This makes him a fine add in PPR leagues.
His stock will take a hit when Dion Lewis returns. But until then he should be added.
4. Cameron Meredith, WR – Chicago Bears (5% Owned)
In each of the last three weeks, Meredith's receptions (2, 4, 9) and receiving yards (24, 28, 130) have increased. He even caught his first touchdown pass of the season (and career) last week against the Indianapolis Colts.
When the Bears 2015 first-round pick, wide receiver Kevin White, was injured in Week 4 against the Detroit Lions, it was speculated Meredith's role would grow. After his breakout performance in Week 5, that is undoubtedly the case.
Meredith has good speed (4.42 seconds in the 40-yard dash) to go along with his good size (6-3). This combination makes him a good matchup against opposing cornerbacks.
Another favorable aspect about Meredith is he on a team that doesn't have a great defense. By that, I mean their defense is bad. The Bears have given up at least 23 points in four out of five games this season. This forces their offense to throw the ball a lot in games especially in the second-half.
The Bears have a capable quarterback in Brian Hoyer who has been playing really well since taking over as the starter in Week 3. He has three straight games with 300+ passing yards and multiple touchdown passes. Hopefully for Meredith's sake and fantasy football purposes, Hoyer will remain as the team's starting quarterback. Who knows what will happen if career underachiever and turnover machine Jay Cutler returns to the staring lineup.
3. Bilal Powell, RB – New York Jets (35% Owned)
Last week Powell made the waiver-wire list when he was only 23 percent owned by Yahoo owners. He jumped up 12 percent in one week and he should be owned in over 50 percent of leagues this time next week.
For the third straight week Powell had four carries and six receptions. He has eclipsed 40 yards receiving in all three of those weeks. The Jets coaching staff has consistently made an effort to get Powell more involved in the Jets struggling offense and that should not change.
In those three weeks Matt Forte's carries (15, 14, 12) have decreased. He has only had two receptions in each of the last four weeks. Although Forte has shown throughout his career of being a capable receiving option out of the backfield, it's clear Powell is the primary passing-down running back on the Jets.
Right now the Jets have one of the worse defenses in the NFL. They have given up at least 23 points in every game this season and 31 points in two out of the last four. Chances are the Jets are going to be passing a lot in the second half of games the rest of the way and when that happens, Powell will be on the field.
2. Brian Hoyer, QB – Chicago Bears (18% Owned)
Since Hoyer took over as the Bears starting quarterback in Week 3, he has been a top-five fantasy football quarterback. He has thrown 300+ yards and multiple touchdowns in each one of those games. He has also managed not to throw an interception in any one of those starts as well.
These are statistics Bears fans have never seen with Jay Cutler under center in his entire time with the franchise.
Now before some Bears fans want to whine and cry about how Jay Cutler is "good" or "unappreciated," let me be clear: I don't care. I don't care what you think about Cutler or Hoyer as real life quarterbacks. I don't care to hear the excuses or reasons why or why not neither have been successful franchise quarterbacks.
The fact is, Hoyer has been one of the best fantasy quarterbacks over the last three weeks. He has been better than Derek Carr, Matthew Stafford, and Andrew Luck to name a few.
In Week 6 he faces a Jaguars defense that has surrendered multiple touchdown passes in three out of four games this season. He has a good chance to continue this hot streak.
1. Sammie Coates, WR – Pittsburgh Steelers (38% Owned)
After a bad preseason the Sammie Coates hype-train was derailed. However, his performances in back-to-back games has the train running again.
In each of the last two games Coates has had six receptions and at least eight targets. His 139 receiving yards and two touchdown receptions in Week 5 were both season and career highs.
His physical capabilities has never been a question. His acceleration and breakaway speed was on display when he roasted (embarrassed, humiliated and smoked) cornerback Marcus Williams for a 72-yard touchdown in the first quarter in Week 5.
Just like we saw frequently during the preseason, he does still manage to make some crucial mental mistakes. That too was also on display in Week 5 when he dropped an easy touchdown pass against the Jets. Yet, Coates only needs one or two receptions to make his fantasy impact felt due to his big play ability.
The Steelers have one of the best offenses in the NFL and as long as Ben Roethlisberger is under center, that will not change. If Coates can continue to get consistent targets like he has over the last two weeks, he could vault himself into WR2 consideration.
Other Receiving Votes
Here are a few more names you want to consider when you go through your fantasy football waiver wire.
San Francisco 49ers WR Jeremy Kerley (9% Owned) – He might not be the best WR in the league but he finds himself in one of the best situations. Chip Kelly's offense runs a ton of plays and it highlights the slot WR. Over the last two weeks Kerley is averaging seven receptions, 95 yards and a touchdown.
Tennessee Titans QB Marcus Mariota (47% Owned) – He easily had his best game of the season last week with four total touchdowns and no turnovers. This week he gets another favorable matchup against the Cleveland Browns. He could make for a good streaming option in Week 6.
Dallas Cowboys WR Cole Beasley (40% Owned) – Beasley and quarterback Dak Prescott continue to show good chemistry and he's a WR3 in PPR leagues.
Baltimore Ravens RB Kenneth Dixon (37% Owned) – The rookie made his debut last week and should see more snaps and opportunities as the season progresses.
New England Patriots WR Chris Hogan (25% Owned) – He had 114 receiving yards in Tom Brady's first game back. This could be a sign of things to come this season.
Pittsburgh Steelers TE Jesse James (24% Owned) – He now has a touchdown in three out of the last four games and is a starting tight end in one of the best offenses in the NFL.
New York Giants RB Bobby Rainey (5% Owned) – Rainey has at least six receptions and 40+ receiving yards in back-to-back games. He is a nice addition for owners in PPR leagues.
Buffalo Bills TE Charles Clay (12% Owned) – He now has five receptions in back-to-back weeks. He could be worth a look as a streaming option with a good matchup against the 49ers in Week 6.
San Diego Chargers TE Hunter Henry (28% Owned) – Even though Antonio Gates returned last week, Henry still managed to catch a touchdown pass and set a career high in receiving yards (74).
This article originally appeared on