Fantasy Football: Week 6 Daily Fantasy Football Picks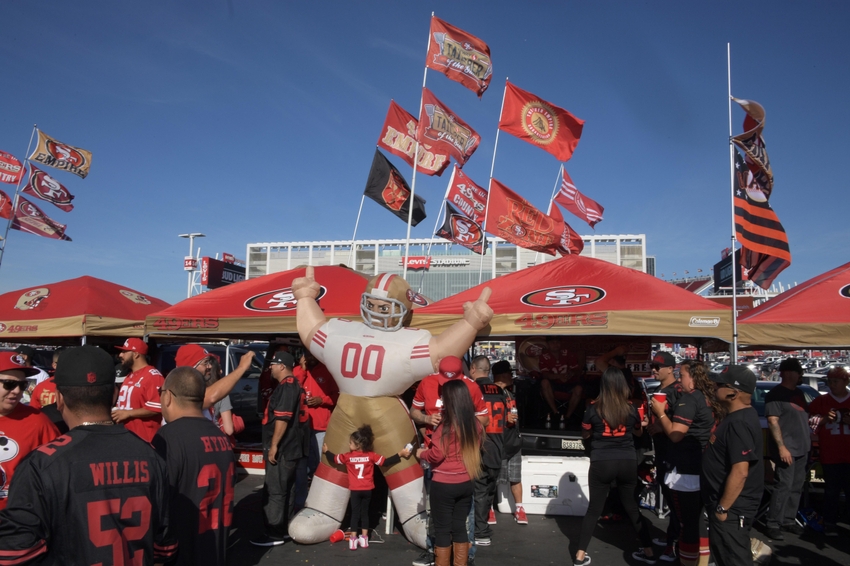 Niner Noise fantasy football blogger JD Leidy uses FantasyOMatic's algorithm along with player pricing from FanDuel (and his gut too) to select a winning Week 6 daily lineup.
Week 5 turned out to be another mediocre showing for our algorithmically-selected, value-optimized (ASVO) fantasy football squads. Albeit, things have been improving over the past few weeks.
I suspect some of the improvement stems from the fact that there is a growing amount of 2016 player data being incorporated into the FantasyOMatic (FOM) algorithm, making the data more relevant.
Here are the Week 5 results:
Recall that our bogeys are 110 points for 50/50 leagues and 150 points to cash-in as part of a Guaranteed Payout Pool (GPP).
So we were close on both the Carr-Crabtree and Wentz-Matthews stacks for 50/50s, but keep your cigars in your pocket, people.
As a point of reference, the contest into which each of these lineups was entered was the creatively named $5 Million WFFC Qualifier #28 (LA Trip + WFFC Seat).
This is a weekly contest that offers payouts to roughly the top 8 percent of owners, with the grand prize (as the name of the contest implies) being a trip to the World Fantasy Football Championships in Los Angeles later this year.
As an aside, can we all just collectively giggle for a moment that the term "world" is used in the title of this event?
As if there are people huddled around a computer in Uzbekistan agonizing over whether Bobby Rainey or Orleans Darkwa is going to curry more of the third down work in the New York Giants backfield this week. Ridiculous.
Moving on. This week's winner posted a gaudy score of 192.10 and the lowest score to achieve a payout was 148.40. So we whiffed.
No big deal. We only need to hit on one of these lineups throughout the entirety of the 2016 season to make the whole monumental effort worth it.
Monumental effort… that's almost as funny as the use of the word "world" above.
A couple of changes, dare I say improvements, to our process moving forward:
After five weeks I've realized, it helps to understand the overall point of this exercise (Wait… there's a point to all of this?!). So, let it be know that henceforth our goal of entering ASVO lineups in FanDuel contests is to secure a seat at the WORLD Fantasy Football Championship. That's why we're playing, and in turn, we will enter the same contest each and every week from now on.
Although five weeks is not much of a sample size, it's time to make some tweaks to our methodology. Here's the idea:


To date, the lineups that we've chosen have been built around a value-oriented stack, i.e. selecting a quarterback-receiver combo that represents a strong relative value based on FanDuel pricing. Perhaps that's not the right direction; instead, maybe we should be selecting the highest ranking quarterback-receiver duo, regardless of price, and then leverage the FOM relative position rankings to flesh out the rest of the roster. Moving forward, we'll do one of these sort of lineups to complement the other ones we have been building.
In addition, I'm curious to see how our ASVO rosters compare to one built solely on intuition: no rankings, no relative value… just pure gut. So moving forward, let's include one of those as well.
With these new wrinkles in mind, we'll build the following three lineups each week:
An algorithmically-selected, value-optimized (ASVO) one
An algorithmically-selected, non-value-optimized (ASNO) one
A purely instinct-based one (and no, not a PIB, in case you were wondering)
Let us begin.
Lineup No. 1
Recall the rules for our ASVO lineup construction:
Scan the paired data from FOM and FanDuel for relative value among top 10 players across all position groups
Select a value-oriented quarterback and wide receiver (or tight end) stack, with the idea that successful QB/Receiver combos allow owners to cash in twice on the same touchdown
Select a top running back, a top receiver and a defense from the remaining top 10 lists
Select as many FOM top 10 players as possible at each of the remaining open positions, without going over the $60,000 salary cap
Beginning with our quarterback rankings, here are the value-oriented standouts this week:
A few names, highlighted above, make for a good "half stack".
Now let's look at both the receiver and tight end tables to see which of these signal callers can be aptly paired.
Each of our four fantasy football quarterbacks (Brees, Wilson, Smith, and Keenum) has at least one FOM-ranked pass-catcher, giving us a bevy of choices.
This choice bonanza also makes distinguishing the real ASVO lineup from other ASNO ones somewhat challenging.
But, fear not. We're up to it.
Relative Value
The deepest value on the chart is the Los Angeles Rams stack of QB Case Keenum and WR Kenny Britt. However, neither ranks higher than eighth on their respective lists, so let's pass.
Brees has two options for his pairings, either WR Brandin Cooks or TE Coby Fleener. I like Brees-Cooks, let's put a pin in that one. Brees-Fleener just feels too risky.
Then there's the combination of QB Russell Wilson and his newly rediscovered Goliath TE Jimmy Graham. Also, enticing. Keep that one on the back burner for the moment as well.
Finally, we have Kansas City's (semi-) dynamic duo of QB Alex Smith and WR Jeremy Maclin taking on the doormat that is the Oakland Raiders defense.
Hmmm. A tough decision for sure. Let's look at aggregate price relative to the average FantasyOMatic ranking for each combo:
The Brees-Cooks stack is the most expensive of the three, and its Average FOM Duo Ranking is slightly less than Wilson-Graham. That favors the latter of the two.
So how then do we compare Wilson-Graham versus Smith-Maclin? By assigning a dollar value to differences in ranking level, of course.
The most expensive FanDuel QB-Receiver combos tend to have an aggregate cost of about $18,000. Think Ben Roethlisberger and Antonio Brown.
Whereas, the least expensive combinations, ala our Keenum-Britt stack above, come-in at about $12,000 on average.
Thus, the difference between the highest and lowest priced FanDuel stacks is about $6,000, implying that each increase in ranking is worth in the neighborhood of $665 ($6,000 divided by nine, the number of ranks between 1 and 10).
Our Smith-Maclin stack is an even two position ranks lower than Wilson-Graham. In other words, the difference in pricing between the two should be two times the value of a single positional rank jump ($665) or $1,330.
Instead, however, it costs $1,600 to move up two ranks to Wilson-Graham, making the Smith-Maclin duo the true value.
Whoa! Wonk City, right? Still with me.  Great… at least that makes one of us.
Rounding Out Lineup No. 1
So we're going with Smith-Maclin. I like it. The Raiders defense has been unsightly so far this season, and it's about time for Maclin to start heating up.
Moreover, the relative value of this stack affords us a tremendous amount of latitude when selecting other players.
So much so, we can afford to take the FOM top-ranked receiver, tight end, running back and defense:
That leaves $17,000 to fill three open positions, or just over $5,600 per player. Not a windfall, but upon further inspection of the tables, we can make it work.
Here is the full array of FOM top 10 running backs:
The No. 2 running back is Carolina Panthers workhorse Jonathan Stewart. Fresh off of a hamstring injury, it feels a bit dicey. However, against the vaunted New Orleans passing attack, Carolina's game plan has to involve running the ball and controlling the clock. He's in.
We already have FOM's first and second ranked receivers in our fantasy football lineup. Adding in WR Jordan Matthews would allow us to go 1-2-3.
However, Matthews aggregate cost with Stewart is $13,000, leaving us an untenable $4,000 for a kicker. The cheapest kickers on FanDuel are $4,500.
If we're going to leave everything else as is, we'll need to go with a deeper value at receiver, ala Kenny Britt. Inserting Britt into the lineup leaves us a $4,900 surplus, more than enough to secure a medium to high range kicker.
Philadelphia K Caleb Sturgis has the highest average points per game of the kickers in our price range, so plug him in and… Boom!  We're done.
Wow! Hit the Staples button: That was easy.
Just looking at this roster, I can't say that I love it. But this is an algorithmically-selected team, and based on the FOM rankings, it's pretty immaculate.
Lineup No. 2
To build our algorithmically-selected, non-value-oriented (ASNO) roster, we will follow the same basic format, with one tweak: our quarterback-receiver stack will be selected solely based on FOM ranking, not relative value.
With that in mind, our ASNO lineup will feature the Wilson-Graham stack, i.e. the one with the highest average FOM Duo Ranking.
We will then plug in the FOM top running back, receiver and defense, and work backwards from there.
Close to two-thirds our spend has already been committed, and we still have four roster slots to fill (or $5,675 per player).
Our RB2 selection of Jonathan Stewart is still a great value play relative to his No. 2 FOM ranking. Adding Stewart back in and a placeholder for our kicker of $4,500, we are left with $11,500 to spread between two receivers. That's a virtual non-starter.
However, if we are willing to give up on Antonio Brown as our No. 1 receiver, i.e. essentially swap him out for No. 4 ranked receiver, Brandin Cooks, the rest of the lineup falls into place nicely.
Two down. Phew.
Lineup No. 3
Our final fantasy football roster will be forged in the fiery furnace of gut instinct, shaped with determination's hammer and upon an anvil of steely conviction.
What? Too dramatic? Perhaps. But "then I'm gonna pick whomever I want" seemed a bit unceremonious. I went flowery. So sue me.
I happen to like Drew Brees at home, coming off of a bye, and I think Brandin Cooks will get off the proverbial Schneid this week. So, that's my gut stack.
Here's how I arrived at the rest of this gritty, "all heart" lineup.
Carolina Panthers TE Greg Olsen has been solid fantasy gold this season, so let's continue to roll with him against New Orleans and their No. 29 ranked pass defense.
If you read Startable, Ownable and Eyeable this week, you know I'm starting RB LeSean McCoy against the 49ers (again, sorry Faithful), and I'm also high on RB Ryan Mathews versus the abysmal Washington Redskins run defense (ranked No. 30).
I'll stay with Maclin against Oakland, and downgrade my defense to the Eagles as well. Nick Novak for kicker seems reasonable; the Texans offense is definitely shady, which could lead to some stalled drives.
Leaving one final slot: WR3.
And in a move that's half-hope, half-"Homerism" (and 100 percent gut, by the way), I'm rolling with WR Torrey Smith.
Why, you ask?
Well, if you read my preseason piece on Smith, you know I was high on him entering the season. Perhaps with the change at QB from Gabbert to Kaepernick, something clicks.
In addition, I can virtually guarantee that, even with over 17,000 entries into this pool, no one else will be starting this lineup.
Meaning, if Smith comes through (along with the others, of course), I'll be instantly catapulted past a hoard of confounded and bleary-eyed owners.
"He started Torrey Smith?!" they'll say. "Damn straight!" I'll say… and then I'll wake up.
The Final Lineups
There they are. Three lineups in all, two of which were algorithmically-selected: one value-oriented (ASVO) and one non-value-oriented (ASNO).
The third was picked using nothing more than one man's hard-boiled instincts and his lifetime's worth of amateur NFL knowledge. That's Torrey Smith praying for me up there, by the way.
Alright. That's the wide wide world of DFF for Week 6. Please play responsibly, and by responsibly I mean you should probably think twice before going with your fantasy football gut.
All statistics, records, quotes and accolades courtesy of ESPN.com, FantasyOMatic.com, FanDuel.com and NFL.com unless otherwise indicated.
This article originally appeared on