Fantasy Football Week 4: Waiver Wire Pickups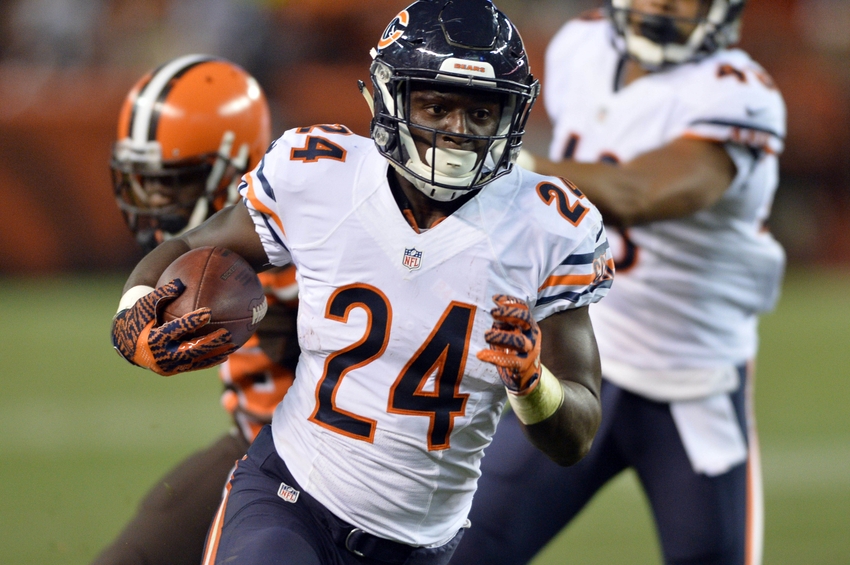 The waiver wire is what will end up making or breaking your fantasy football season. Here are a few players that could help you off the wire in Week 4.
Just like we saw last week, a few key running backs around the NFL were bit by the injury bug. Now some undervalued and under-owned players will have significant roles moving forward. Both in fantasy football and in real life.
For these purposes, we will being using Yahoo! Fantasy Football as a guideline. Any player that is 50 percent owned or less is eligible.
Now, onto the vaunted waiver-wire!
5. Orleans Darkwa, RB — New York Giants (3% Owned)
In Week 3 Giants starting RB Rashad Jennings missed the game due to a thumb injury he suffered in Week 2. Backup RB and passing-down specialist Shane Vereen stepped in and stepped up with 13 touches, 95 yards and 1 touchdown. It looked as if Vereen was going to carry some significant fantasy football value.
That was until he tore his triceps during the game.
The injury is expected to cost Vereen at least two months and possibly the season. In short, he's worthless to you from a fantasy football perspective.
The next man up for the Giants is former undrafted back Orleans Darkwa. In Week 3 he finished with 11 touches, 62 yards and 1 touchdown. Jennings will more than likely be back in Week 4, but Darkwa should have a role.
If Jennings thumb injury lingers Darkwa could have a valuable role for the rest of the season. Not to mention, it's entirely possible Jennings suffers another kind of injury at some point. In his seven-year career, he has only played a full 16-game slate just once.
4. Dwayne Washington, RB — Detroit Lions (23% Owned)
Lions starting running back Ameer Abdullah suffered a foot injury back in Week 2. It was widely expected he was going to miss Week 3 and possibly more time. Then on Wednesday, September 21 he was placed on injured reserved.
The direct and main beneficiary to this injury was passing-down specialist Theo Riddick. His bump in playing time and carries was a given. However, there was concern about his ability to be an early-down running back.
Then in Week 3, those concerns were validated.
Riddick saw 10 carries against the Green Bay Packers but could only managed nine yards rushing. Rookie Dwayne Washington also saw 10 carries, but he was able to produce 38 yards on the ground. Now I'm not going to pretend 3.8 YPC is something to brag about, but compared to Riddick's 0.9 YPC, it's a lot better.
He should start to see an increased role on first and second down while also serving as the team's goal line option. Washington's value is a lot higher in standard leagues compared to PPR but he is worth owning in all leagues. With all the RB injuries around the NFL and with bye weeks starting this week, Washington could be a starting option in lineups as soon as Sunday.
3. Kyle Rudolph, TE — Minnesota Vikings (43% Owned)
Before the start of the 2016 season, Rudolph was viewed as a high-end TE2.
When QB Teddy Bridgewater suffered his season-ending knee injury, his stock took a hit.
Then when the Vikings traded for Philadelphia Eagles QB Sam Bradford, his stock suddenly went up. After only two games it looks like his stock is on the rise once again.
For the second straight week, Rudolph and Sam Bradford were able to hook up for a touchdown. Not only that but his 10 targets led the team in Week 3.
Think about this: Between 2014-2015 Rudolph was only able to produce two games with Teddy Bridgewater in which he had seven receptions. In just his second game ever with Bradford on Sunday he was able to secure seven receptions against the Carolina Panthers.
That should not be considered "luck" or a "coincidence" because Bradford has shown in the past he relies on his tight ends.
After three weeks, Rudolph's is tied for first among all TE's in the NFL in receiving touchdowns (2) and targets (26). In standard leagues, only Panthers TE Greg Olsen has been a better fantasy football TE.
2. Terrelle Pryor, WR — Cleveland Browns (23% Owned)
Mr. Do It All basically did it all on Sunday for the Browns in Week 3 against the Miami Dolphins. Pryror threw the ball (3/5, 35 yards), ran the ball (4 carries, 21 yards, 1 TD) and caught the ball (8 receptions, 144 yards).
The Browns are so starved for playmakers that I truly believe we will see Pyror doing a little bit of everything on most weeks. Heading into Week 4 the Browns will once again be without their first-string quarterback, second-string QB, 2015 1st-round pick Corey Coleman and Josh Gordon.
When Josh Gordon does come back form his four-game suspension will Pryor see a few less targets? Maybe. When Josh McCown gets healthy will he return to the starting lineup and Pryor may not see as many snaps at quarterback? Maybe.
However, this is speculation. What we do know is what what we saw on Sunday and that is Pryor is a dangerous weapon. The Browns almost won (and should have won) in Week 3 and Pryor was the main reason why.
If the Browns are smart they will continue to find ways to get Pryor the ball no matter what and just let him be a playmaker.
Wait, did I just say, "if the Browns are smart?".
Ugh I'm not sure how much trust I have in that statement. Oh well, I'm taking the chance anyways and trying to pick up Pryor this week off of waivers and you should too.
1. Jordan Howard – RB Chicago Bears (26% Owned)
After Week 2 it looked like Howard was somebody worth investing in because Bears starting running back, Jeremy Langford, was looking ghastly. Then in Week 3 Langford suffered an ankle injury and is now expected to miss four-six weeks according to ESPN's Adam Schefter.
Howard is not only worth an investment heading into Week 4 but should be the No. 1 priority pick in most fantasy leagues.
Over the last two games Howard has 67 yards on 11 carries. On his way to his 6.1 yards per carry, Howard has looked explosive and just an overall electrifying runner. With the Bears expected to trail in most games, Howard shouldn't lose any time on passing downs as he's also shown to be reliable pass catcher too (6 receptions, 56 yards).
If Howard's able to show he's capable of being an every-down back, it wouldn't be a surprise to see him keep the starting role even when Langford returns. By comparison, Howard's situation and upside is better than any of the Panthers, Dolphins and Vikings running backs from a week ago.If you have an opportunity to add Howard but are forced to drop a player like Cameron Artis-Payne or Matt Asiata, I recommend you do that.
Other Receiving Votes
Here are a few more names you want to consider when you go through your fantasy football waiver wire.
Philadelphia Eagles RB Darren Sproles (40% Owned) – The Eagles continue to get Sproles work in their offense and with Ryan Mathews nursing an ankle injury, it can only help his outlook. The Eagles are on a bye-week and he might fall through the cracks in waiver-wire adds with owners looking for immediate help.
New York Giants WR Victor Cruz (50% Owned) – In all three games in 2016, Cruz either has 70+ yards receiving or a touchdown.
New Orleans Saints WR Michael Thomas (48% Owned) – The Saints arguably have the worse defense in the NFL and this will force their offense to throw a ton. After three games, Thomas is on pace for 91 receptions.
Miami Dolphins QB Ryan Tannehill (44% Owned) – Is Tannehill a good NFL quarterback? Eh. The jury is still out on that. However, after three games he has six total touchdowns and is averaging 297 passing yards per game.
New York Jets WR Quincy Enunwa (34% Owned) – Don't throw the towel in on Enunwa after last week's debacle. The most important takeaway is he led the team in targets with 11.
Minnesotta Vikings RB Matt Asiata (26% Owned) – He didn't do much with this seven touches last week but on the bright side, Jerick McKinnon didn't do much with his 17 touches either.
Dallas Cowboys WR Cole Beasley (21% Owned) – Over the first three games Beasley is averaging six-plus receptions and 71 yards. It's nothing spectacular but he's a solid WR3/FLEX option in PPR leagues.
Washington Redskins WR Jamison Crowder (17% Owned) – Just like with Beasley, Crowder isn't anything spectacular but he is a solid add in PPR leagues. After three games, he's tied for first on the team in targets (24) and in receptions (16). His two touchdown receptions leads the team.
This article originally appeared on