Fantasy Football Week 4: Melvin Gordon Will Run Over Saints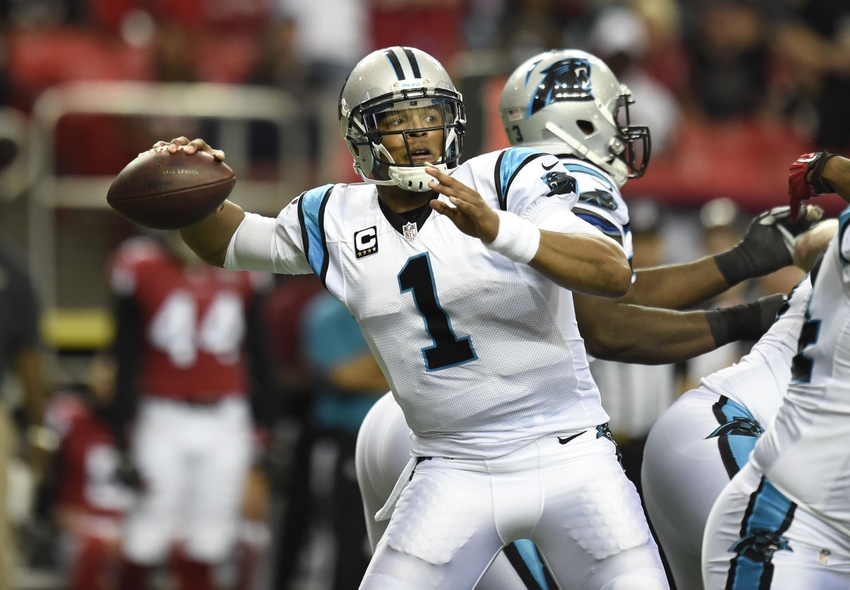 It's already Week 4 and, if you're fantasy football team hasn't won a game yet, there's still time to rebound. We will show you how with these 5 Must-Starts.
Given all of the shockers, surprises and so on throughout the start of the 2016 season, your fantasy football team might be hurting. We know it's only fantasy and not the real thing, but that doesn't mean you aren't looking to pick up a big win entering Week 4. Luckily, we'll try to come to your rescue.
Each Sunday morning we will present our five best fantasy picks, addressing quarterback, running back, wide receiver, tight end and defense/special teams.
We don't have any magical algorithm to make these picks better than the next guy. This is based on statistical proof that shows how these players have been performing and what their matchup is like.
Onward and good luck this season.
Quarterback: Cam Newton, Carolina Panthers at Atlanta Falcons
The reigning NFL MVP must be a little sore from last week's 22-10 home loss to the Minnesota Vikings, in more ways than one. Carolina Panthers quarterback Cam Newton ran for an early touchdown, but by game's end had thrown three interceptions and was sacked eight times (once for a safety) as the defending NFC champions lost at home for the first time since 2014.
And as some will recall, it was the Falcons who handed the Panthers their only regular-season loss of 2015 (Week 16) at the Georgia Dome, a 20-13 setback. With Newton at the helm, Carolina has split its 10 meetings in this series.
But it's the numbers on the field that are the key here. In those encounters, the six-year signal-caller has thrown 15 touchdowns passes opposed to 10 interceptions. Two of those scores and five of those picks came in his rookie season, which means he has a 13-5 touchdown-to-interception ratio in the last eight meetings with Atlanta.
Add in the fact he's scored a rushing touchdown in six of the 10 clashes and he'll pile up some terrific numbers at the Dome, be it in a winning or losing effort.
Running Back: Melvin Gordon, San Diego Chargers vs. New Orleans Saints
What happens when an up-and-coming running back prepares to square off against the worst rushing defense in the league? It could be a long day for the New Orleans Saints (even though any trip to San Diego is a good one). Of course, it's already been a tough start for a club that ranked next-to-last in the league in 2014 and 2015 in total defense. And what a surprise: After three weeks, Sean Payton's club is 31st in the NFL in total yards per game allowed. That's the kind of streak that could eventually get a head coach fired.
Back to the present. The Atlanta Falcons rolled up 217 yards rushing on 31 carries in their 45-32 win at the Superdome on Monday night (152 yards by Devonta Freeman). In three outings this season, the Saints are allowing a league-worst 147.3 yards per game on the ground.
Meanwhile, it's been a good start to the season for Chargers' second-year running back Melvin Gordon. After a rookie campaign which saw him fail to reach the end zone while losing four fumbles, he's run for 194 yards and four touchdowns while not putting the ball on the ground. At the very least, we hope Payton's defense enjoys the weather.
Wide Receiver: Stefon Diggs, Minnesota Vikings vs. New York Giants
Admittedly, this is a much better New York Giants defense than in previous seasons. But that doesn't mean Steve Spagnuolo's secondary can't be had. In 2015, no team in the league gave up more total yards and passing yards than Big Blue. A virtually non-existent pass rush produced only 23 sacks while opposing hurlers lit up the Giants for 31 scores through the air.
It's been somewhat different this season, although last week's home loss to the Washington Redskins wasn't a good sign for Ben McAdoo's club. Kirk Cousins would finish the afternoon with 296 yards passing and a pair of scores (44 and 55 yards to wideouts DeSean Jackson and Jamison Crowder, respectively) in his club's 29-27 victory, one that saw the defending NFC East champions rally from a 21-9 deficit.
We've seen what Stefon Diggs has done to date. In three games this season, the second-year pro has totaled 20 catches for 325 yards and one score, averaging an impressive 16.3 yards per reception. Now add in the fact that New York's secondary could be without both Dominique Rodgers-Cromartie and rookie Eli Apple (via Dan Duggan of NJ.com) and that could be a problem.
"We'll miss them," said Spagnuolo to Duggan. "We've got to get somebody else to step up and hopefully they can get healthy quick."
Tight End: Jimmy Graham, Seattle Seahawks at New York Jets
Remember the player who totaled 386 receptions, 51 for scores, in 78 regular-season games with the New Orleans Saints from 2010-14? We may be seeing glimpses of the old Jimmy Graham who used to terrorize opposing defenses, most notably inside the red zone as well as the deep middle of the field.
In the Seattle Seahawks' 37-18 win over the visiting San Francisco 49ers last Sunday, the sixth-year performer was a busy man. Graham was targeted nine times and caught six passes for 100 yards and a score. Those aren't exactly extraordinary numbers but it shows the progress he's made in becoming a bigger part of the offense as the season has worn on.
In Seattle's Week 1 win over the Dolphins, the tight end was target once and caught the pass for 11 yards. In the following Sunday's 9-3 loss at Los Angeles, Graham saw only four throws his way and totaled three receptions for 42 yards.
Now he has to deal with the New York Jets' 3-4 defense, one that has been somewhat erratic to date. Be it Russell Wilson or Trevone Boykin, the big target will find some holes in behind those linebackers and in front of those safeties.
Defense/Special Teams: Houston Texans vs. Tennessee Titans
Watt? Are we kidding?
Nope. We are quickly being reminded that football is not a one-man game. And despite the presence of defensive end J.J. Watt in the lineup the past three weeks, the Houston Texans defense has been pretty solid without him being 100 percent. And other than his Week 2 performance at home against the Kansas City Chiefs (five tackles, 1.5 sacks and a fumble recovery), Watt was pretty much a non-factor despite his effort to comeback early from offseason back surgery in July.
The bottom line is that the three-time NFL Defensive Player of the Year is gone for 2016. The 2-1 Texans obviously have a lot of football in front of them and the task this week is to slow down a rejuvenated DeMarco Murray and the ground attack of the Tennessee Titans. Don't be surprised if the talent running back gets his yards.
But also don't be shocked when John Simon, Whitney Mercilus and Jadeveon Clowney spend considerable time in the Tennessee backfield. In three games this season, Titans quarterback Marcus Mariota has thrown for 723 yards and four touchdowns but has already committed a half-dozen turnovers (4 interceptions, 2 lost fumbles). He's also been sacked a half-dozen times.
The Houston defense, even minus Watt, will make him extremely uncomfortable.
This article originally appeared on