Fantasy Football Week 2: Jets at Bills Reactions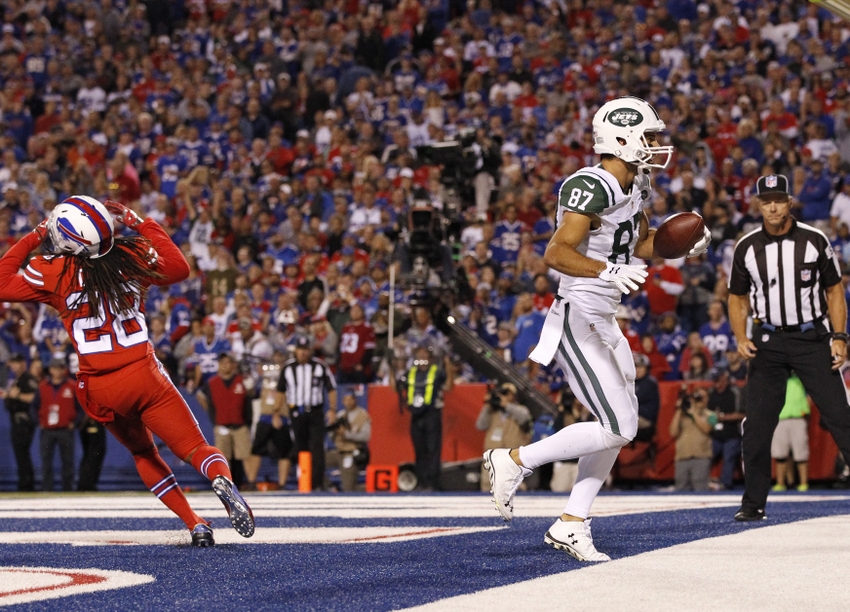 Week 2 of the NFL and fantasy football season kicked off with a classic AFC East division battle between the New York Jets and Buffalo Bills.
The New York Jets and Buffalo Bills went to war on Thursday Night Football in Week 2. A visiting Jets team got a crucial win to move to 1-1. Beyond that, if you're looking for a game recap and a breakdown of the game's biggest plays, then beat it. Get out of here. That isn't the purpose of this article.
Instead, I'm going to give you the rundown on high-profiled fantasy football players and possibly some up-and-coming ones, well
Here's a look at the good, the bad, and the in-between from the Jets at Bills:
The Good
Jets QB Ryan Fitzpatrick (24/34, 374 yards, 1 TD and 21 rushing yards) – Rex Ryan has a long history of shutting down Fitzpatrick but not in this one. The Jets receivers dominated the Bills secondary and there was nothing they could do about it. Fitz is a high-end QB2 who will throw up QB1 numbers from time to time. He'll be good to have on your bench when bye weeks start up and/or if injuries take place.
Bills QB Tyrod Taylor (18/30, 297 yards, 3 TDs, 1 INT and 25 rushing yards) – This was a glorious outing for Taylor who was a complete and utter bust last week. Despite basically not having Sammy Watkins threatening the Jets defense, Taylor was still able to produce big plays. His ability to use his legs in order to run and keep plays alive should generate big plays throughout the season. 
Jets RB Matt Forte (32 touches, 109 yards, 3 touchdowns) – If you didn't see the game, you are probably impressed with his stat line. However, the Bills bottled up Forte on a majority of his runs and never had one longer than 12 yards. Volume is clearly his friend, but at the rate he's going, he won't be able to keep it up for the entire season. His three-touchdown performance will give owners a comfortable lead heading into Sunday.
Jets WR Brandon Marshall (6 receptions, 101 yards) – Owners should be happy with Marshall after this game. Not because of his stat line, but because he was able to come back from a knee injury. In the first half it appeared as if Marshall's season was in jeopardy. Then surprisingly he came back into the game, played, and played well. With 10 days before his next game, he should have plenty of time to get healthy.
Jets WR Eric Decker (6 receptions, 126 yards, 1 TD) – In case you didn't know, Decker came into the game having 80 receiving yards or a touchdown in 17 straight games. With this game, he extended it to 18. He's a solid WR2 who will continue to produce as long as defenses focus a lot of their attention on Marshall.
Jets WR Quincy Enunwa (6 receptions, 92 yards) – In case you thought last week was a fluke, it's becoming more evident it wasn't. Through two games he has 13 receptions, 146 yards and a touchdown. If you don't think the Jets passing game can produce three viable fantasy receivers, think again. The Jets basically don't play with a tight end and this makes Enunwa third in the pecking order for targets. With that said, Marshall and Decker will keep his ceiling limited. He's worth an add in 12-team leagues. If something were to happen to Marshall or Decker he would be a must add in all formats.
The Ehhh…
Bills RB LeSean McCoy (19 touches, 90 yards) – On the Bills last drive of the game, McCoy was able to secure two receptions for 18 yards. The three extra fantasy points in PPR leagues will make owners feel okay about the game. Yet, he wasn't a factor in most of it. Through two games he only has 117 rushing yards and is averaging 3.77 yards-per-carry.
The Bad
Bills WR Sammy Watkins (2 receptions, 20 yards) – Watkins didn't look 100 percent healthy, just as reports suggested he wouldn't leading up to the game. This foot issue could plague Watkins for the entire season. He has only six receptions for 63 yards through two games. Owners can't be feeling too good about him right now.
Jets RB Bilal Powell (2 touches, 3 yards) – Powell wasn't expected to have stand alone value in most leagues from the get go, but this is alarming. In two games, Powell only has eight total touches. With that said, don't throw the towel in on the guy just yet. Matt Forte is on pace to tie the single season record for most carries in a season. Forte's touches will come down and Powell could help out owners down the stretch. Patience my friends, patience.
Bills TE Charles Clay (5 receptions, 27 yards) – Clay's athleticism makes him a intriguing flier in re-draft leagues. However, he's too unreliable to be used. After two games he has 67 receiving yards and zero touchdowns. He'll put up some decent games once and while, but don't be fooled. There are better options out there even when bye weeks start up.
This article originally appeared on