Fantasy Football Week 2: Derek Carr over Jameis Winston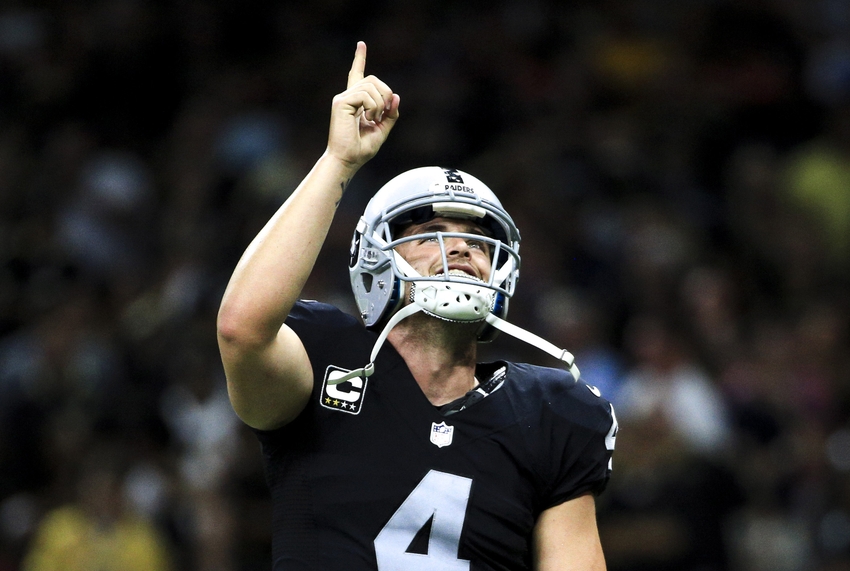 Can you believe all of Week 1 in fantasy football? For Week 2 it's Derek Carr over Jameis Winston, but is Julian Edelman the better play over Jarvis Landry?
Finding the best fantasy football starters in the early going of a season is all about matchups. For Week 1, Jameis Winston took advantage of his matchup on his way to tying for sixth in the league in points among all positions. It was a nice beginning for a team looking to make the leap this year.
For fantasy football Week 2, it is sometimes even harder to find the best value starts. Do you follow what you believed prior to the season, or go with what you witnessed in Week 1 even if the two contradict each other?
Two brothers from New York, Dan Salem and Todd Salem, discuss Fantasy Football Week 2 in Thursday's NFL Sports Debate.
Todd Salem:
I am keeping Jameis Winston in this discussion, but now saying that I like another undervalued quarterback better than him in Week 2: Oakland Raider's quarterback Derek Carr.
Would you rather have Winston coming off of his tremendous performance or Carr coming off of a game that nearly ruined the Raiders' season before it got going? In this instance, I am not harping on the outcome of Week 1. In Week 2, Winston has to play the angry Arizona Cardinals defense while Carr faces the same opponent Winston just torched: the Atlanta Falcons. And yet, Carr is outside the top 20 quarterbacks in terms of projected ESPN stats this week!
Carr would barely be starting in a two-QB league according to those projections. I'm not buying it even though it took Oakland a while to get going against the horrid New Orleans defense. His is the much better matchup compared to who Winston will have to throw against.
Dan Salem:
I always go with what I witnessed in week 1, taking into account the quality of opponent. Therefore its an easy pick between Jameis Winston and Derek Carr. The opposing defenses tell the story, since both quarterbacks appear equally talented.
I don't believe Winston is able to exploit the Cardinals' secondary like he did to Atlanta. Arizona is in a must-win situation and will not play down to its opponent like it did versus New England. Add in the fact that Winston is now being overvalued due to a solid first week, and Carr is the obvious play in terms of both value and points.
I honestly believed the Falcons would be better on defense, but boy was I wrong. Atlanta looked unable to stop anything and everything in their week 1 loss to Tampa Bay. This is the perfect opportunity for Oakland to continue rolling on its offensive momentum that won them the game against New Orleans. The Saints defense is not great, but it's likely better than Atlanta's. Carr is going to have a field day with the Falcons. Mark it down and play him.
Todd Salem:
Moving to the outside (or the slot more accurately), at wide receiver, I am looking at the matchup between the New England Patriots and the Miami Dolphins in Week 2. Miami's top target, Jarvis Landry, is ranked as the 12th-best wide receiver this week. That makes him a low-end No. 1 option in fantasy. His counterpart, Julian Edelman, is ranked far, far worse. Edelman checks in 33rd at his position, which would make him a WR3.
I don't understand the disconnect and would rather have Edelman in this head-to-head. First, you had to have loved what you saw from Jimmy Garoppolo in Week 1. That gives me confidence he can keep finding Edelman moving forward. The two combined for seven catches on seven targets. Even if Rob Gronkowski returns to the lineup, Edelman seems like the go-to guy for Garoppolo searching for underneath and short routes. As for Landry, he has to battle with the elite secondary of the Patriots. Against a worse unit last year, he never scored and failed to top six catches or 72 yards in either game. Things will only be worse this season.
Dan Salem:
I love this rivalry game of sorts, except that everyone is high on the Patriots after they lucked into a victory, while no one is giving Miami credit for nearly taking down the Seahawks in Seattle. I believe the Seahawks have a good offense, meaning the Dolphins' defense is top notch. They will give Garoppolo fits all day, so I seriously worry about Edelman's numbers.
That being said, I don't like Landry's any better. The Patriots' defense is still excellent and Malcolm Butler looked in Pro Bowl form last weekend. Having to pick between these two receivers, I also lean towards Edelman. The value is much higher and he's Garoppolo's go-to guy right now. If anyone gets in the endzone for New England, it will be him. As for Miami, they likely score on the ground in this football game.
More from NFL Spin Zone
This article originally appeared on