Fantasy Football Week 13: Waiver-Wire Pickups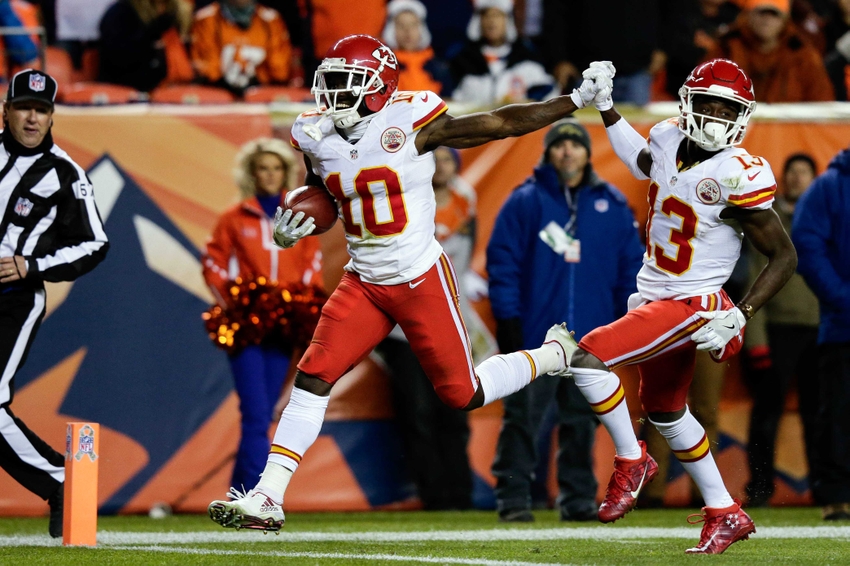 The fantasy football waiver-wire is where seasons are won and lost, especially late in the year. Here are a few players that could help you in Week 13.
With only one week left before the playoffs, it's make or break time for owners who are still fighting for a playoff spot. There are players available on the waiver-wire who can certainly contribute as soon as this week and in the playoffs. Not to mention, there are still important handcuffs on the wire that need to be added.
For these purposes, we will being using Yahoo! Fantasy Football as a guideline. Any player that is 50 percent owned or less is eligible.
Here are the players you should be targeting on the fantasy football waiver-wire for Week 13.
5. Kenneth Dixon, RB – Baltimore Ravens (30% Owned)
Over the last few games Dixon has slowly been getting more carries, touches and playing time. On Sunday he out-touched teammate Terrance West 17-16 and out-gained him 80-64. In the process, he set a season-high in carries (13), rushing yards (49).
Dixon's uptick in playing time and touches comes as at a perfect time because the Ravens will play the Miami Dolphins in Week 13. The Dolphins defense currently rank 30th in the NFL in rushing yards allowed per game and have given up a rushing touchdown to an opposing running back in three out their last five games.
If you're an owner with a player on a bye week (DeMarco Murray) or simply needs an upgrade for the week, Dixon makes for a solid RB2/3 this week.
4. Vernon Davis, TE – Washington Redskins (9% Owned)
Like I said at the start, this is a make or break week for some owners. A lot of us have to sell out this week because it's a "must win" scenario. If you need an upgrade at the tight end position, Vernon Davis could be a great one-week rental that pays off.
On Thursday the Redskins starting tight end, Jordan Reed, left the game with a shoulder injury. After it appeared Reed was going to miss the remainder of the game, he actually returned to the game and went bonkers (10-95-2). Yet, Reed owners aren't out of the woods yet. After the game it was learned Reed suffered a Grade 3 AC joint separation. Not that I would know, but I'm going to go out on a limb and say the injury is very painful. So painful that there's a chance Reed may not be ready for Sunday's game against the Arizona Cardinals.
Davis would have a difficult matchup because the Cardinals are the toughest team in the NFL against opponent's tight ends. However, the Redskins offense has been firing on all cylinders and if Davis can get all the tight end snaps to himself, he would be worth starting. If you have a tight end on a bye week (Delanie Walker) or have a tight end dealing with injuries (Rob Gronkowski), Davis is somebody worth starting if (and only if) Reed misses the game.
3. Malcolm Mitchell, WR – New England Patriots (4% Owned)
Any time you can invest in a player in one of the most explosive offenses in the NFL, you want to do it. Even if the player only plays 50 percent of the offensive snaps, the ceiling for the player is still high. That's exactly the scenario we have with Patriots rookie wide receiver Malcolm Mitchell.
Last week, Mitchell finished with seven targets, five receptions, 42 yards and two touchdowns. Over the last two weeks, he has now combined for 12 targets, nine receptions, 140 yards and three touchdowns. He has played so well over the last two weeks, it wouldn't be a surprise if the Patriots get him more involved in the offense from here on out. However, the player you really want to keep an eye on this week is the Patriots tight end Rob Gronkowski.
It's not a coincidence Mitchell's most productive games this season came at a time where Gronkowski basically did not play in either game. If Gronk is forced to miss Sunday's game against the Los Angeles Rams, Mitchell's snaps and targets should continue be right around what they've been over the last two weeks. Keep in mind, the Rams just gave up 310 yards and four touchdowns to Drew Brees two days ago.
2. Tyreek Hill, WR – Kansas City Chiefs (38% Owned)
If Hill and the Kansas City Chiefs weren't playing on a primetime game, his amazing performance on Sunday may have went under the radar in some leagues. With that not being the case, Hill will more than likely be the most targeted player on the waiver-wire this week.
In Sunday's game against the Denver Broncos, he managed to score a receiving, rushing and kick return touchdown. He finished the game with 10 touches, 10 targets and 55 offensive yards. It was the second time in three weeks where Hill had 10+ targets and 10+ offensive touches.
Even though the Chiefs should be expecting their No. 1 wide receiver, Jeremy Maclin, to return as soon as this week, Hill's game-breaking abilities has more than likely earned him consistent touches every week. The added bonus for Hill owners aside from his offensive emergence is his special team touches. He is averaging 3+ kick/punt returns a game and has the ability to take one to the house anytime he has his hands on the ball.
Moving forward Hill projects as a WR3/FLEX player with a rising floor and a already high ceiling.
1. Colin Kaepernick, QB – San Francisco 49ers (25% Owned)
It's not often when you can find one of the best fantasy players at a position this late into the season, but that's what Colin Kaepernick has become.
In Sunday's game against the Miami Dolphins Kaepernick finished with 296 passing yards, 113 rushing yards and three passing touchdowns. His stellar performance was tied for the most fantasy points by a quarterback in Week 12 along with Saints quarterback Drew Brees. In case you haven't noticed, Kaepernick has quality been putting up solid numbers for over a month now.
In three out his last four performances, he has 21+ fantasy points. And the one week where he didn't, he finished with 19. Since becoming the starter in Week 6, he is averaging 20.83 fantasy points per week. To give you an idea, Atlanta Falcons quarterback Matt Ryan is averring 21 fantasy points per week. Yes, the 49ers are awful and it's yet to be determined if Kaepernick can be a long-term solution at quarterback for any franchise in the NFL. Yet, in fantasy land, he's a QB1 and must start on a lot of teams.
You should not expect these numbers to go away either because he's benefited from playing in Chip Kelly's offense and his running ability isn't going anywhere. With the 49ers expected to trail in most games, Kaepernick will continue to get chances to get a lot of fantasy points during garbage time. As crazy as it might sound, he might win a championship for a few owners this season.
Other Receiving Votes
Here are a few more names you want to consider when you go through your fantasy football waiver wire.
Tennessee Titans running back Derrick Henry (46% Owned) – With the playoffs only one week ago, DeMarco Murray owners need to get this guy on their bench.
Houston Texans tight end C.J. Fiedorowicz (35% Owned) – He now has four or more receptions in seven out of his last eight games and is averaging seven targets per game during that span. He's consistent and has a good of a chance of scoring a touchdown any week as any other tight end in the NFL.
Washington Redskins wide receiver Pierre Garcon (33% Owned) – He has six receptions in three out his last four games and is averaging 77 receiving yards per game during that span. With Kirk Cousins playing some of the best football lately, it would be wise to invest in some Redskins players.
Pittsburgh Steelers running back DeAngelo Williams (22% Owned) – This handcuff needs to be owned by all Le'Veon Bell owners. You know who Le'Veon Bell is right? He's one of the best fantasy running backs this year. He's also the guy who ended the season on IR last year and missed the Steelers playoff game in 2014 due to injury.
Pittsburgh Steelers tight end Ladarius Green (10% Owned) – Green had a season-high in receiving yards last week with 67. The Steelers also played on Thursday, so Green has some extra time to work with the offense and get more comfortable with the game plan this week. It wouldn't be a shock to see his snaps spike in the next week or two, which is perfect for the playoffs.
This article originally appeared on