Fantasy Football: Week 12 Targets on the 49ers Roster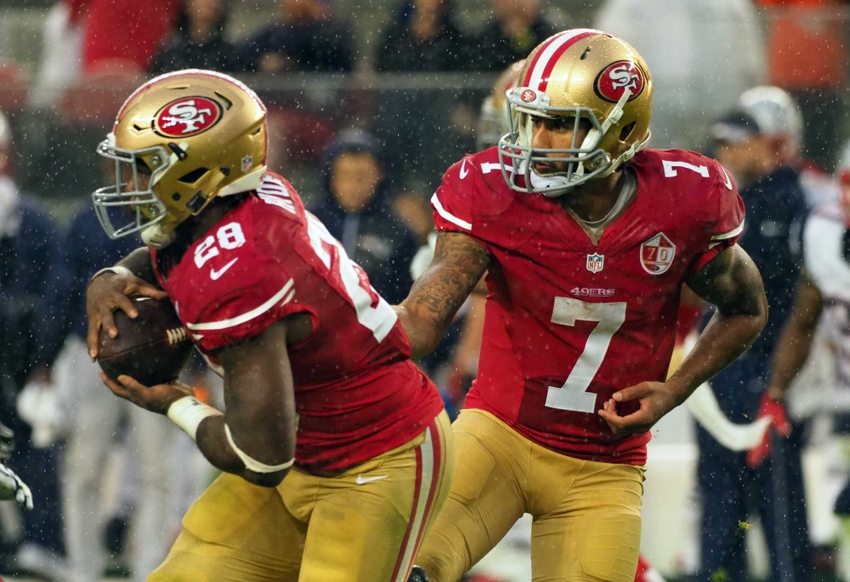 Players on the 49ers, and around the rest of the league, who are fantasy worthy in Week 12 of the 2016 NFL season. The "Startable, Ownable and Eyeable."
Luck versus skill. The ageless debate surrounding fantasy football, and whether it's a game of luck or one dominated by an owner's skill, is alive and well.
Of course, the short answer is that both play a role in any owner's results. But I'm here to tell you that, in my experience, the scales are heavily (and I mean Hardy to Laurel heavily) tilted towards luck.
Case in point, my results over the last two weeks.
First off, I'm recapping two weeks because, due to my poor time management skills and generally profligate ways, I failed to make my Week 11 Startable, Ownable and Eyeable deadline.
I know, I know. How could you possibly have survived without me? Call Robert Stack immediately. We've got a true unsolved mystery on our hands.
Nonetheless, you somehow persevered. While my Week 10 squad did anything but:
OK. One hundred points is certainly a respectable score.
Nevertheless, you may be immediately inclined to look at the points left stranded on the bench and think that I'm about to go off on a venomous rant about that. And although I believe I would be well within my rights as a fantasy football "expert" to do so (Brandin Cooks v. Denver's No. 2 ranked pass defense and Robert Kelley v. Minnesota's No. 13 ranked run defense… who in their right mind would have started them?), that's not my beef.
No. My beef is with Lady Luck and the rather unappealing form she opted to take in Week 10: QB Andy Dalton of the Cincinnati Bengals. Here's why.
As some of you may recall, in my infinite drafting wisdom, I made the bush-league mistake of taking two quarterbacks (Andrew Luck and Matthew Stafford) that have the same bye week.
If your keeping score at home, by the way, chalk one up in the (anti-)skill camp here.
No matter. I have options on the wire.
I peruse the names, evaluating recent performance, and settle on "The Red Rifle," Andy Dalton.
Here's how I arrived at that decision (you know, my bold attempt at interjecting a sliver of skill into the equation):
So, not only did Dalton have the highest average points per start over the past five weeks, he was also going against a New York Giants secondary that ranks near the bottom third of NFL teams.
Of equal or greater importance, Dalton was the most consistent passer over that stretch, with a high of 22.2 points and a low of 14.6.
So, I go Dalton. Naturally.
Come Monday night, I'm entering the week's last game (Bengals v. Giants) down 23 points, with both Dalton and RB Jeremy Hill going.
I'm not concerned, though. I've done my homework. With Dalton averaging 19.7 points over the past five games and Hill averaging 10.2 points over that same stretch, I should be fine. More than fine, really.
And by the time I check the scores (early second half), I thought I was. Hill had already come through for me, scampering into the end zone to start the second half. He had 8.4 points.
Meanwhile, Dalton is also en route to delivering, with a first half total of 11.1.
I've got 19.5 of the 23 points I need to succeed. This is in the bag. Coincidentally, this is also where the luck versus skill scales start to tip. And I'm talking Skipper to Gilligan tip.
Here's how the rest of the game shaped up.
Hill posts another 22 total yards. Pretty pedestrian, but almost smack dab on his average with a total of 10.6 points.
Andy Dalton on the other hand… Time to change the sheets.
Over the remaining two quarters, Dalton managed an eye-popping "sixty-five and one". That's 65 yards. And no, not one touchdown. One pick.
Dalton finished the game with 11.7 points, and I finished the week with 100.8 points, or exactly .6 points less than my opponent. Point-freakin'-six!!!
But here's the kicker. And this is where the luck v. skill scale goes nearly vertical. I mean we're talking Nell Carter to a young Joey Lawrence vertical.
I could have selected any, and I mean any, of the other quarterbacks available on the wire that week and won. ANY.
Moreover, look at the ludicrous outperformance versus the five week average for every single quarterback minus Dalton.
OK. As you can see, I'm not bitter and totally over it. That said, it's almost inarguable that this result is a function of luck, in this case very bad luck, as opposed to any sort of skill.
Sure, a reasonable case could have been made for one or two of the other available names. Kaepernick also had a high average, albeit on a smaller sample size, and Flacco was going against the lowly Cleveland Browns defense.
But Andy Dalton underperforming his five week average by a whopping eight points (while everyone else outperformed by three points or better). That's bad luck. I mean we're talking something insanely big to something ridiculously small bad luck.
Well, you get the idea.
Intro Cont.
Now, fast forward a week. And don't worry. My Week 11 tale is much shorter.
It goes like this: I started RB Rob Kelley and he posted 31.7 points. I won my matchup 102 to 56.
What's the point? Well, there are several.
One, Kelley's point total was a career best, and well above his second highest point total of the year, 14.7. Luck.
Two, Kelley delivered his heart-pounding performance in a week where I didn't even need it to win. He could have notched a zero, and I still would have prevailed. Luck (bad luck, in this case).
Three, my opponent did not have a single touchdown scored (not thrown, run or caught) by his squad. Not one. Even among notable names like RB Ryan Mathews, WR Mike Evans or TEs Jordan Reed and a Gronk-less Martellus Bennett. Loathsome luck of the worst kind. For him, that is. For me, it was obviously great.
So there you have it. Two weeks. Two very different results. And two glaring examples of the fact that, despite an owner's skill and best intentions, fantasy football is a luck-driven game.
And speaking of Luck, he's out with a concussion this week, meaning mine may have just run out for 2016. With a five win, six loss record, I need one badly to stay in playoff contention.
I'd better choose wisely this week. Either that or just shun all black cats, avoid any street cracks, bubble wrap my mirrors and not walk through any ladder-laden areas.
And now that I've done my best to debunk the notion of skill playing any part in fantasy football, here are the deftly-selected Startable, Ownable and Eyeable for Week 12.
Don't worry, I was sitting on a rabbit's foot when I wrote this column. These picks are golden.
Startable
RB Carlos Hyde
After an injury sidelined Hyde for several games, he fully returned to the fold against the Patriots last week, tallying a respectable 11 points.
Yes, Hyde has not scored a touchdown since Week 5 in Arizona. However, last week was really the first time that Hyde took a full battery of snaps since injuring his shoulder in Buffalo.
On the road, versus a Miami Defense that is ranked No. 30 against the run… Hyde is a lock for at least 10 points, or a solid RB2.
Other second-tier Startable Running Backs include:
RB Thomas Rawls
Rawls is back, and he's got one hundred-percent ownership of Seattle's backfield.
Teammate C. J. Prosise is out for the year, and former starter, Christine Michael, was sent packing to Green Bay several weeks ago.  This job is Rawls' to lose.
And with last week's over four yards per carry average, he should be well positioned to feast on Tampa Bay's No. 23 rush defense.
RB Rashad Jennings
The G-Men have rediscovered the run, and it's come on the back of Rashad Jennings.
With a 4.8 average yards per carry over the past two weeks, he's a sight for the sore eyes of running back-weary fantasy owners everywhere.
Expect the Giants to test one of the league's worst run defenses (No. 31) early. Jennings will get the work, and based on trends, should deliver.
RB Davontae Booker
Both the Kansas City Chiefs and the Denver Broncos have run defenses that reside in the bottom third of the NFL, which is somewhat surprising for such vaunted overall squads.
That bodes well for RB Davontae Booker (as well as his counterpoint, RB Spencer Ware). Call it a hunch, but I like Booker to rebound here, at home and coming off a bye.
Startable Cont.
QB Colin Kaepernick
Kaepernick has performed decently since taking over for his compatriot Blaine Gabbert in Week 6. During that stretch, he's averaged 19.5 fantasy points with only two interceptions.
That noted, he's also only thrown for two touchdowns over that same timespan. Meaning, that Kap's production, as always, is heavily dependent upon his legs.
I already mentioned Miami's pitiful numbers against the run. If Kaepernick can muster 50 yards on the ground (averaging 52 yards per game this season), he's liable to curry another near twenty point performance for owners.
Other second-tier Startable Quarterbacks include:
QB Eli Manning
Manning is having one of his typical seasons. Amazing at times, but largely average, with a few absolute duds mixed in.
As noted above, this game could lean run heavy. However, Cleveland is almost as susceptible to the pass (ranked No. 23) as they are to the run.
Game flow will be critical here, but it's not at all inconceivable that Manning could throw for 250 yards and two scores, or 18 standard league points, in this game. Besides, I'm starting him, so you know he's a lock.
QB Carson Palmer
A name that was fantasy royalty in 2015, Carson Palmer, seems to have hit the wall this year.
That noted, he's still a competent passer when given time, and Atlanta's defense only generates sacks on five-percent of their opponent's snaps. That's part of the reason why Atlanta ranks dead last against the pass this season.
Palmer has the weapons. This week, he's also got the match-up.
QB Ryan Tannehill
I'm not overly sanguine on Tannehill, even when facing the 49ers defense.
However, with S Eric Reid out for the remainder of the season, the Niners are forced to start Jaquiski Tartt in his place.
The big-bodied Tartt is a force in stopping the run (look out Jay Ajayi owners), but his pass coverage is much more suspect. I could see a Kenny Stills-type getting behind the combination of Tartt and Bethea for big yards.
Ownable
TE Vance McDonald
Vance McDonald is having a career year. Of course, with four scores and 322 yards, that's not saying a ton.
However, his chemistry with Kaepernick is improving. He has a combined 180 yards and two touchdowns during the last three games, and is averaging six targets per game to boot.
McDonald has all of the skills to take one to the house at a moment's notice, making him not only Ownable, but perhaps even worthy of a spot start against a Miami squad that is very average when it comes to defending tight ends.
Other Ownable Tight Ends include:
TE Jared Cook
Cook came on last week, after returning to the field following a six-game absence.
His six catches for 105 yards and a score look very appealing relative to the lack of explosive talent otherwise available on the waiver wire.
If you are set at other spots, and are looking to build depth for a playoff push, roster Cook.
TE C. J. Fedorowicz
I can't spell it, but Fedorowicz is quickly becoming a reliable name among tight ends. His target count is up big time, averaging just over seven looks per game since Week 6.
Expect that streak to continue this week, as the San Diego Chargers have a top five run defense. To win, Houston will have to throw, making Fedorowicz a viable fantasy option.
Eyeable
In Week 12 of the fantasy season, if you're looking to this year's 49ers squad for Eyeable talent, you're in trouble.
Although the Niners have shown some improvement over the past several weeks, there continues to be a distinct dearth of talent at the skill positions on this team.
That noted, if the early Thanksgiving Day games already have you in a hole, and you're feeling like you need a homerun, you could always consider WR Torrey Smith.
Yes, he's risky. And yes, he's having a poor year. Heck, he might not even play this week (bad back). But, if he starts, he's still the best big play threat the 49ers have.
I'm not saying start Smith. But, let's face it. It's do or die time at this point in the fantasy season. And if you believe it's better to burn out than to fade away, Smith fits the bill.
This article originally appeared on