Fantasy Football Week 12: Start or Sit?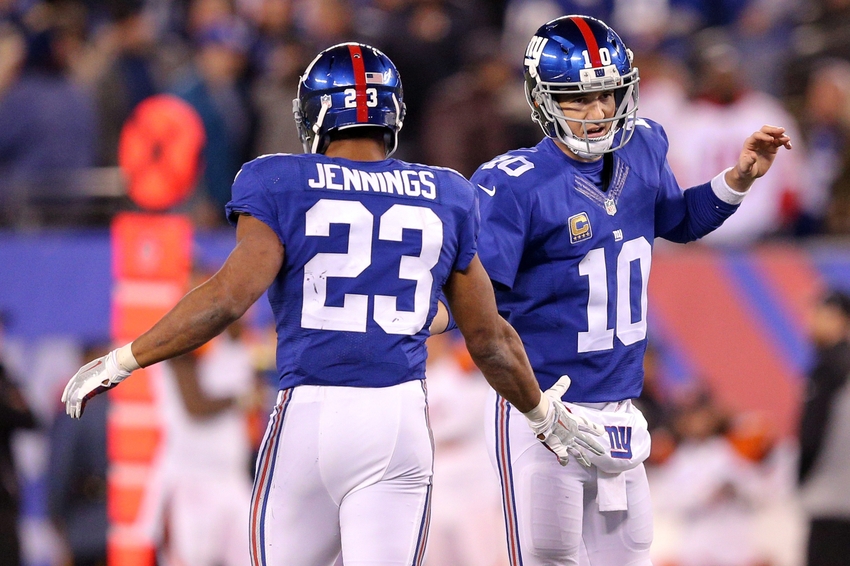 Who should you start and who should you sit at each position in fantasy football Week 12 in the 2016 NFL season?
For the first time all year, we here at NFL Spin Zone have the "Start or Sit?" article coming out on a Wednesday. That is because we have six teams playing on Thursday and we want to make sure you have enough time to do your due diligence and set the best possible lineup for Week 12.
For the first time since Week 3, we have zero teams on a bye week. However, that does not mean every owner has every player at her/his disposal. Last week we saw a few key players go down and will not play this week. Players such as A.J. Green, Giovani Bernard, C.J. Prosise and Zach Miller certainly won't help owners this week and beyond.
There are also a number of players who are questionable for Week 12. If you own guys like Mark Ingram, Darren Sproles, Ryan Mathews, Rob Gronkowski or LeSean McCoy you have to keep and eye on the injury report.
As mentioned before, we have three games on Thursday with the first one kicking off at 12:30 p.m. ET. If you're in a league where wavier claims don't process until Thursday morning, be sure to set your lineup first thing in the morning. Also, I would not remind any of your league members of that. In fact, I would suggest giving them an extra cocktail or two on Thanksgiving eve so maybe when they wake up Thursday morning, the games already started. All is fair in love and fantasy football.
This is Fantasy Football: Start/Sit, Week 12 Edition.
Quarterbacks
Start
Derek Carr, Oakland Raiders vs. Carolina Panthers – So far in 2016, Carr has either been hit or miss. In four out his 10 games, he has scored 12 points or fewer. In the other six, he's scored 21 or more. The Panthers defense has shown they are capable of getting exposed by any good, high-volume quarterback this season and luckily for us, that's what Carr has become.
Eli Manning, New York Giants vs. Cleveland Browns – Eli has turned it around lately by throwing multiple touchdown passes in three straight games and in four out of his last five. The Browns defense was aided by Mother Nature last week as the strong wind pressures put a damper on the Steelers passing game. Based on the weather reports this week, that won't be the case. Manning is virtually a lock for multiple touchdowns on Sunday.
Coin Kaepernick, San Francisco 49ers vs. Miami Dolphins – Kaepernick now has two total touchdowns in three-straight games and is averaging 52 rushing yards in his five starts this year. As a result, he is averaging 18.6 fantasy points per week. Dual threat quarterbacks (Marcus Mariota and Tyrod Taylor) have found success against the Dolphins defense this season and from a fantasy perspective, Kaepernick should too.
Sit
Matthew Stafford, Detroit Lions vs. Minnesota Vikings – Just once over the Lions last four games has Stafford thrown multiple touchdown passes. The last time he threw for more than two touchdown passes came all the way back in Week 6. The Vikings on the other hand haven't given up three touchdown passes to a quarterback this season. Best-case scenario for Stafford is he throws for two touchdown passes but even that's 50/50 at best. There are quarterbacks with higher ceilings this week.
Carson Wentz, Philadelphia Eagles vs. Green Bay Packers – The Packers defense has been downright awful as they have given up 11 touchdown passes over the last four games. So the matchup is great for Wentz. With that said, I just don't think the rookie gets it done on Monday Night Football. In Weeks 1-3 he got off to a great start when he totaled five touchdown passes. Since then, he has only six total touchdown passes. Again, this is another situation where there are quarterbacks with higher ceilings for Week 12.
Running Backs
Start
Matt Forte, New York Jets vs. New England Patriots – The Jets would be wise to play "keep away" from Tom Brady by running the ball with Forte. This would shorten the game and it would also attack the Patriots suddenly vulnerable front-seven. Not to mention, by feeding Forte they would also be playing "keep away" from Ryan Fitzpatrick, which also increases their chances of winning.
Rashad Jennings, New York Giants vs. Cleveland Browns – Not only did Jennings set a season-high in carries (21) last week, but he also set a season-high in receptions (5) too. It's encouraging to see Jennings with solid volume. But more importantly, it's great to see who his opponent is this week.
Wendell Smallwood, Philadelphia Eagles vs. Green Bay Packers – Right now, the rookie out of West Virginia is healthy. The same can't be said about his teammates Ryan Mathews and Darren Sproles. If either of the two miss this game, he gets a big boost. Keep in mind, Smallwood had 13 carries in Week 10 when Mathews and Sproles were both healthy and playing. Even if they are both active, Smallwood should still see a decent amount of touches because they would be less than 100 percent.
Sit
Jordan Howard, Chicago Bears vs. Tennessee Titans – The rookie has been playing well this season and has four games with 100+ rushing yards. Unfortunately, he and this entire offense gets a downgrade with Jay Cutler out. The Titans will stack the box against Howard because Matt Barkley isn't a NFL caliber quarterback. Barkley is still looking for his first career NFL touchdown since coming into the league in 2013.
Devontae Booker, Denver Broncos vs. Kansas City Chiefs – Since taking over as the starter, Booker has averaged 20 touches per game. This we like. However, he's been an ineffective runner and the Chiefs defense has shut down better running backs than Booker. He's a touchdown-or-bust running back this week and the Chiefs defense hasn't allowed a rushing touchdown to a running back since Week 4.
Isaiah Crowell, Cleveland Browns vs. New York Giants – Last week was a prime spot for the Browns to run the ball. The Steelers run defense is bad and the strong winds made throwing the ball difficult. Instead, Crowell saw single-digit carries for the third week in a row. Until (if?) the Browns decide to consistently run the ball, Crowell can't be trusted in lineups.
Wide Receivers
Start
Rishard Matthews, Tennessee Titans vs. Chicago Bears – Last week was the first time since Week 7 where Matthews didn't have a touchdown reception. Yet, he did set a season-high in receptions (9) and receiving yards (122). He is clearly the No. 1 wide receiver on the Titans and he gets a great matchup this week against the Bears.
Jamison Crowder, Washington Redskins vs. Dallas Cowboys – Since Week 6, Crowder has a touchdown and/or 100 receiving yards in every game. This is as simple case of riding the hot-hand against a Cowboys secondary that has lost some key members due to injuries.
Tyler Boyd, Cincinnati Bengals vs. Baltimore Ravens – When A.J. Green went down with an injury last week, the rookie stepped up and led the team in receptions, receiving yards and receiving touchdowns. With Giovani Bernard also out, Boyd could be leaned on as a checkdown option. He's now a WR3 in standard leagues and a WR2/3 in PPR leagues.
Sit
Brandon Marshall, New York Jets vs. New England Patriots – The last time Marshall had more than 70 receiving yards or a touchdown came back in Week 5. It's not his fault the Jets quarterbacks are awful but that's the situation. Also, the Patriots typically do a good job at taking away an opponents best player and that's what Marshall is for the Jets.
Donte Moncrief, Indianapolis Colts vs. Pittsburgh Steelers – There's an obvious downgrade to Moncrief if Andrew Luck can't play. Even if he does, Moncrief hasn't had more than four receptions or 55 yards in any of his last three games. Yet, he's saved owners by scoring a touchdown in each one of those three games. I'm betting against a touchdown this week no matter who is under center.
Cameron Meredith, Chicago Bears vs. Tennessee Titans – With both Alshon Jeffery and Zach Miller out, Meredith now becomes the No. 1 option in the passing game. However, with Jay Cutler out, Matt Barkley is playing quarterback. The only players I trust Barkley getting the ball to are the Titans defenders.
Tight Ends
Start
Zach Ertz, Philadelphia Eagles vs. Green Bay Packers – Ertz now has six-plus receptions in three straight games and has emerged as one of Carson Wentz's favorite targets. Injuries have destroyed the Packers defense and they are giving up yards and points at an alarming rate.
Kyle Rudolph, Minnesota Vikings vs. Detroit Lions – The Lions defense doesn't defend well against opposing tight ends. In fact, Rudolph scored a touchdown against them the last time they played this season. Considering Rudolph is currently tied for first among tight ends in receiving touchdowns this season, you got to start him if you have him.
Jason Witten, Dallas Cowboys vs. Washington Redskins – Witten now has five-plus receptions in three straight games. The Redskins have given up a receiving touchdown to an opposing tight end in three straight games. I think Witten gets it done on Turkey Day.
Sit
Jared Cook, Green Bay Packers vs. Philadelphia Eagles – I'm just not buying into his breakout performance last week. Somebody different always emerges and disappears in the Packers offense every week. Last week was Cook's week. This week, he'll probably disappear.
Coby Fleener, New Orleans Saints vs. Los Angeles Rams – Yes, he scored a touchdown last week and yes he's in an explosive offense. With that said, he can't be trusted.
D/ST
Start
New York Giants vs. Cleveland Browns – The Giants defense is led by Landon Collins who has been playing like one of the best safeties in the NFL. This week their defense will get a Cleveland Browns offense that has been sacked 12 times and has turned the ball over five times over the last two weeks.
Tennessee Titans vs. Chicago Bears – No Jay Cutler, Alshon Jeffery, Zach Miller and multiple offensive line starters. Hello, Matt Barkley.
Buffalo Bills vs. Jacksonville Jaguars – The last three D/ST's that has played against the Jaguars has finished with double-digit fantasy points. A big reason for that is because Blake Bortles is throwing pick-sixes at an incredible rate.
Sit
Arizona Cardinals vs. Atlanta Falcons – This defense (and team) isn't as good as everyone hoped coming into the season. Over the last three games the Cardinals have given up 80 total points. Matt Ryan and the Falcons offense floor is 21 points.
Minnesota Vikings vs. Detroit Lions – Last week was the first time this D/ST finished with double-digit points since Week 5. Matthew Stafford has been playing smart football and not turning the ball over. For that reason, there's not a high ceiling here for the Vikings D/ST.
Last Week and Season-Long Record of Start/Sit
This week and every week I'll be keeping track of my recommendations from the week before and total for the entire season. Keep in mind, I'm not going to recommend ridiculously obvious players to sit or start just to pad my stats.
Week 11 QB Starts: Tyrod Taylor, Blake Bortles and Russell Wilson – Ugly week for Taylor and Bortles, but Wilson did well. Result 1/3
Week 11 QB Sits: Carson Palmer, Derek Carr and Andy Dalton – Carr was dealing on Monday Night Football, but Palmer and Dalton both were not top-12 quarterbacks. Result 2/3
Week 11 RB Starts: Isaiah Crowell, Jonathan Stewart and Latavius Murray – Stewart found the end zone, but the other two didn't do much of anything. Result 1/3
Week 11 RB Sits: Rashad Jennings, Mark Ingram and Terrance West – Both Jennings and West scored a touchdown. Result 1/3
Week 11 WR Starts: Michael Thomas, Allen Robinson and Eli Rogers – Robinson scored a touchdown for the third straight game. The wind in Cleveland killed the Steelers passing attack. Result 1/3
Week 11 WR Sits: Jordan Matthews, Marvin Jones and Ty Montgomery – Not one of these three receivers reached 60 yards receiving or scored a touchdown. Result 3/3
Week 11 TE Starts: C.J. Fiedorowicz and Zach Miller – Before breaking his foot, Miller was able to score a touchdown. Fiedo's 82 receving yards were good enough to make him a top-nine tight end last week. Result 2/2
Week 11 TE Sits: Kyle Rudolph and Jason Witten – Both tight ends delivered forgettable performances. Result 2/2
Week 11 D/ST Starts: Miami Dolphins and Oakland Raiders – Miami tied for the sixth-best D/ST unit last week while the Raiders underperformed. Result 1/2
Week 11 D/ST Sits: Baltimore Ravens and Los Angeles Rams – Jared Goff didn't end up winning the game, but he didn't hurt his defense by putting them in terrible spots either. The Ravens defense ended up with negative points. Result 1/2
Week 11 Results: 15/26 = 57 percent 
Season Long Results: 156.5/276 = 57 percent
This article originally appeared on