Fantasy Football: Week 12 Daily Fantasy Football Picks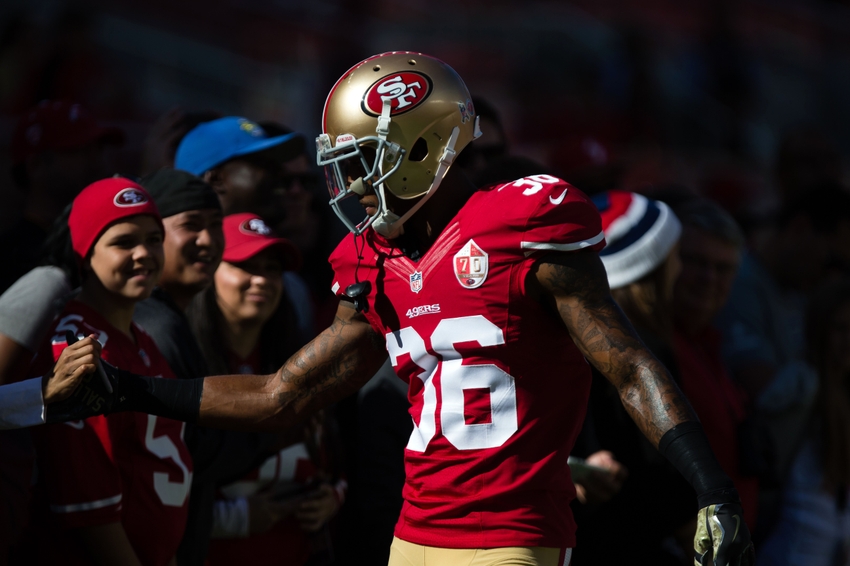 Niner Noise fantasy football blogger JD Leidy uses FantasyOMatic's algorithm along with player pricing from FanDuel (and his gut too) to select winning Week 12 daily lineups.
Welcome, reader (notice I didn't use the plural; you might be the only one).
As noted in previous weeks, our ultimate goal of the 2016 fantasy football season is to win a seat at the World Fantasy Football Championships. And, with only a few weeks of regular season games left, we're running out of time.
Last week, we didn't enter a WFFC qualifier because the price was too high (minimum $12). Instead, we decided to enter the weekly "Triple Up," but when I went to input the lineups on Sunday morning, it was already full.
So, we instead entered the descriptively named $100K Sun NFL Sling TV Rush #2 ($20K to 1st). Yes, creativity knows no bounds over at FanDuel.
In order to arrive at our lineups each week, we cross-reference the player rankings from the free FantasyOMatic online algorithm with the pricing data from FanDuel and build three different rosters:
An algorithmically-selected, value-optimized (ASVO) one
An algorithmically-selected, non-value-optimized (ASNO) one
A purely instinct-based one
Note: Additional details on the exact construction methodology are featured in this Week 6 article.
Here's last week's tale of the tape:
Not bad. We broke one hundred with all three lineups, and our Dalton-Eifert pairing actually hit FanDuel pay dirt. In fact, the 135.68 total points from that squad might be the best ASVO showing of the year.
The problem? It was the only lineup to win, and it returned a mere $10. So, for the mathematically inclined, that's $15 out and $10 back. Not so good.
When I logged on earlier in the day, it was slated to win $20, a modest (albeit infinitely better) result. However, as is often the case in daily leagues, it's not so much your current score, but rather how many quarters of play you have left relative to your fellow players.
At least we're not as heartbroken as I'm sure owner splashbros311 is. When I logged in late Sunday afternoon, he was first in line to collect the contest's grand prize of $20,000.
At the conclusion of Sunday night, his (or her, as the case may be) squad had slipped four notches, landing at No. 5 overall. The difference in winnings? Only $18,500.
That's right. These daily tournaments are heavily stacked towards the winners, meaning the drop off between first, and in this case, fifth place is quite steep.
For those who are curious, the winning threshold for this week's contest was 128.40 and the winning lineup, belonging to the now much wealthier hsharrison, looked a little something like this:
Well played, sir or ma'am. Looks like virtually every one of your selections came through except this year's weekly tease, WR Jordan Matthews. Man that guy is having a limp year.
Whereas, the same cannot be said of Jamison Crowder. The Little Slot Receiver that Could for the Washington Redskins has been chugging along over the past several weeks. We need to work him into a lineup or two. Perhaps Pure Instinct.
That said, it will have to wait until next week, as he plays on Thanksgiving and will thus not be part of this week's FanDuel action.
Now to this week's lineups. We begin, as always, with our algorithmically-selected, value-oriented (ASVO) roster.
Lineup No. 1
Recall the rules for selecting our ASVO lineups are as follow:
Scan the paired data from FantasyOMatic (FOM) and FanDuel for relative value among top 10 players across all position groups
Select a value-oriented quarterback and wide receiver (or tight end) stack, with the idea that successful QB/Receiver combos allow owners to cash in twice on the same touchdown
Select a top running back, a top receiver and a defense from the remaining top 10 lists
Select as many FOM top 10 players as possible at each of the remaining open positions, without going over the $60,000 salary cap
Beginning at the QB spot, here are the Week 12 FOM rankings:
OK. We're looking good, with both of the most highly-ranked passers coming in at relatively inexpensive pricing.
Now let's check out the potential receiver pairings to see if we have any heavenly matches:
So, based on the rankings, this week's value-oriented stack is pretty obvious: QB Russell Wilson and WR Doug Baldwin.
As a dyed in the wool Niner fan, it truly pains me to say it. But it looks like the Seahawks are yet again rounding into playoff form. Wilson is finally looking healthy, and both Baldwin and TE Jimmy Graham have been coming on as a result.
So with our Wilson-Baldwin stack in place, it's time to select a top-tier running back, wide receiver, defense, and tight end as ranked by FOM.
Here are the top ten FOM running backs in Week 12:
So David Johnson tops this week's chart and he's coming off of another monster game.  He's in. As is the capable No. 2 ranked WR Mike Evans, although I have to say I don't love the matchup versus Seattle.
FOM's top-ranked defense this week is the Buffalo Bills taking on the measly Jacksonville Jaguars. And we'll plug in TE Jimmy Graham, and see where we are so far.
Lineup No. 1 Cont.
Status Check
So, we're pretty pricey so far, but only need to fill three additional slots. Here's how it shook out using the FOM research as our guide:
Wow. That was not easy (bury the Staples Button in the backyard).
First off, we were more than $1,000 over the cap after the initial iteration. So, a few tweaks were in order.
There were several options in terms of fixing things. I decided to retain RB David Johnson, despite his nosebleed price, which was rather limiting.
In turn, we pitched Jimmy Graham, and replaced him with the No. 2 ranked FOM tight end, Coby Fleener. We then had to jettison WR Mike Evans (as I already mentioned, I don't like the matchup), and replaced him with the Jets' Brandon Marshall (for $800 less).
That left us just enough room to squeak in a kicker (minimum $4,500), and I went back to the well, betting that Tennessee will continue to keep the offense rolling. And a rolling offense is good for K Ryan Succop.
That's that. One algorithmically-selected (mostly, anyway) lineup has manifested itself. Now, on to the next sort.
Lineup No. 2
Our ASNO (algorithmically-selected, non-value-oriented) lineup will feature the top-rated passer and receiver combo, irrespective of price.
And wouldn't you know it, the cards have come out exactly the same. QB Russell Wilson and WR Doug Baldwin remain the highest ranked duo, regardless of their respective prices.
Note that we could have also gone with QB Cam Newton and TE Greg Olsen here, but based on the combined QB-receiver rankings, that would have been a bit disingenuous.
That said, we are going to break from the rankings a bit for our next step. Normally, we'd add the top runner, tight end and defense. However, we already know how that movie ends, i.e. with three quarters of a lineup and flat broke.
So, we'll add the next best runners, LeSean McCoy and Lamar Miller, instead.  This move saves us fourteen hundred valuable dollars, money that we'll need for other talent.
Here's where we stand:
So, we need two more receivers and that ever elusive kicker. Because we were a bit more parsimonious with our running backs, it opens up the opportunity to "upgrade," i.e. select higher ranked receivers per FOM.
Our ASNO team looks like this when complete:
Basically, we swapped RBs David Johnson and LeSean McCoy in our ASVO and ASNO lineups, respectively.  Doing so, afforded us the opportunity to select higher ranked players at tight end and receiver, as well as to pay up for an ostensibly better kicker.
Of course, if you can show me a solid method for selecting a kicker, you've accomplished the fantasy football equivalent of turning lead into gold.
Yes… al-kick-emy. Ughh.
Lineup No. 3
Now it's time to craft our final lineup.
We call it Pure Instinct, as we're using nothing but our intuition and raw fantasy football swagger in order to persevere (or get blown out of the water; it really could go either way):
As always, I'm a fan of my Pure Instinct lineup. Let's hope so, or I'm not really doing this intuition thing well.
I began with the realization that, as a Bay Area native, I hadn't given this year's local standouts much love to date. So, this week, I'm launching with a Carr-Cooper (AC/DC) stack.
I like both my runners. They are reasonably priced and I believe that each will get a good workload this Sunday, Rawls because they should and Gurley because they must (and vice versa, really).
I never feel uncomfortable with WR Julio Jones on my side. And if you can't have Jamison Crowder in your lineup, then why not have the next best thing in Rishard Matthews.
The Ravens against a depleted Cincinnati offense seems prudent, and Matt Bryant has been the cream of the kicking crop this season.
Note that one player was left out of my "why I'm so superbly confident" soliloquy, and that was TE Vance McDonald.
McDonald has been great over the past few weeks, and is having a career year. It's just hard trusting the 49ers to catch their pre-game flights this year, let alone lots of juicy scores.
I could have gone C. J. Fiedorowicz instead. I have the money. But I'm not convinced he's a monstrous upgrade. We'll see. Perhaps I'll wake up tomorrow feeling differently.
Regardless, that's the Pure Instinct brigade. At your service.
The Final Lineups
Week 12 is upon us. And for many, their season-long squadrons have already been sunk. But that's why there's Daily, where fresh and exciting contests are born anew each and every week.
This week, we're rostering the following three squads, two of which were crafted using the rankings featured on fantasy algorithm site, FantasyOMatic, while the third was minted solely using intuition:
We're back in pursuit of our WWFC seat. Let's hope we score. And, if not, which as a realist I'm forced to acknowledge is probably the more likely outcome, then let's hope we have some fun.
Best of luck this week.
This article originally appeared on