Fantasy Football Week 11: Who's at Running Back in Seahawks-Eagles?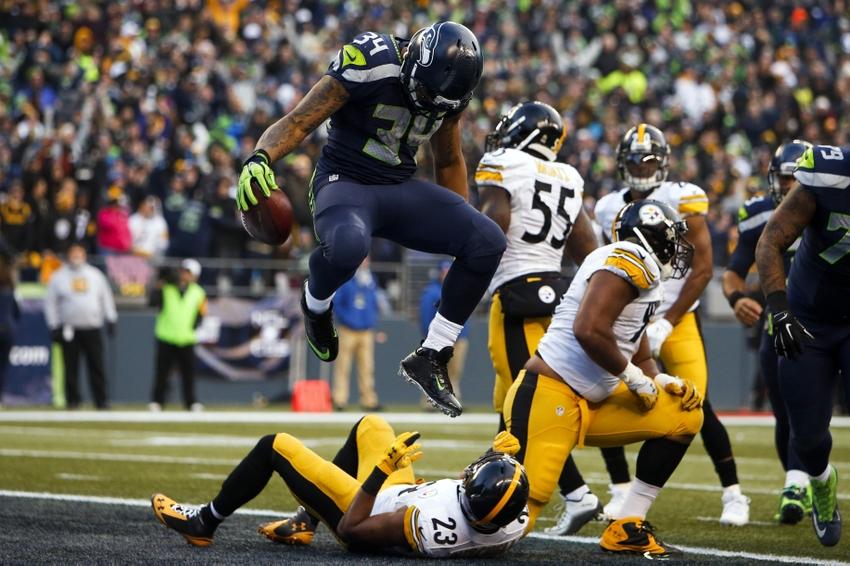 Questions flood the running back position in fantasy football Week 11. None more so than in the Seattle Seahawks vs Philadelphia Eagles matchup.
Running back rankings for Week 11 of the NFL season are a beautiful mess. After the top few guys, this week is chock full of more questions than we are used to seeing this late in the season. And it's not about guys being out with injury. Instead, it's guys being healthy that is causing the problem.
Look towards the Seattle Seahawks matchup with the Philadelphia Eagles for the biggest running back dilemma of all. Who will get the most carries for each team? Who gets the start on your team?
Two brothers from New York, Dan Salem and Todd Salem discuss Fantasy Football Week 11 in today's NFL Sports Debate.
Todd Salem:
The Seattle Seahawks just released Christine Michael, the man that had been starting for them. That would clearly open up the door for a huge game from C.J. Prosise—except that Thomas Rawls, the team's stud from last year, is due back healthy this week against a solid Philadelphia Eagles defense. Who do we trust to handle the biggest workload and can both guys succeed?
Seattle's opponent has an even weirder depth chart. Doug Pederson had claimed for weeks that Ryan Mathews was his starting running back, even as Mathews continued to see nearly zero snaps, in favor of Darren Sproles. For whatever reason, whether because of an injury or something dog-house related, Mathews fell out of the rotation, totaling five or fewer carries for back-to-back weeks.
That was that, until it wasn't. Pederson came out and said Sproles was his No. 1 guy because he is obviously the biggest fantasy football troll alive right now. That announcement was followed by a Week 10 in which Mathews had his best game of the season, garnering a season-high 19 carries. So what do we do with him now?
It's not just the Seattle-Philadelphia game, though, that has these issues. James Starks is back healthy for Green Bay, but no one knows what type of workload he will be given. Rashad Jennings is the starter in New York, but rookie Paul Perkins continues to see more time each game. And non-health-related timeshares have developed in New Orleans, Baltimore, and Cleveland. It's hard enough to find a running back who will produce, but now it's hard to find one who will even play the majority of a game.
Long-term, the guys I would rather have from the main teams I highlighted are Rawls and Mathews. They fit the bill as every-down backs more than their counterparts. But for Week 11 specifically, I would feel much more comfortable rolling with Prosise and Sproles instead. At this point, they have the more solid standing with their respective teams.
Dan Salem:
So you're saying its all a craps shoot? Thinking long-term is all well and good for those who are eliminated from playoff contention. Go right ahead and stash people on your bench. But for those of us playing for the fantasy football playoffs, we need to pick right and do it every week.
The running back position needs to be handled in one of two ways. Start the player who is receiving the majority of red zone carries and scoring touchdowns, or start the player with the freshest legs. A good example of this is Chris Ivory of the Jacksonville Jaguars. While Ivory has not dominated since returning from injury, he's slowly morphed into a reliable running back option. He's had the freshest legs on his team and is scoring touchdowns. He's a low-end RB3, but better than many other inconsistent fantasy performers on a weekly basis.
I've noticed an alarming trend in terms of both running backs and wide receivers. Fantasy owners can not simply play the matchups. You can't start players based upon the strength of the opposing defense versus the run or the pass. I got burned two weeks in a row doing this with my wide receivers, leaving 10 points on the bench and losing by three each time. Teams that are supposed to stop the run aren't stopping fantasy numbers from climbing. So be very careful of using matchup data to set your lineup.
Using my fresh legs theory, I'm starting Rawls of the Seahawks and Sproles of the Eagles in fantasy football Week 11. I also think Green Bay uses Starks as much as possible and Jennings keeps getting love from the Giants. That's my play for this week. But fresh legs only last so long, so make sure to adjust accordingly.
This article originally appeared on