Fantasy Football Week 11: 5 Biggest Takeaways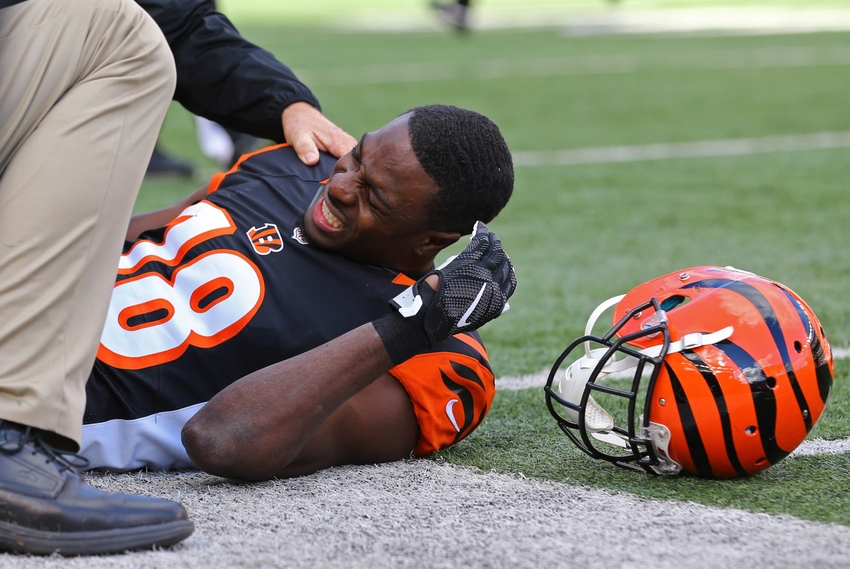 The five biggest fantasy football takeaways from Week 11 of the 2016 NFL season.
More often than not, only half the owners in fantasy football have a bad week. The other half can rejoice and celebrate their victories. After everything that went down this week, that might not be the case.
A number of players and fantasy starters went down with an injury in Week 11. Sure, some owners won despite those obstacles, but that doesn't mean there won't be some long-term implications from it. Other than the multiple injuries across the NFL, what else were the biggest storylines?
Here are the five biggest fantasy football takeaways from Week 11.
5. So Much for it being an "Extra" Point
Last year when the NFL decided to change the distance of an extra point to the 15-yard line, there was an obvious assumption: More extra points will be missed. Even knowing that, what we saw yesterday was ridiculous.
There were a total of 12 extra points missed from across the NFL. It's the most extra points missed in one week since the merger back in 1970. Not only that, but six field goal attempts were missed as well.
The NFL's greatest kicker of all-time, Adam Vinatieri, had a historic streak going into Week 11. He successfully made 44-straight field goals in a row. That record came to an end yesterday when Vinatieri missed a 42-yard field goal in the second quarter against the Tennessee Titans.
All in all, it was a bad day for kickers. A record-setting "bad day" for kickers. With the weather getting colder and snow soon becoming a factor, what can we take from all of this? Grab a dome kicker, say your prayers and when your fantasy kicker nods to the holder to let him know he's ready, close your eyes and hope for the best.
4. Kirk Cousins is on Fire
Last year, we saw Redskins quarterback Kirk Cousins perform like one of the best quarterbacks in the NFL in the second-half of the season. Over the last eight games of the regular season he finished with a TD:INT ratio of 19:2. During that span he averaged 277 passing yards per game. Although that is a tough act to follow up, Cousins is giving it a shot.
Over the last four games, Cousins has a TD:INT ratio of 8:1. In those four games, he is averaging 349 passing yards per game. As a result, he currently ranks third in the NFL in passing yards. With the Washington Redskins having to play the next four of their five games on the road, the real question is: Can he keep this up?
Based on his numbers from this season, he should because he's actually putting up better numbers on the road than at home. Cousins is currently averaging 33 more passing yards per game on the road than at home while his total touchdowns and turnovers are almost identical on a per game basis. More importantly, he is averaging 17.5 fantasy points per game at home while averaging 19 fantasy points per game on the road.
How do you like him now?
3. Thomas Rawls is Back
Officially, Thomas Rawls returned yesterday against the Philadelphia Eagles. He finished with 17 touches for 88 yards. He looked good but he didn't look great or spectacular. His play yesterday wasn't the reason owners should be excited about him moving forward. Instead, the injury to C.J. Prosise is the reason.
The Seahawks dynamic and explosive rookie totaled 153 total yards in Week 10 against the New England Patriots. Yesterday, he once again showed him playmaking ability when he ripped off a 72-yard touchdown run against the Philadelphia Eagles. If there was any doubt about his playing time moving forward, that run solidified his involvement in the Seahawks offense.
That was until he suffered a shoulder injury later in the game. It's now been reported Prosise will be out for weeks and is likely to miss the rest of the regular season. The Seahawks third-string running back, Troymaine Pope, suffered a high-ankle sprain and he too is expected to miss multiple weeks. In case you forgot, the Seahawks waived their season-leading rusher, Christine Michael, prior to Week 11. So what does this all mean?
Thomas Rawls is now setup to be a workhorse in Seattle's offense and finds himself in RB1 territory.
2. Start Your Guys Against Green Bay
In fantasy football you want your players playing against an awful defense because more often than not, they'll score more points. I'm probably not telling you something you don't already know. If I am, than you've been doing fantasy wrong. Either way, you know what's better than playing a team with an awful defense? Playing one that also has an explosive and high-scoring offense.
Over the last four games, Green Bay is giving up 37 points per game. However, they are also scoring 28 points per game during that span. Aaron Rodgers and the Packers have shown over the last four weeks they are capable of consistently moving the ball and scoring points. When they do this, this forces the opposing offense to keep their foot on the gas and to put up more points.
In Weeks 8-11 quarterbacks averaged 310 passing yards and 2.75 passing touchdowns per game against the Packers. Team's No. 1 running backs are averaging 106 total yards and two total touchdowns per game against the Packers. Washington Redskins running back Rob Kelley currently is the No. 1 overall player in Week 11. In fact, three of the top four players for Week 11 came from the Packers and Redskins game.
In short: Start your Packers and start players playing against them.
1. Injury Bug Bites Again…and Again
In Week 11 we saw two things happen in bulk: Kickers missing PATs and players going down with injuries.
The Cincinnati Bengals star wide receiver A.J. Green had to be carted off the field after suffering a hamstring injury in the first quarter of yesterday's game. There are conflicting reports stating Green may miss the rest of the season while others are saying he could return. Either way, he's definitely out for Week 12. His teammate, Giovani Bernard, tore his ACL for the season and he's out for the year.
Last week C.J. Prosise was the number one wavier-wire target in a majority of the leagues where he was still available. This week, he is now droppable after sustaining a shoulder injury that should keep him out for the rest of the fantasy season.
Chicago Bears tight end Zach Miller was in the TE1 discussion just about every week this season. But now that's over after he broke his foot in yesterday's game against the New York Giants. Other notable players who suffered an injury in Week 11: Mark Ingram, LeSean McCoy, Ryan Mathews, Daren Sproles, Robert Woods and T.J. Yeldon.
Some of these players could be back as early as next week after missing game action yesterday. Others could be out for an extended period of time. And guess what? We still have one more game left between the Oakland Raiders and Houston Texans.
Owners might want to cross their fingers and ask the big guy upstairs for a favor.
This article originally appeared on