Fantasy Football Week 10: Waiver-Wire Pickups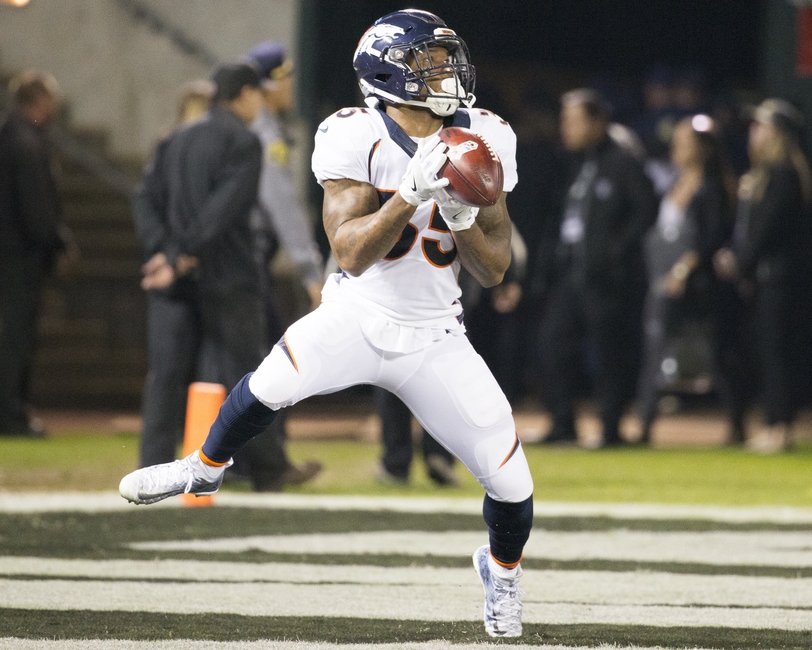 The fantasy football waiver-wire is where seasons are won and lost, especially late in the year. Here are a few players that could help you in Week 10.
If you survived these past two weeks where there were six teams on a bye each week, you're finally in a relatively comfortable spot. The worse is now over and the fantasy football playoffs are (sadly) approaching. Owners can drop those players they picked up and started out of desperation over the last two weeks and sure up their rosters with quality stashes and high-upside players.
For these purposes, we will being using Yahoo! Fantasy Football as a guideline. Any player that is 50 percent owned or less is eligible.
Here are the players you should be targeting on the fantasy football waiver-wire for Week 10.
5. J.J. Nelson, WR – Arizona Cardinals (13% Owned)
The last time Nelson was on the field, he finished with eight receptions, 79 yards and two touchdowns. The week before that, he finished with 84 receiving yards. His big-play ability over the Cardinals last two games earned him a promotion into the Cardinals starting lineup.
Coming out of a bye week, he is severely under-owned. But a part of that was owners attempting to mange their rosters with six teams on a bye week. Now with that over, Nelson needs to be picked up as he has settled into the WR3/FLEX conversation. It shouldn't be a surprise if from this point forward he becomes the second-most productive Cardinals wide receiver behind Larry Fitzgerald.
Keep in mind the Cardinals play a lot of below-average secondaries in their upcoming games such as the San Francisco 49ers, Atlanta Falcons, Miami Dolphins and New Orleans Saints.
4. Colin Kaepernick, QB – San Francisco 49ers (19% Owned)
In Kaepernick's third start of the 2016 season, he had his best passing and fantasy game of the season. He finished 24-of-39, 398 yards, 2 touchdowns and 21 fantasy points. He is now averaging 17 fantasy points per game.
Kaepnerick is a high-upside fantasy player for a couple of reasons. The most obvious reason is because he is able to rack up the rushing yards with 4.53-second, 40-time speed. In his first two starts, he averaged 75 rushing yards per game. The second reason is he playing on a team that has one of the worse defenses in the NFL.
Teams score on the 49ers defense at will and there's pretty much nothing they can do about it. When that happens, the Kaepernick and the 49ers offense are forced to play keep-up and catch-up. During that process Kaepernick racks up a lot yards and fantasy points especially during garbage-time.
In three out of the 49ers next six games they play the Arizona Cardinals, New England Patriots and Atlanta Falcons. There's a strong possibility all three of these teams route the 49ers defense. Kaepernick should get plenty of opportunities to cash in on garbage time opportunities.
3. Chris Ivory, RB – Jacksonville Jaguars (33% Owned)
On Sunday, Ivory had his best game of the season when he finished with 18 carries and 107 rushing yards. The carries and rushing yards were both season-highs for him. This game might be more of a trend instead of a one-game fluke. The reason is because Week 9 was the first game the Jaguars offense played with Nathaniel Hackett as the team's offensive coordinator.
Ivory out-carried teammate T.J. Yeldon 18-7, but only out-touched him 19-12. Yeldon is a better option in passing-down situations and in the two-minute offense. For this reason, Ivory's appeal in PPR leagues takes a slight hit. Still, it appears Hackett wants to establish more of a running game and Ivory appears to be the running back that is going to see a bulk of the carries.
The downside in Ivory's performance on Sunday was he did fumble near the goal-line and there's a possibility that action could have consequences. If not and if Ivory can continue to see 15+ touches a game while remaining as the team's goal-line running back, that will put him in RB2/3 territory.
2. Dion Lewis, RB – New England Patriots (40% Owned)
After suffering a season-ending ACL injury last year, it finally looks like Lewis is healthy enough to return. In fact, he could return as soon as this week. If/when he does, he will more than likely be eased back into action. However, he could be a game-changer for owners in the playoffs.
Before going down with an injury in 2015, Lewis was one of the most dynamic receiving running backs in the NFL. Last season, Lewis produced four straight double-digit fantasy performances to start the season in Weeks 1-5 (bye week in Week 4). In those four games he averaged 15 touches, 105 total yards per game and 3 total touchdowns.
Running back James White has played well as the Patriots passing-down back. But the fact is, if Josh McDaniels and Bill Belichick like/prefer Lewis more, he's going to reclaim that role. As said before, Lewis could be activated as soon as this week. Throwing him into fantasy football lineups right away might be risky just due to the uncertainty of his role. Yet, he is a must add and stash as he has the potential of putting up solid numbers as do most of the offensive players on the Patriots.
1. Kapri Bibbs, RB – Denver Broncos (6% Owned)
When C.J. Anderson went down with a knee injury, rookie running back Devontae Booker was the anointed starter in Denver's backfield. However, after two ineffective games that might be changing.
In two weeks as the Broncos starting running back, he has combined for 29 carries, 76 yards, one touchdown and one fumble lost. His 2.6 yards per carry has helped stall an already stagnant offense. On Sunday Night Football against the Raiders, Kapri Bibbs gave a little energy to the Broncos offense when he was able to find the end zone on a beautiful 69-yard catch and run on a screen pass.
At the very least, Bibbs has earned more playing time and the Broncos backfield should be some sort of timeshare this Sunday. It wouldn't be a surprise if he actually out-touches Booker on Sunday. If Booker has his third ineffective game in the expected timeshare and Bibbs plays well, he could earn the Broncos starting running back position for the rest of the season.
Anytime there's an opportunity to land a potential starting running back on the waiver-wire that makes him priority number one in all waiver-claims.
Other Receiving Votes
Here are a few more names you want to consider when you go through your fantasy football waiver wire.
Seattle Seahawks running back Thomas Rawls (38% Owned) – Christine Michael continues to look ineffective as the Seahawks starting running back. Rawls will have a chance to take his job back once he gets back on the field.
Buffalo Bills wide receiver Sammy Watkins (36% Owned) – Watkins is eligible to return in Week 12 and he could help teams in the playoffs.
San Francisco 49ers running back DuJuan Harris (33% Owned) – Harris totaled 142 total yards and a touchdown as the 49ers starting running back last week. He would get the start next week if Carlos Hyde can't go. However, if Hyde returns, Harris could be useless.
Washington Redskins running back Rob Kelley (30% Owned) – Matt Jones should return but Kelley might be the starter now. A timeshare between those two and Chris Thompson seems likely. With that said, Kelley is a good stash in a wait and see approach.
Baltimore Ravens running back Kenneth Dixon (12% Owned) – Dixon didn't do much of anything with this 11 touches on Sunday. But luckily for him, Terrance West didn't do a lot with his 16 touches. This situation remains fluid.
Green Bay Packers running back James Starks (19% Owned) – Ty Montgomery should remain the starter, but Starks should see some playing time.
Houston Texans tight end C.J Fiedorowicz (11% Owned) – He has a touchdown in three out of the last five games and he hasn't had fewer than four receptions in any of those five games.
New York Giants running back Paul Perkins (6% owned) – Nobody has emerged as a true starting running back for the Giants. Perkins still could be that guy.
This article originally appeared on