Fantasy Football: Week 1 DraftKings and FanDuel Lineups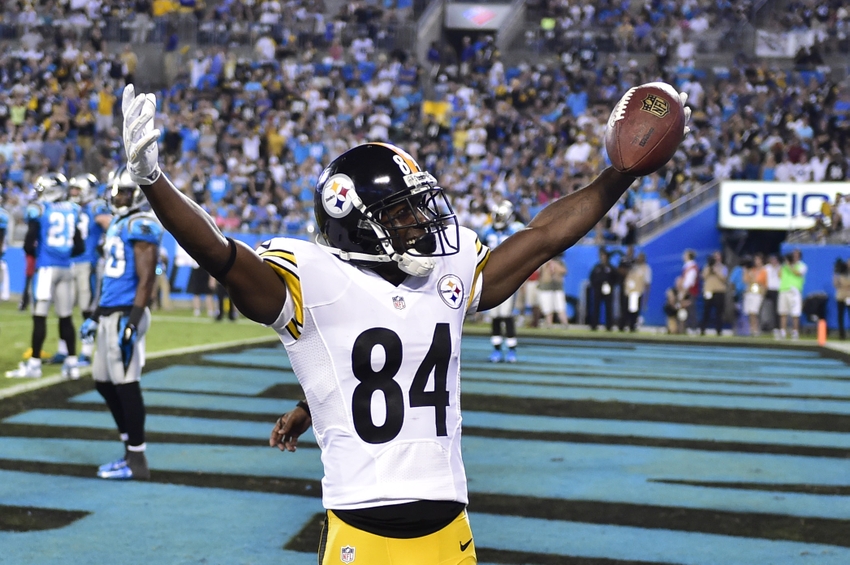 One DraftKings and FanDuel DFS fantasy football lineup that will help you make some money in Week 1 of the 2016 NFL season!
The NFL season is now set to get underway, which means that the height of daily fantasy sports has begun! DraftKings and FanDuel players alike are always looking for a little help or advantage. Simply, they're looking for anything to get a leg up on the competition.
Each week, we'll provide everything and more that you'll need for your DFS leagues. One bit of advice is giving you a quick look at a lineup for both DraftKings and FanDuel that are quite enticing. In fact, some may call them the "perfect" lineups.
With this being said, here are our "perfect" lineups for NFL Week 1:
DraftKings (Click here for scoring information)
QB: Dak Prescott, Dallas, $5,000
It's not often you can start a quarterback for the minimum, but that's exactly what is happening with Dak Prescott. He lit-up the preseason and he's playing a Giants' defense that allowed the second-most fantasy points to quarterbacks last season. There's some risk, but Prescott could be a top-five player in Week 1.
RB: Spencer Ware, Kansas City, $4,400
With Jamaal Charles' status still unknown, Spencer Ware is line for a big workload. Even if Charles does start, Ware should still see double-digit carries and some looks in the red zone. At $4,400, Ware is a bargain.
RB: DeAngelo Williams, Pittsburgh, $7,000
Williams led all running back in touchdowns last year and there's a great chance he could find the end zone on Monday. With Le'Veon Bell suspended and no other competition for carries on the roster, Williams should get 20-25 touches in an offense that lights up the scoreboard.
WR: Antonio Brown, Pittsburgh, $9,800
He's the highest-priced receiver on DraftKings, but Antonio Brown is worth every penny. Even in a matchup against Josh Norman, Brown should still catch at least eight passes. Moreover, he should also eclipse 100 yards, and find the end zone. He's as consistent as they get.
WR: Amari Cooper, Oakland, $7,200
He's Derek Carr's favorite target and he's playing against the woeful New Orleans Saints' defense. Enough said.
WR: Travis Benjamin, San Diego, $4,100
It's not the best matchup for Benjamin, but don't you think the Chargers are going to try to showcase their new weapon? He's a threat to score every time he touches the ball. And if he put up over 900 yards last year in Cleveland, he should be able to easily duplicate those season totals with the pass-happy Chargers.
TE: Coby Fleener, New Orleans, $4,900
Drew Brees has a history of making good tight ends great and Fleener is now Brees' latest subject. Fleener should have a career year in New Orleans and he gets a great Week 1 matchup. Oakland allowed the third-most points to tight ends a year ago.
FLEX: Tyler Lockett, Seattle, $5,000
Like Benjamin, Lockett could score every time he has the ball in his hands. His role figures to grow substantially this season. With the Seahawks transitioning into a more pass-oriented offense, Lockett could very well gain over 1,000 yards. The Dolphins secondary isn't great and, in front of the home fans, Seattle figures to score a bunch.
D/ST: Tennessee Titans, $2,600
Here's a sneaky defense to start. The Titans' defense is average, but they are playing against the Vikings, whose quarterback situation is a mess. Tennessee could very easily hold the Vikings to under 20 points, force two or more turnovers, and get three-plus sacks. At $2,600, they won't break your bank either.
FanDuel (Click here for scoring information)
QB: Kirk Cousins, Washington, $7,800
Pittsburgh's secondary is still a mess and the Redskins don't have a dominant run game. Expect at least 30 pass attempts for Cousins and two touchdowns.
RB: Matt Forte, New York, $6,500
It's an okay matchup for Forte, but he should get looks in the red zone and on third down. Forte is a pretty consistent back, so expect around 100 total yards and maybe a score.
RB: DeAngelo Williams, Pittsburgh, $7,100
WR: Antonio Brown, Pittsburgh, $9,300
WR: Amari Cooper, Miami, $7,100
WR: Keenan Allen, San Diego, $7,400
We have more money on FanDuel, so we go with Allen over his teammate Benjamin. Allen was having a career year in 2015 before he got hurt. He should have no trouble picking up where he left off. 10 catches is a pretty feasible expectation.
TE: Coby Fleener, New Orleans, $5,400
K: Blair Walsh, Minnesota, $4,700
Yes, his last kick in 2015 was devastating, but 2016 represent a new year. The Vikings may have trouble scoring touchdowns with their quarterback situation gloomy, so Walsh definitely could get his fair-share of field goal attempts. He's always been a sneaky play in DFS.
DEF: Titans, $4,100
Those are the lineups for both DraftKings and FanDuel in fantasy football Week 1. More than anything, though, enjoy the the thrill of NFL football returning and, in turn, fantasy being back.
More from NFL Spin Zone
This article originally appeared on