Fantasy Football Week 1: 5 Sneaky PPR Plays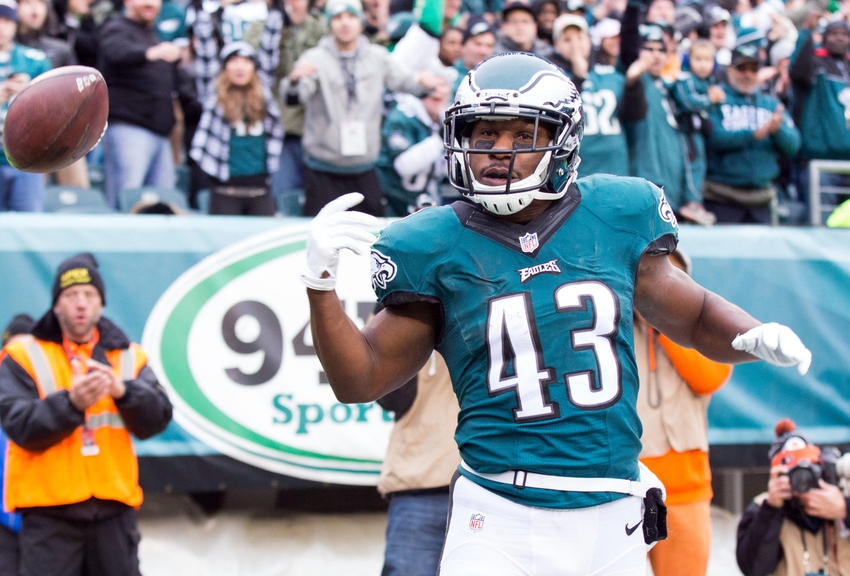 Looking for some fantasy football players going unnoticed for Week 1 in your PPR league? These five players who could be quite valuable.
If there's one thing that's certain in fantasy football, it's that you want to get off to a good start. Picking up a win in Week 1 not only makes you confident in your team, but puts you in a great position right out of the gate. Subsequently, fantasy owners could be looking for hidden value to help push them ahead, especially in PPR leagues.
Thus, we're going to dive into some potential PPR sleepers that could shine in Week 1.
All of these players find themselves in either a good situation, matchup and/or offense for Week 1. They might not be the most talented players on the field or even or their team. However, the fantasy football gods don't always reward the most talented players.
If you are in a deeper PPR league, dealing with an injury, or looking for a cheap DFS option with upside, you might want to consider one of these five guys.
Here are the 5 sneaky PPR plays for Week 1.
5. Jesse James, TE — Pittsburgh Steelers
Ben Roethlisberger and the Pittsburgh Steelers offense did not play a ton during the preseason. In fact, they played less than two quarters of preseason football. The biggest takeaway from those two quarters was Big Ben targeted tight end Jesse James just as many times (4)  as stud wide receiver Antonio Brown. Please do not take that statement as if I believe James is going to as heavily involved in the offense as Brown.
He won't be.
However, the Steelers are without Martavis Bryant and Le'Veon Bell due to suspensions. Moreover, they've Heath Miller to retirement and Ladrius Green to injury, while Sammie Coates has been underwhelming. Basically, somebody has to catch these passes Roethlisberger will be slinging; so why not James?
The Steelers Week 1 opponent, the Washington Redskins, didn't exactly shut down opposing teams tight ends last year. This is how opponents faired against them towards the end of the 2015 season:
Week 17 – Jason Witten, Dallas Cowboys – 6 receptions, 58 yards, 1 touchdown
Week 16 – Zach Ertz, Philadelphia Eagles – 13 receptions, 122 yards
Week 14 – Zach Miller, Chicago Bears – 5 receptions, 85 yards, 1 touchdown
Week 13 – Jason Witten, Dallas Cowboys – 5 receptions, 46 yards
Week 12 – Will Tye, New York Giants – 6 receptions, 74 yards
Week 11 – Greg Olsen, Carolina Panthers – 3 receptions, 54 yards, 1 touchdown
That's more than enough reason to believe that James could have serious value with the Steelers in Week 1.
4. Mike Wallace, WR — Baltimore Ravens
Just like with the Pittsburgh Steelers, we didn't get a chance to see a lot from the Baltimore Ravens starting offense during the preseason. What we did see when Joe Flacco played in the Ravens Week 3 dress rehearsal game was that he targeted Mike Wallace early and often. Of Flacco's 16 pass attempts, he targeted Wallace on six of them. The next closest player, Kamar Aiken, finished with three targets from Flacco. 
Yes, Steve Smith Sr. and Breshad Perriman did not play in that game and both are expected to be ready for Week 1. However, during their absences, Wallace and Flacco have apparently formed some good chemistry. Also, if there's one receiver on the Ravens who is expected to play a full compliment of snaps right away, it's Wallace. Smith and Perriman should be eased back from their injuries and it's doubtful their conditioning is at 100 percent.
It's no secret Ravens offensive coordinator Marc Trestman loves to throw the ball. Last year, no other team in the NFL attempted more passes than the Baltimore Ravens. The Ravens do have a tough matchup against the Buffalo Bills solid cornerback duo of Stephon Gilmore and Ronald Darby. However, it's not inconceivable to think Wallace finishes the game with six or seven receptions based on sheer volume.
3. Michael Crabtree, WR — Oakland Raiders
Last season, Michael Crabtree was the 12th most targeted player in the NFL and had 10 games where he finished with five receptions or more. The Raiders Week 1 opponent, the New Orleans Saints is about as a favorable of a matchup as you can get.
Last season, only one other defense (Tampa Bay) allowed a higher completion percentage to opposing quarterbacks. The Saints also gave up the second-most passing yards and the most passing touchdowns in the NFL. Opposing quarterbacks average QB rating against them was 116.2. As you can guess, that was dead last in the NFL.
Last year, the Oakland Raiders averaged 37.8 passing attempts per game. In 2016, Derek Carr and the Raiders offense should take another step in their development. What we have here is a offense who likes to throw the ball playing against a defense that can't stop the pass.
Sounds good to me.
2. Darren Sproles, RB — Philadelphia Eagles
There are a few reasons I like Darren Sproles this week against the Cleveland Browns.
1. The Eagles are expected to start rookie Carson Wentz
How do you help out your rookie quarterback and let him get comfortable and gain confidence? You call high-percentage completion plays such as screens and dump-off passes.
2. Sproles is clearly the Eagles third-down running back
Third down is when you will typically see dump-off passes and screens.
3. The Eagles new offensive coordinator Frank Reich was the San Diego Chargers OC last year
In case you didn't know, Chargers running back Danny Woodhead led all running backs in targets, receptions, receiving yards, and receiving touchdowns in 2016.
Call it a hunch, but I'll be surprised if Sproles gets anything less than five receptions on Sunday.
1. Marvin Jones, WR — Detroit Lions
Last year, QB Matthew Stafford finished seventh in the NFL in passing attempts. Calvin Johnson, who led the team in targets, receiving yards, and receiving touchdowns retired. Golden Tate was expected to take over as the Lions No. 1 receiver, but it looks as if Stafford has a new toy he rather play with.
In the offseason, the Lions signed former Cincinnati Bengals WR Marvin Jones. During the 2016 preseason, Stafford targeted Jones more than any other player on the Lions. Stafford actually targeted Jones more than Tate in each of the three preseason games they played in.
In Week 1, the Lions will take on the Indianapolis Colts. Last year, the Colts defense finished 24th in the NFL in passing yards per game. Their All-Pro cornerback Vontae Davis is going to miss Week 1 with an ankle injury. As a result, 32-year old Antonio Cromartie should be in the starting lineup, a player who was one of the worse cornerbacks in the NFL in 2015.
Last season, Jones only had one game where he saw double-digit targets. On Sunday in the Lions offense against a depleted Colts secondary, I think he sees at least 10 targets.
This article originally appeared on