Fantasy Football Start or Sit Week 3: D/ST of New York Jets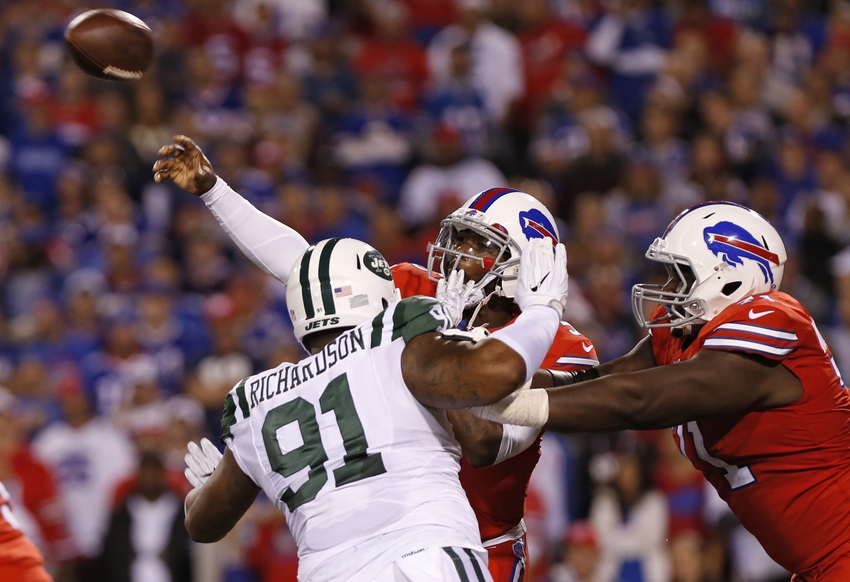 When it comes to Week 3 of Fantasy Football, the defense and special teams of the New York Jets face a difficult matchup against the Kansas City Chiefs.
The New York Jets picked up their first victory of the season as their high-powered offense racked up a total of 493 yards lifting them to a 37-31 victory over the Buffalo Bills. Their defense, however, continues to allow substantial yardage to opposing quarterbacks each game which doesn't bode well when it comes to their fantasy football value.
Quarterback Tyrod Taylor previously recorded a total of 111 passing yards against the Baltimore Ravens' secondary during Week 1. Heading into Week 2, the Jets' defense looked to prove that their Week 1 matchup with the Cincinnati Bengals in which they gave up a total of 366 passing yards was all luck.
No In-Editor Preview for 120 Sports Videos
Video Details
ID: 202788258
Source: 120 Sports
Instead, the Jets were torched through the air by Taylor, giving up another substantial amount of passing yards (298) to their opponent. Gang Green's opponents become more challenging as the weeks go by. Next up on the list, an away bout between the Jets and the Kansas City Chiefs.
If your fantasy roster consists of the Jets' defense and the defense of the Jacksonville Jaguars or Indianapolis Colts, start the Jets.
However, if you have the Denver Broncos, Carolina Panthers, or Seattle Seahawks defense, bench the Jets.
I don't feel comfortable labeling the Jets' defense as a must-start for this week.
I'm fully confident however in their ability to shut down the run and apply pressure on opposing quarterbacks.
But the problem comes when the opposing quarterback has time to get the pass off.
The Chiefs' offense isn't exactly an elite or top-5 one. The problem lies with the Jets inability to hold opposing teams to a manageable amount of yards per game.
Currently, the Chiefs rank in the top 20 in all offensive categories according to NFL.com. Their 16th overall in points per game with 22.5, 18th in total yards with 352, 19th in passing yards per game with 251, and 15th in rushing yards per game with 101.
Nothing spectacular but the Jets, on the other hand, are ranked 26th in passing yards allowed per game with 315.5. 26th in points allowed per game with 27 and 19th in total yards allowed each game with 387.
It's a completely different defense than what we saw last year.
If the Jets' defense overall does not show signs of improvement fast, quarterback Alex Smith could have his way through the air on Sunday, as long as his line provides protection.
In standard fantasy leagues, the Jets' defense is ranked 17th and has earned a total of 11 points this season. It's safe to say the Jets' defense/special teams are a safe sit for Week 3.
This article originally appeared on