Fantasy Football Start or Sit Week 1: TE Jimmy Graham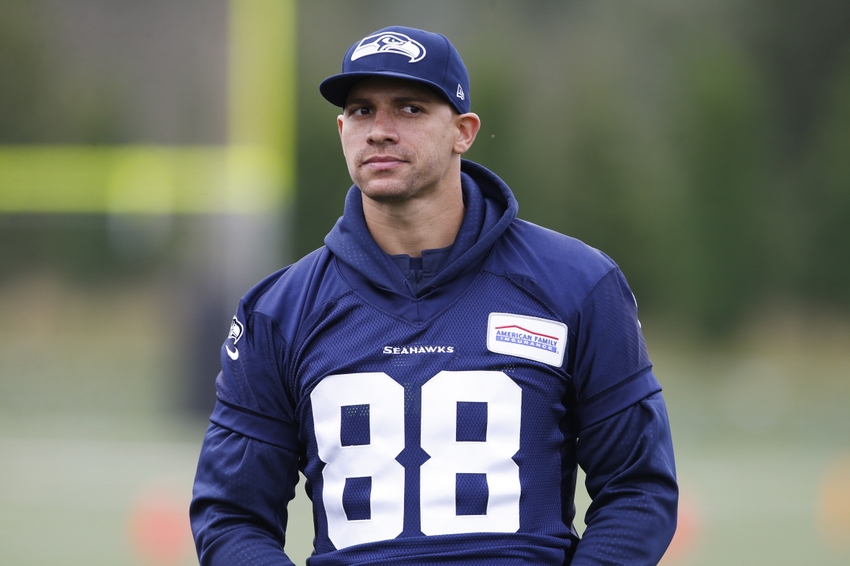 When it comes to his Fantasy Football value heading into Week 1 of the regular season, it's best to sit tight end, Jimmy Graham.
It wasn't too long ago when the Seattle Seahawks pulled off a blockbuster trade to acquire tight end Jimmy Graham from the New Orleans Saints. That trade left fantasy football owners dreaming of the possibilities. Graham at the time was considered one of the top tight ends playing in the NFL and partnering him up with the high-octane offense of the Seahawks would have produced blockbuster results on the field and in fantasy.
Unfortunately, things don't always work out as envisioned. The Seahawks instead decided at first to primarily use Graham as a blocking tight end. Even then, that seemed absurd for a player with his ability to score touchdowns.
To say Graham's first season with the Seahawks was uneventful is an understatement. So far in his tenure with the Seahawks, Graham has totaled 605 receiving yards, 48 receptions, and just two touchdowns. This is the same player that with the Saints totaled 4,752 yards, 434 receptions, and 54 touchdowns over five seasons.
Graham unfortunately dealt with a severe knee injury in 2015, which could mean he's never the same player again. Because he's still recovering from the patellar tendon injury, it looks like he won't be suiting up in Week 1.
If Graham does play, it's best fantasy owners consider other options at tight end. With this kind of injury, Graham either won't play. Or, if he does, will once again be used for blocking formations to establish the Seahawks' ground game. Considering that Graham hasn't played in a single game during the preseason, easily means he will either be rusty or not even used to his full potential as he slowly gets use to real game action.
Fantasy owners should be fully aware that it's best to sit Graham in Week 1.
If you already have drafted him, it's best to stash Graham for the first few weeks of the season. Even if he's deemed to make his return this week or after, wait until his first game or two before deciding if he's worth starting based on the matchup.
The Seahawks won't be rushing Graham anytime soon or giving him a plethora of reps so at least for Week 1, fantasy owners would be best advised to sit him regardless. As the Seahawks are set to face the Miami Dolphins to start their year, per CBS Sports, Graham is currently listed as questionable.
Tight end Luke Willson will be receiving the majority of snaps in Graham's absence and, if he plays well, will continue to see most plays designed around him. If Graham eventually comes back into the starting lineup, he will once again be primarily used as a blocker.
Overall, use another viable tight end for Week 1 rather than Graham. Don't let the hype fool you, he won't resemble anything from the past for at least another few weeks into the season.
This article originally appeared on